Category: Retirement Real Estate

This is not to say that the bad news in housing, particularly for retirement communities, is over. But there have been some rays of good news popping up here and there. Thank goodness, we are tired of writing about the same old bad news!

First off, the Census Bureau reports that sales of new homes increased 2.7% in September, coming off the worst sales in 17 years. Inventory of unsold new homes declined 30,000 from their record levels of 404,000 units. Lower prices coming from distressed sales are the major reason for this improvement. The median price of a new home is now $218,400 – down from $240,000 in September, 2007.

One month doesn't make a trend, but there is good news in other corners too. In Las Vegas NV and Prince William County, Virginia, sales are up. In California several markets improved – Sacramento sales increased 135% over September 2007. In parts of southern California September sales were up 65% or even higher. Again, the reason for the increase is mostly foreclosure sales – bargain hunters are snapping up properties at distressed prices. Experts believe this is a good thing, as these sales are clearing out excess inventory.

In the active adult community market there is still plenty of bad news to go around. Pulte Homes came out with a loss of $280 million in the quarter. Just about all the big players – Lennar, Pulte, Del Webb, Toll Brothers – are offering some form of incentives – lower prices, more free options, frequent flyer miles, new cars, mortgage payments and upgrades.

All eyes are now on October numbers, which will start to show what has happened in housing after the latest financial meltdown.

Posted by Admin on October 28th, 2008
Comments (0)
Entries (RSS) and Comments (RSS)
Category: Green Retirement Communities

The #1 green priority in baby boomers' retirement homes is solar power, according to a recent survey. Capitalizing on this interest, Shea Green Certified homes at Trilogy now offers solar powered roofs as a no-cost option in its Victoria Gardens active adult communities. The builder's website claims savings of up to 60% on electric bills and a reduction in the home's carbon footprint by 48%. Shea is providing the BP® Solar roof tile system.

Shea Green Certified homes in Victoria Gardens by Shea residences will be equipped with a 3-kilowatt solar power system with photovoltaic cells that convert free solar energy to household electricity. The solar panels will help homeowners gain more energy independence and protect against future energy costs. Excess energy generated will be supplied back into the grid for homeowner credits. In addition to solar panels, Victoria Gardens homes will have additional green features including a monitoring system, low e glass, solar attic fans, Energy Star appliances, and other increased energy efficiencies. Homeowners will be eligible for additional tax credits from the government's Solar Investment Tax Credit program. The option becomes available Jan 1, 2009.

Disclaimers on the "Free Solar" offer makes it clear that it is available on select homes and lots depending on elevation and orientation. Energy savings varies based electrical usage, plan, site, orientation, weather, energy provider and rates. from "Green" Homes survey conducted online within the U.S. by Harris Interactive on behalf of Shea Homes. Trilogy is a registered trademark of Shea Homes, Inc. Shea was named "2007 Builder of the Year" by Professional Builder Magazine.

For more information:
"Looking for Green Retirement Communities?"

Posted by Admin on October 27th, 2008
Comments (0)
Entries (RSS) and Comments (RSS)
Category: Best Retirement Towns and States

When baby boomers prepare for the next phase of their lives – retirement – many of them start by looking for the best places to retire at Topretirements.com. Every year we keep track of the most popular retirement towns on this site – here is our list compiled based on 2008 results.

Asheville, North Carolina remains the run away favorite dream retirement town. Asheville has 50% more web visits than the next most visited town on this site (Sarasota, Florida).

There were some new additions in 2008 within the top 10 places to retire on this list. Those include San Diego, California at #8; Austin, Texas at #9; and Phoenix, Arizona at #10.

Sunbelt states dominated with the most towns in the top 25 list. Connecticut (Old Saybrook), Canada (Halifax), and Ohio (oxford) were the only towns to make the list from north of the Mason-Dixon line. Arizona dominated with 6 "best" towns, followed by Florida (4), North Carolina (3), California (2), Texas (2), and Tennessee(2). Georgia, South Carolina, Virginia, Connecticut, Ohio, and Canada each had 1 town on the list.

Here is the list of Best 25 Places to Retire at Topretirements.com:

1. Asheville, NC
2. Sarasota, FL
3. Prescott, AZ
4. Paris, TN
5. Winston-Salem, NC
6. Athens, GA
7. Green Valley, AZ
8. San Diego, CA
9. Austin, TX
10. Phoenix, AZ
11. Halifax, Nova Scotia (CAN)
12. Charlottesville, VA
13. Fort Myers, FL
14. Venice, FL
15. Oxford, OH
16. Sedona, AZ
17. Gainesville, FL
18. Flagstaff, AZ
19. San Luis Obispo, CA
20. Old Saybrook, CT
21. San Antonio, TX
22. Mount Airy, NC
23. Beaufort, SC
24. Tucson, AZ
25. Crossville, TN

Free Weekly Best Places to Retire update! Topretirements publishes an interesting weekly eNewsletter with more best places to retire and special reports.  It's free, and it comes with our Free eBook: "Baby Boomers' Guide to Selecting a Retirement Community".  Sign up for our free eNewsletter.

Methodology: This 2009 best places to retire list is comprised of the 25 towns with the most online visits at Topretirements.com from March through October 2008. It is a reflection of what baby boomers think are the best retirement towns, as well the referrals generated by the people viewing those pages.

Want to Find Out Your Best Retirement Towns ? Take our Free Retirement Ranger. It's a retirement calculator that's fun, free, and takes about 3 minutes to complete. Answer 11 questions and presto – you'll get a customized report of your best towns instantly by email. Take the Quiz now!

For further reference:
20 Most Under-Rated Places to Retire

All 100 Best Retirement Towns
This practical book details all the inside information about the 100 most popular towns at Topretirements – Print, eBook, or Kindle "Top 100 Retirement Towns" at Topretirements

25 Best Active Adult Communities of 2009

See PR Web Press Release on this story at 25 best places to retire

Posted by Admin on October 20th, 2008
Comments (15)
Entries (RSS) and Comments (RSS)
Category: Best Retirement Towns and States
If you are the kind of person who likes gambling, Biloxi Mississippi might be the town for you – for many reasons. First, it is a gambling paradise. Starting with the Hard Rock Hotel Casino and the Beau Rivage, there are at least 7 major casinos in Biloxi. It is the gambling capital of the southeast.

On other levels Biloxi (pronounced Ba lux' ee) is also for gamblers. Complacency after Hurricane Camille convinced many people to build in low areas. When hurricanes came, many ignored evacuation orders. Unfortunately devastation in Hurricane Katrina in 2005 was truly horrible, with almost all homes and businesses damaged or destroyed. The flood surge went miles inland in this pancake-flat area.
If you really want to gamble Biloxi could be a real estate opportunity. The infrastructure is coming back in this town of 50,000. Housing is relatively inexpensive (average home price in 2007 was $150,000, higher than the Mississippi average) and so are taxes and living expenses. There are huge waterfront properties available – for those willing to build in this hurricane-prone area. There are terrific amenities beyond the casinos, such as Beavoir, the post-war estate of Jefferson Davis, or the Ohr-O'Keefe Museum that is designed by expressionist postmodern architect Frank Gehry. There are miles and miles of beaches, and the local waters team with seafood.
Your Topretirements editor has been down here for a week with Habitat for Humanity. Habitat is helping the thousands of residents who lost their homes as a result of Katrina. Volunteers from all over America have been coming here year round since 2005 to help. Our team of 10 from Connecticut has been working on framing a 1300 square foot, 4 bedroom, 2 bath home. We started with a concrete slab – this picture shows what we have accomplished after 3 days of hot, sweaty, and joyous work.

I recommend the experience – the need is still great, the companionship outstanding, and the sense of accomplishment superb. Habitat is a first class organization with wonderful staff and purpose. Mississippi Gulf Coast Habitat for Humanity or Habitat

Posted by Admin on October 16th, 2008
Comments (0)
Entries (RSS) and Comments (RSS)
Category: Best Retirement Towns and States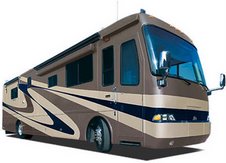 We are always on the lookout for interesting retirements. So when a mutual friend told us about Betty Fitterman (http:adventuresinthebettybus.blogspot.com), we got pretty excited. Betty and her husband shucked off their expensive home and 3 of their 4 cars, and bought a 4 year old luxury RV. It's the kind you see rolling down the Interstates wishing you were on board, making a sandwich or taking a nap. Really nice.

Best of all Betty agreed to write an exclusive series for Topretirements about what is like to live 365 days a year in your luxury RV, on the road and without a mortgage or grass to cut. As a former top ad agency creative, it's no wonder Betty is such an interesting writer. Check out all 5 articles in the series in our Tips and Picks section, starting with "Living the Mobile Lifestyle in Retirement.

Posted by Admin on October 6th, 2008
Comments (2)
Entries (RSS) and Comments (RSS)