Category: Best Retirement Towns and States
February 10, 2014. You've probably seen lots of different kinds of lists of the "best places to retire" by now. Those include the likes of: the most affordable places to retire, the most tax-friendly states, and best retirement towns for the arts. Plus there are the best places to retire for…. biking, golf, culture, bookstores etc. So, get ready for yet another sub-category – the best places to retire for livability.
Livability means many things to different people. So although this is our list of 10 great places to retire for livability, your own personal list might be quite different. To help you work on your own list we have tried to identify some of the key factors that make living in a community a pleasure. You might want to add, or subtract your own factors. After you have come up with the ingredients that make for perfect livability, you can take it one step further – weight each factor by how important it is for you. The result will be your personal livability equation – the ideal environment where living is a pleasure for you.
Common criteria for livability
Here are some of the common criteria for livability, although you might have others. The question for you is, how important is each factor in your selection criteria? Are there some that are absolutely critical, or others that are merely a plus? For some people, for example, the absence of good medical care might be create a veto for any community, no matter how good the other factors were. Spend some time creating your own weighting system – it will help you make a better retirement choice.
- Transportation. Is there good public transportation that is convenient and reliable? Can you ride a bike anywhere you want?
- Walkability. Can you walk to the store, recreation, the movies, parks, etc.? Or do you need to drive everywhere.
- Restaurants. Is there a good selection nearby – a variety of places where the food selections offer you more than fast food and chain restaurants?
- Libraries and museums. Are there places to go for cheap entertainment or social interaction?
- Culture. Theaters, performing arts, music, or history
- Weather and climate. The right mix of winter and summer temperatures and humidity – not to mention sunshine and precipitation
- Scenery. Is it a pretty town or is the nearby scenery special
- Recreation. Are there accessible parks, tennis courts, golf courses, bridge games, recreation centers, bike or walking trails
- Healthcare. Is there a good hospital? How about medical specialists that you might need for your particular medical condition?
- Good neighbors. Are the locals welcoming to outsiders, and a good fit politically and religiously for you. Are there a lot of other transplants, who probably are interested in making new friends? Is there the right blend of diversity/homogeneity?
- Safety. Would you feel safe out at night in your new neighborhood
- Shopping. Is there a variety of interesting stores where you can get the necessities of life, as well as have some shopping fun? How about a farmers market?
- Housing. Can you afford to live here, and do you get good value for your housing dollar. Do you like the types of housing choices and the neighborhoods where housing is available? Obviously, if you can't afford to live there, other livability factors are meaningless.
- Potpourri. What else is on your list that must be in your best place to retire? Please use the Comments section below to share your ideas on what makes for livability.
7 great places to retire for livability
This list was drawn up recognizing that everyone's idea of livability is going to be a little different. To give variety we've picked 7 places to retire that are great for a specific aspect of livability. If that aspect of livability resonates with you, great. If not, use the factors you consider important for your retirement lifestyle to go in another direction.
1. Transportation – New York City. Most big cities have great transportation infrastructure, but few have as extensive a subway and bus system as the Big Apple. Consider 3 major airports and rail service to NJ, CT, and NY. And of course Citi Bike – an inexpensive program that lets you pick up a bike and drop it off, whenever you need it, using the greatly expanded system of bike lanes across the city. Needless to say, NYC also has many other attractions that make it a great place for livability, balanced by the very high cost of living.
2. Restaurants – Lafayette, Louisiana. Some mid-sized cities and smaller towns stand out when it comes to food, and Lafayette is one of them. "The Cajun Capital City" was selected by thedailymeal.com as one of the 10 best small towns for food because of its strong Cajun restaurant choices. It named the French Press specifically for Cajun cuisine, and Pamplona for (Spanish) tapas. TripAdvisor.com shows 460 restaurants in Lafayette, the 4th largest city in Louisiana. Housing prices are reasonable – there are museums and a Performing Arts Center.
3. Culture – Naples, Florida. This beautiful city on Florida's southwest coast has so many things going for it, including culture. It was cited by Smithsonian.com as one of the 20 best small cities for its culture. They mentioned the Naples Zoo, the Naples Players, a community theater now in its 59th season; and the Von Liebig Art Center in Cambier Park. The Naples Philharmonic has a full season for you to enjoy. Plus you will find beautiful art galleries. Beyond culture, Naples features a walkable downtown, many great restaurants, and perfect white sandy beaches that you can walk to.
4. Walkability – Boston, Mass. You would think that small towns would be more walkable than large or mid-size cities. But Boston is a pretty good example of a city where the walking is easy – and interesting. Boston has a very high Walk Score® of 80 from Walkscore.com. If you are not going too far it is easy to get around by foot in Beantown. And if you need to go further, just jump on the T or one of many city buses for a reduced senior (65+) fare of $1 or $.75 respectively. For further attractions there are the world famous Boston Red Sox, Old Ironsides and many shrines of the American Revolution.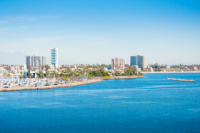 5. Weather and Climate – Long Beach, California. It is really hard to ignore California when it comes to a discussion of best climate. The sun shines most of the time and the temperature range throughout the year is quite narrow. Daily high temps stay at least in the mid 60s in winter and rarely go above 85 in the summer. Long Beach is quite walkable for a California city, has miles and miles of lovely beaches, and the price of real estate, although by by most any other state's standards, is much less than most of its pricey neighbors.




6. Friendly people – Asheville, NC. It is fairly natural that areas that attract people from outside regions tend to be high on the friendliness scale – outsiders don't have the cliques or inward focus that more homogenous towns tend to get. No town has a better reputation as a retirement town than Asheville, and people from all over the country consider and move here in western North Carolina. It has an incredible array of neighborhoods and developments to live in. Plus the Asheville branch of the University of North Carolina even has The Osher Lifelong Learning Institute, a major attraction for many.

7. Scenery and Pretty Environment – Portsmouth, New Hampshire. We admit this is a completely subjective pick – there are dozens if not hundreds of American towns that could be contender for pretty place to live. But Portsmouth, an important and well-preserved colonial seaport, is certainly one of them. It was named as one of the "Dozen Distinctive Destinations" by the National Trust for Historic Preservation. The charming brick buildings date from the American Revolution. Inland from this beautiful harbor town are the rolling hills of New Hampshire. As a tourist town there are plenty of good restaurants and things to do.

Comments? Please share your thoughts about the most livable places for retirement in your experience in the Comments section below. What aspects of livability are most important to you?

For further reading:
Best Towns for Walkability
How About a New Urban Community for Your Retirement
10 Affordable, and Highly Livable Places to Retire
Top 10 Retirement Towns for Amenities

Posted by Admin on February 10th, 2014
Comments (39)
Entries (RSS) and Comments (RSS)
39 Comments »
I'd add in that housing should incorporate elements of universal design (first floor master, wider doorways, at least one entrance that is ground level, lever doorknobs, "curbless" shower, etc.) And, one-stop shopping for all aging needs is important.
Look at the streets in the community: are there sidewalks that encourage walking? Benches if you need to rest along the way? Large enough signage to see as we age? Longer "walk times" for crossing the street? We may think we'll be like Peter Pan and "never grow up" but…
And, if you're part of a couple, be sure to consider if the community will still meet your needs as a single. Remember: 80% of men die married; 80% of women die single (including widowed or divorced).
February 11th, 2014 | #
It was nice to see the Northeast represented.
NYC has strong cultural activities you can partake of almost every day. Sports teams abound, and you can live in places like Brooklyn without spending every dime of your retirement check on rents. There are all services and incredible hospitals for your retirement.
Boston, my favorite city, has the Freedom Trail, the walkable tour of Paul Revere ride notifying the town that the British are coming. It has a good subway/trolley system that takes riders out to the more affordable parts of the city. But if you can afford it, living downtown or in Cambridge (home of Harvard and MIT) overlooking the Charles river, is a fabulous way to live.
Portsmouth NH is, as they said, beautiful. But it also has great restaurants, and is on the beach. Most people don't go into the water until July, but walking down a beach with snow on it is one of the great things about New England.
While costs are high,(Comparable to California), if you want four distinct seasons, to stay home in the beautiful winter snows, it is worth it. A regional grocery has a delivery service. There are active adult communities, so you won't have to take care of the snow or the leaves or the lawn. People are not as cold as the weather. If you are friendly, I have yet to find a New Englander unfriendly.
I live in Connecticut on a home in the woods with open space behind my house, Boston, three blocks from the trolley, Virginia Beach both by the beach and in Pembroke, and have summered on Cape Cod (with its endless beaches) and Salisbury, MA on the ocean,and Bow, NH on a lake. The winters may be cold, we may get snow, but the overall beauty of the area, the diverse types of living environments, and the great people, make the lifestyle worth it.
February 11th, 2014 | #
I'm glad that you mentioned Good Neighbors "political" as one of your criteria for retirement. While at one time in our nation, no one would even think of this, the state of our politics in this country in the last 20 some years has become more a part of our consciousness. The 'it's my way or the highway" (no matter what Party affiliation) is now part of our daily conversations. My political leanings are more towards the liberal and I do believe I may feel uncomfortable in what is considered a "red" state, but I can't believe that all the people in any state feel the same way. There may be a preponderance of opinion one way or the other, but it is hard to believe that everyone thinks the same! Selling my home and moving is an emotional and costly adventure and I would like to think that I am moving to an area or community that I would find people who don't necessarily share my political beliefs, or think exactly the way I do about everything (how boring would that be?!?) but at least I would find some people who trend more to the liberal end of things. I've heard enough President bashing over the last 20 years to last a lifetime. We are thinking about moving to Las Vegas or Tuscon Arizona. Are these good selections?? Just want to live my last days (Gee I sound so old) in relative peace and tranquility and hopefully make some lifetime friends.
February 11th, 2014 | #
ooops that Tucson!
February 11th, 2014 | #
I believe both cities are politically moderate, or should we say purple. However, Arizona on the whole is conservative – a red state.
February 11th, 2014 | #
I've lived in the Tucson area for over 20 years and the city is definitely blue. Flagstaff is also a blue area, with Phoenix going red in elections. Our state is turning purple. There are many registered independents here that vote for the person and the issue, not the party. If it's liberal political camaraderie you're seeking, then you'll find it in Tuscon. I have lived all over the country in every region during my life, and I think Tucson is one of the best cities in the country to live. I plan to continue living here as my base of operations after retirement. I'll travel, but I'll keep my little patch of desert home.
February 12th, 2014 | #
You can find folks across the full range of political beliefs anywhere, but you may have to search harder in certain states than in others. After the 2008 and 2012 national elections, I analyzed voting patterns in the southeastern states that are home to popular golf communities. The Carolinas, of course, were red (NC) to very red (SC), but a few counties — mostly those anchored by major universities — actually went for President Obama. I own a vacation home in Pawleys Island, SC, a condo in a unit of six, and my assessment of my neighbors' political orientations are that two are quite red, one is slightly red, and two are blue (the 6th are newcomers from Vermont of as yet undetermined persuasion). Perhaps not surprisingly, the reds have lived in the South forever, the blues are from New Jersey, and the slightly red is from Maryland, clearly a "border state." In our mobile society, the lines will begin to blur over time. I do think that our comfort living in a certain place is less about political persuasion and more about tolerance for the opinions of others, as long as they are not off the charts in terms of wackiness.
February 12th, 2014 | #
You should update your entire set of criteria for acceptable retirement living locations and amenities . Your writers must be somewhere between 20 and 35 years old. I'll give you an example. As far as safety is concerned most seniors couldn't care less whether it's safe to walk around the street at night. They are well aware that most safety problems arise inside the home and they want to be sure they have access to a responsive professional assistance in dealing with these problems.
February 12th, 2014 | #
So Marge andLarry what is the difference between liberal and conservative and independent. What if you are all three depending on the situation.
Linda
What label would you give me.
February 12th, 2014 | #
Decent and polite and responsible is what is needed. I personally do not trust the media as they will say anything to stir up what is sellable and isn't it the individual that should be held accountable. I would think you would have decent people in all parties. Where are the statesman.
February 12th, 2014 | #
Frederick
I like safety and walking around my neighborhood for safety would be my top priority.
What kind of safety problems arise in a home. This so I can take note. I would not mind
wider hallways.
Linda
You should walk in my neighborhood at night. If the pit bulls do not get you than maybe
a car driven by someone on their cell phone.
February 12th, 2014 | #
I care also about good police presence. Clean city. Harsh on crime .
Where is this place.
February 12th, 2014 | #
Thanks Linda for your additional comments. I think we need to move this discussion back towards livability and away from political discussions and labels. Cable News and talk radio are the places for that. So lets move on, thanks!
And Frederick – we are not sure if we should feel complimented as a 65 year old mistaken for a 25 year old, or chastened that we are so off the mark! Whatever the right response, we do see lots of retirement age people who are concerned about crime on the streets. Sometimes too concerned, as they look at crime rates for an entire city when in fact the rates are distorted by neighborhoods they will probably never visit. And of course, safety in the home is important, so thanks for that insight.
February 12th, 2014 | #
I agree with Larry above in that the question is more about peoples' willingness to be tolerant of other opinions. I have lived in several places–"red" and "blue" and I think that the key is whether people want to find something in common with each other besides politics. Common interests, whether it be hobbies, volunteer work, or apolitical organizations, are what build friendships. I have found this is the deciding factor–sad but true. I have met people who have announced right after they gave me their name, that they were of X political / ideological persuasion. I took it as a warning, a prod that I was expected to give mine, and that like politics was an important criteria that I would have to meet to continue to get to know them. If your primary interests are political, make sure you move to a place that has a strong representation of "your side". PS. this situation makes me sad…wish it was different.
February 13th, 2014 | #
This discussion shows EXACTLY why my husband I don't want an age restricted community. "Been there, done that" and hated all the bickering. We want amenities and peace and fun!
February 13th, 2014 | #
I am interested in areas of the country where it's easy to find other single people…particularly men. I've been widowed six years and don't want to settle some place where I can't have some kind of male company when I want it.
February 13th, 2014 | #
I agree with Dian above – amenities and gracious neighbors with the good manners to not ask, or care, who or what we vote for is our hope! And to think we were the voracious war protesters many years ago! From picket lines to conga lines, here we come!
February 14th, 2014 | #
To Semi-Redd:
I heard about this a couple of days ago, you might want to check out the article on top 50 cities for singles.
http://online.wsj.com/news/articles/SB10001424052702303704304579378902170592732?mg=reno64-wsj&url=http%3A%2F%2Fonline.wsj.com%2Farticle%2FSB10001424052702303704304579378902170592732.html
February 14th, 2014 | #
For Semi-Redd. I am a widow and single and retired to Phoenix, Arizona. Tons of singles here, I have no trouble finding a date, and making new friends! Lots to do in the area, and beautiful weather here in the valley of the sun!
February 14th, 2014 | #
Margie…I just bought a park model home in Tucson, after lots of research. Tucson is pretty open minded, and is a blue city. But in a red state. So you get lots of diversity. I think you would like it.
February 14th, 2014 | #
Top retirements editor Yes I agree with you. I was just commenting.
Thanks my husband says never talk politics.
Aloha
February 14th, 2014 | #
georgiabelle moving from Colorado to Arizona hopefully this spring if the house sells. Was planning on going to the Phoenix area and was glad to see your post. Are you in a 55+ community? I was thinking of going towards Mesa/Apache Junction maybe in an RV park with Park Models. Are you near there? I want to downsize and enjoy and travel more. Any suggestions?
February 15th, 2014 | #
Svenska, I am not in a 55 plus community. I bought a brand new home in 2010 not far from Scottsdale. I got a great deal at that time because no one was buying homes, and I am blessed that the price has increased more than 100K now. People are moving to Az like crazy, so inventory has declined. Mesa/Apache Junction is considered a bedroom community South East of the area, and still very reasonable from what I am told. I am sure you will find a nice RV Park to fit your needs. I also downsized and bought a smaller home that is very easy to maintain on my own, as, I too travel often. As a matter of fact I am away right now!!! I have lived all over the country, and must say say that Phoenix is my favorite place. Hope you find your spot!
February 15th, 2014 | #
Morning..great 'blogs' very informative..wondering if anyone has info on 55 communities in Delaware..
my request is in refernce to most communities there..say that when filled up (all sold) the roads and streets will be turned over to municipality of jurisdiction..and they will in turn maintain /clea/ repair etc..
well then how does the homeownners association oversee that as it is no longer under their respective control..
the second part of my question is that my understanding of the law would then allow these roads in communities to have public access…and the municipalities coud then connect these roads to other surrounding roads…that in-turn would provide road users to drive thrrough community to get to-from locations…
this seems to me a growing problem in managing the commuity, especially, there would be only jurisdiction by the HOA in blocks seperated by municipal roads..
would surely like to know if this has been addressed inside existing communities..as now..when we visit there is one entrance and exit in the same location..also, if the streeta are public anyone could come in and park in community streets..including vendors of food etc..Thanks if you reply..
February 15th, 2014 | #
Phoenix is abounding with seniors (full time and snowbirds). It's very red here (sorry, but when you get older, somehow it's nice to be where you find people of the same political persuasion and I have found very few around here in the Valley) however there's always outposts you can find anywhere. I would say this…if you don't like 3 months of 100 degree plus weather, then look elsewhere. If you have allergies or respiratory issues, reconsider. Phoenix might be a cheap place to live but you soon grow tired of the xeri-scaping and the brown-ness of it around here. Lots of senior communities in the West Valley but then you need to be a real joiner in some ways and their comm. center prices can be steep. Lots of things to think about. I'm actually going to leave in about 2 years because of the heat, and the brownish yellow haze that lies over the valley and makes my allergies and asthma flare up. Didn't have that back East (NYC).
February 16th, 2014 | #
Totally disagree with Kat, and got to defend my turf. I moved here from liberal California, and so were a lot of my neighbors…love the conservative politics. I live in N Phoenix and don't see much pollution in my area. It's beautiful and clean. Yes this is the desert and 3 months are extremely hot, you learn to deal with it, I travel to the California beaches which is soooo close. I lived in DC, and have been to NY, I hated the hot muggy summers and cold snowy, ice winters. Don't miss it one bit. Soooo don't come here if you can't deal with the hot summers. I have lived all over and there in no perfect place! Go back East Ya All that don't like it here!
February 16th, 2014 | #
to each his/her own, GBelle. What the East has, PHX never will..might include ice and snow back there, but so many other positives that this area will never have because of its transient atmosphere. If you just have "been" to NY or (NYC?), then you have never enjoyed what it has to offer. And, humidity is actually good for you – well maybe not you.
February 17th, 2014 | #
Admin: very weird how you pick what to delete. I'm guessing you vote republican.
Note from Admin/Your Editor: Thanks Ginger, we are grateful for your contributions to this Blog. We know in this case you were trying to defend someone, but we didn't feel that was going to be helpful. Personally we hate having to delete any posts, and we don't do it very often. We thought that the posts from Kat and Georgiabelle, even though they mentioned politics (which we had asked people not to bring up anymore), did it in a nice way, not saying one way was more correct than the other. They were also informative, letting people know the lay of the (political) land, which some visitors have asked for.
We are doing our best to keep politics out of the discussion here at Topretirements (see earlier note in this thread). They just don't belong. So we will delete posts if they bring up politics in a way that imply on position is better than another person's. For the record, our politics are a personal matter best kept out of this blog!
February 17th, 2014 | #
Politics aside, the idea of being around folks who find fault with everything in "the new place" because it is not just like the "old place" with better weather and a lower cost of living is terrifying. For those of you leaving (fill in the blank) in body but not soul, yo might want to figure out how to stay put and deal with the issues that you are trying to get away from. You'll never be happy and will save on relocation costs.
February 17th, 2014 | #
I have been in NY 8 years. I live upstate but have spent a loft time in NYC and Brooklyn. I can't say I love upstate, but if it were not for ice and snow, I would love NYC or Brooklyn. I just can't afford it. There is a vibrancy to the city that I have only found in one other place…San Francisco. But I can't afford to live in either of those places, so I am moving to tucson. I need to be in warmer winters for my health. But I am planning to be happy wherever I am, and I plan to enjoy what that area has to offer. When I travel to France I don't expect an American style breakfast; I have croissants and cafe au lait. I am excited about Tucson because it has a great university where I can take classes; a rich music scene with many live music venues; Mexican food!; beautiful scenery, warm winters. And it is a much cheaper place to live, plus I will be able to go to Mexico for dental care, drugs, etc. I'm in the middle of slogging through downsizing. Every day I am sorting and packing and lugging boxes. Yuck. But I keep the gol in sight…a simplified life in my new little park model. Can't wait!
February 18th, 2014 | #
Many years ago, when I first contemplated what life could be like in retirement, I thought it would be fun to find a place with some cafes where folks went to argue about the topics of the day — sorry, Admin, politics too (life's too short to talk about the Kardashians). I envisioned spirited debates, occasionally loud voices, a few profound points made and then everyone parts friendly enough that they did it all over again the next day. Sadly, that time has come and gone, thanks in large measure to FOX, MSNBC and worst of all, CNN (faux news).
February 18th, 2014 | #
Ginger, welcome to Arizona! Tuscon is a lovely choice and has a lot to offer. I too love music and I take classes at A
Ginger you are so right, and welcome to Arizona! I am sure you will love Tuscon. I downsized myself…ahhh felt like a new freedom, and love having a new life here, with the adventure of being able to travel often. I lived in San Francisco with my husband before he passed away, and loved it, but at this point in life, its too expensive,and Arizona is much more affordable for me. I too love music and go to a lot of music events here, and take college classes at ASU. Retirement and being happy is wonderful! Again…I welcome you to beautiful Arizona! Smile!
February 18th, 2014 | #
I too Larry remember a time when politics could be discussed even when people's views were far different. Everybody would get up from the table still friends. The cable news stations have made politics so ugly to increase their ratings. Just a lot of inaccurate sensationalism.
February 19th, 2014 | #
Ginger, I admire your goal and working/thinking towards that. I too love NY and think there is no other place like it, you come alive just walking the streets, but it is too expensive. I can not afford to live the way I would like to live in NY, so like you I am choosing Arizona. Selling the house in the spring and downsizing and traveling. We are so lucky we are able to do that now in our lifes. I also wish you luck with your knee operation and a speedy recovery. Keep us posted.
February 19th, 2014 | #
We are planning on retiring in 5 or 6 years and really like the Southwest – we have 80 acres north of Reno which we purchased 20 years ago. Times seem to be changing and the climate is changing the Southwest. In my last few trips to Las Vegas we drove the I-70 stretch of the Colorado River, and it seems to be pretty low. The Southwest seems to be well into a water shortage. How are others dealing with this issue when planning where to retire to?
Thanks,
Jeff
February 19th, 2014 | #
Jeff…Tucson is doing a number of things to bolster their water supply I believe. I know they are adding wells, and taking other steps. But truthfully, what area doesn't have some sort of weather or geographic issue? Plenty of water in Seattle but not enough sun. Sun and water in Florida, but sinkholes, hurricanes and humidity. Water in NY but freezing, snowy winters and hurricanes. And California is just too expensive. In moving to Arizona I hope to lower my expenses enough that I can continue to save vigorously, I am 64 and hopefully before the water runs out I can save enough to move elsewhere if I need to. But I want to be someplace comfortable and affordable now.
February 20th, 2014 | #
I just read a report on the 10 ten cities to relocate to from CNN, and Florida had two cities that broke the top 5 (Orlando and Tampa). In general, there are a lot of pluses when it comes to finding a place to live in the Sunshine State. Great weather, ever improving quality of life and general affordability should make it a high ranking option for anyone looking for a new home or a better place to retire.
March 17th, 2014 | #
Stephen: Can you give some info about living in Orlando? Are there 55+ home communities? What does your insurance look like (sink hole, hurricane, etc.)? Do you find that relatives and friends use your home as a hotel? Are there alternatives to toll highways that the local residents use? How far is it to the nearest beach? What are the real estate taxes on a $200,000 or $300,000 home? All info will be appreciated, since Orlando is on my list of possible retirement locations.
March 18th, 2014 | #
[…] College Towns Make for a Great Retirement Affordable Places to Retire on the Waterfront (part 1) 7 Great Places to Retire for Livability 5 Big Reasons Why Small Towns Are Great Places to Retire How About a New Urban Community for […]
May 22nd, 2014 | #