Category: Best Retirement Towns and States
May 22, 2012 — By popular demand we are providing a basic course in southwestern U.S. retirement, similar to what we did last month in Retirement 101:Florida (a 2 part series). We will cover 3 southwestern states with many similarities: Arizona, New Mexico, and Utah. Population and income data is from American Fact Finder-U.S. Census Bureau.
In our experience, most (but by no means all) retirees who immigrate to these states tend to be from west of the Mississippi and including many from California. The region is popular with people who are fleeing humidity and allergens.
A Few Facts
Arizona is by far the most popular of the three states for retirement. It is also the most populous with a 2010 population of 6,392,000. Utah was next in size with 2,764,000, and New Mexico's population was 2,059,000. The age statistics suggest that Arizona and New Mexico are much more popular for retirement than Utah: 13.8% of the AZ population is 65 and over, New Mexico is similar with 13.2%, and Utah is much younger with only 9% of the population in that age bracket.
Economics and Home Prices.
Trying to recover from an overbuilt situation in the Phoenix area, Arizona's median home prices are far below those of its 2 neighbors to the north (Utah) and east (New Mexico). In 2012 Zillow's Home Value Index for Arizona homes was $130,000, which was below the national average of $146,200. Flagstaff was the state's priciest Metro at $214,600. New Mexico and Utah were much more expensive with median home values both slightly below $200,000. Santa Fe was New Mexico's most expensive Metro at a value of $339,500, the same level as in Utah's Heber Metro (Park City area). The median household income in Arizona was $46,789, a bit higher than New Mexico's $42,090, but well below Utah's $54,744.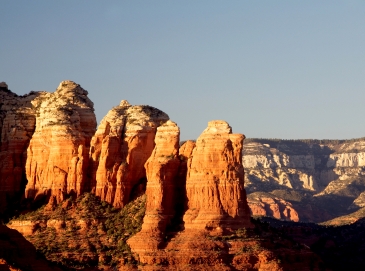 Climate
Being at the same latitude, Arizona and New Mexico tend to have similar climates, although New Mexico's greater altitude makes it a bit more temperate in summer and gives it more snow in winter. Utah is more northerly and at higher altitude, making it cooler with lots of winter snow in the mountains. All three states have a desert to semi-arid climate. The northern part of Arizona tends to be a higher plateau and thus cooler than the southern part of the state. The eastern part of New Mexico is lower and more in the Great Plains that its mountainous west. Humidity tends to be low in all 3 states. All 3 states have mountain peaks well over 12,000 feet.
Tax Environment Comparison
Arizona is the tax-friendliest of these 3 states (see state and local tax burdens below). Because it exempts social security and some pensions from state income tax it is definitely friendlier for most retirees. The data below is from the Tax Foundation and Tax-Rates.org. For more detail about taxation and other information about each state see our mini State Retirement Guides.
State
Arizona
New Mexico
Utah

Tax Burden Ranking
38th
41st
20th

Avg State Inc Tax
3.52%
3.63%
5% flat rate

State Sales Tax*
6.6%
5.13%
4.70%

Med Prop Tax Rate
.72%
.55%
.60%

*Localities may add additional sales taxes
State
Arizona
New Mexico
Utah

Taxation of Social Security
No
Yes
Yes

Taxation of Pensions
Yes, in-state & milit. exempt
Yes, most milit. exempt
Yes
Places to Live by State
Arizona
The Phoenix area has the biggest retirement population. Most of the towns around the Phoenix area are suburban and tend to be characterized by new growth. The city's size exploded after World War II, engulfing neighboring farm towns like Glendale in the process. During the buildup that led to the 2007 housing bust development occurred in communities farther and farther out from the center – places like Goodyear, Surprise, and Buckeye to the northwest – and Gilbert, Chandler, Apache Junction, and San Tan to the southeast. The old and affluent suburbs like Scottsdale and Paradise Valley, and the college town of Tempe were less affected by the recent buildup. Over-development in the outlying areas helped lead to the bust, and that real estate hangover is largely the cause of Arizona's very low real estate prices.
When considering communities in the Phoenix area even more due diligence is required than usual. Some newer communities are only partially built. Some are in foreclosure or have been sold (which might be a good thing), but more established communities can have their problems too. You need to visit these places in person and get a sense of how well they are doing.
On the plus side, the Phoenix area is loaded with nice places to live – both towns and active communities. Many have a large assortment of amenities. The Sun City communities are well established and huge, although many of them have an older population.
Northern Arizona
In our opinion some of the nicest places to live in Arizona are in the northern portion of the state among its cooler hills, pine forests, and mountains. Real estate prices reflect that – they are considerably higher than in the Phoenix area.


Prime towns for retirement are artsy and beautiful Sedona (at left) , the old wild west town of Prescott, and Flagstaff, which was America's film capital before Hollywood. Of all the towns in northern Arizona, by far the greatest choice of active communities is in the Prescott area.
In the northwestern part of the state is another group of less know towns. Those include Kingman, Lake Havasu City, and Bullhead City. Real estate is generally much less expensive than elsewhere in northern Arizona. If you live in these towns you will be closer to Las Vegas than Phoenix.
Southern Arizona
The area along the Interstates between Phoenix and Tucson and down to the Mexican border also has its interesting share of retirement towns and communities. Casa Grande is the closest one to Phoenix. Tucson has many fans for its beauty, warmer winters, the University of Arizona, and mountains. Communities around it like Oro Valley have their attractions as well. Lastly, almost in Mexico are Bisbee and Green Valley – one of the largest retirement places on earth, with close to a dozen or more communities within it.
Southern Arizona is obviously a lot hotter in the summer and warmer in the winter. Much of it is serious desert, although there are plenty of mountains to enjoy. Birdwatching and golf are 2 popular activities. The farther south you go, the further you are from the mainstream U.S.
New Mexico

This less populous state does not have that many choices for retirees. The most desirable towns are concentrated in a few pockets of the central portion of the state. Albuquerque, located near its center, is by far the biggest city with the most retirement communities to choose from. North of that is the arts town of Santa Fe, the most affluent town in the state. The popular ski resort of Taos(shown here) is also located in the northern part of NM.
In the southern portion of the state retirees are attracted to towns like Ruidoso, Las Cruces, and Alamogordo. This area of the state tends to be warmer and closer to west Texas. For the most part the towns are beautiful, but isolated.
Utah
The third state we are comparing in this trio is also the least oriented towards retirement. It has a younger and fast growing population and a vital economy (along with a lot of tourism). Utah also has a significant (60% according to Wikipedia) population that belong to The Church of Jesus Christ of Latter-day Saints (LDS Church), which many non-Mormons feel uncomfortable about. That concentration varies by area – it is much less in resort towns like Park City and booming retirement towns like St. George. Much of the state is uninhabited, with population centered within an hour of so of Salt Lake City.


Salt Lake City, Park City (at left), and Ogden are located in the north. Although there are some 55+ communities in these towns, you are more likely to find developments or neighborhoods that are not active adult communities. The outlier in the state for retirees is St. George, which is very close to Arizona in geography and feel. Along with Zion National Park, it has by far the most active communities of any Utah town.

Comparisons and Observations
- Arizona is by far the most popular state for retirement of the three. Topretirements has reviews of 28 retirement towns for Arizona, but only 7 towns each for Utah and New Mexico. Our site has reviews of over 140 Arizona active adult or 55+ communities, compared to 27 in New Mexico and 15 in Utah.
- Arizona is the cheapest in terms of real estate.
- From a tax standpoint for retirees AZ also comes up tops, with no tax on Social Security and the lowest income tax (although the highest property tax rate).

For further reference:
State Retirement Guides
Florida Retirement 101
Dueling States: Arizona vs. Florida
California Retirement 101

Comments? We and all your fellow members love to know what you are thinking. Please share your thoughts about retirement in these 3 states in the Comments section below.

Posted by John Brady on May 22nd, 2012
Comments (31)
Entries (RSS) and Comments (RSS)
31 Comments »
I live in Northern AZ, close to the CA border, in Bullhead City (BHC). There are 3 huge lakes within 45 minutes drive, and the Colorado River. Laughlin with its casinos is less than 10 miles away. Between BHC and Laughlin, there is just about all the dining choices you would have in a major city. Entertainment choices include most of the traveling acts that go through Las Vegas, about 1.5 hours away. It can get hotter than heck here, but my combined electric, gas and water bills for a family of 3 are less than $150/month, even during summer! The house I bought is 7 years old, about 1700sf, mint condition, on a paved landscaped street, with sidewalks and streetlights, at $125K. Gasoline is between $.40 and $.50 less per gallon than in CA. Los Angeles is about 3 hours away. I have seen 2 flies in the house this year, no mosquitos and no cockroaches. I am pretty satisfied with my move from CA for the moment.
May 23rd, 2012 | #
I've lived in Arizona for 14 years, both before and after retirement. I spent a goodly amount of time in the Phoenix area, and moved up to the White Mountains in 2009. Flagstaff is beautiful, but expensive, and cold in the winter. A less expensive four-season town is Show Low, near where I live. Prescott can be spendy, has lovely winters, but will still be hot in the summer. Smaller towns in the same general area with a similar climate are Camp Verde and Cottonwood. Payson, at the west end of the Mogollon Rim, has cooler summers than Prescott, and warmer winters than Flagstaff.
The water supply is also a factor in desert Arizona, so some research in that area is valuable. Water rationing can be a factor in drought conditions. Arizona is beautiful with its mixture of desert and mountains, red rocks and the white cliffs near Camp Verde, the grass lands of SE Arizona and the Saguaro forests mid-state.
May 23rd, 2012 | #
[...] of Florida retirement towns and active communities Part 2: Best Florida Region for Your Retirement Retirement 101: Arizona, New Mexico, and Utah Dueling Carolinas: Which is the Best Carolina for [...]
June 3rd, 2012 | #
[...] California Retirement Towns and Active Communities State Retirement Guides Florida Retirement 101 Retirement in the Southwest Comparison Dueling States: Arizona vs. Florida Dueling Carolinas Posted by John Brady on June 26th, 2012 [...]
June 26th, 2012 | #
This is a very helpful topic for my wife and me. We're going to retire in AZ in two years or so. Most likely PHX area, most likely East Valley.
Any advice for a couple wanting a patio type home, a 55+ community, not so much a "resort" type with everything from soup to nuts…..but a pool (to attract visitors), a gym and a community building. We're not looking for 3 pools, a golf course, woodworking rooms, jewelry making room, etc, etc.
I think I like the newer part of Mesa, my wife is not sure. We visited for a week recently, looked around, talked to a realtor, but really got no where.
Any city/town/suburb recommendations? We don't want city center, but want to be close enough to make use of events, shows, theatre and such.
We're coming from the Chicago area. Any spacific communities we might want to investigate?
I'm thinking renting for 6 months to take a closer look might be a good option….yes?:shock:
June 27th, 2012 | #
I was told that basements in AZ is not typical, and would like to find out if anyone knows which towns/cities (if any) in AZ can you build a new home with a basement. Does anyone know?
October 1st, 2012 | #
George – basements aren't common in AZ because the land is rocky and hard to dig out. You can do a search on Realtor.com for homes with basements this will tell you where a basement is possible but you'll find most of them are built into the side of a sloping hill or above ground, backfilled and graded.
October 2nd, 2012 | #
George, I live in the Phoenix-Scottsdale area, and you can find a few with basements, and you can build one with it. However, the majority of homes here do NOT have basements! This is an article on basements in Phoenix..http://phoenix.about.com/cs/real/a/basements01_2.htm
October 2nd, 2012 | #
We looked all over these 3 states in a four year search in most all the areas you list in this article, which I think gives a nice overview and is pretty accurate. We finally settled in Green Valley 14 years ago and obviously are very happy with the choice. We spent a considerable amount of time looking into virtually every 55+ active community around at that time, including all the Del Webb communities, Robson communities, and smaller ones as well. We spent time searching communities, climates, general info and access to cultural recreational, shopping, etc., in St. George, Utah, Salt Lake City, Albuquerque, Santa Fe, Ruidoso, Las Cruces,all over Phoenix, Tucson, Laughlin, Casa Grande, Silver City, Flag, White Mountains, Bisbee, Yuma, Prescott, Payson, and probably some I can't remember anymore. We know people who retired in many of these areas and have discussed pros and cons with them over the years. Of course, we believe Green Valley is the best bet for us for a number of reasons, but we found things to really attract us in many of these other locations, too, so I would be happy to share my perceptions and information I gained in our searches and discussions with acquaintances who reside there, if there is someone interested in my comments. Some might be a bit dated by now, but I would be happy to comment if I feel I can be pretty accurate about it.
December 2nd, 2013 | #
I would like to know more about what you found Mike T. Am doing research now for our retirement in 1 to 2 years.
December 3rd, 2013 | #
mike t could you please comment more on Green Valley
December 3rd, 2013 | #
HI Mik,
Please tell me about the weather in Green Valley. It is pretty far south and it seems as if it ma be just plain way too hot! But here in the East we always hear about how hot it is in Phoenix. Is this the hottest part of the state? My son and his wife lived in Fountain Hills for a few years and then their professional jobs took them to San Antonio, TX, and now to Charlotte, NC.
I have thought about Sedona area, but it is way expensive. There are some decent places in Cottonwood, Verde Valley area. Just curious?
Thanks,Elizabeth in NY~
December 3rd, 2013 | #
Hi everyone. Mike T is right about checking places out first if you can. My husband and I spent several years coming to AZ on vacations, and then for the winter before we found that we wanted to live full time in Prescott/Prescott Valley. We are happy with our choice as well. One thing to understand about the Southwest, is that elevation plays a huge factor in temperatures. When I started doing research, I would check elevations, etc. Some folks do well in a warmer climate, other folks like it a little cooler. Some folks like to have 4 distinct seasons, others don't. Most towns now have websites that offer good general information, and I always used to try to read any newspapers that happened to be online. Once, I took the Ajo, AZ newspaper for a year, just getting a feel for that area. It is not a bad idea to take a look at real estate listings and rentals in an area, to see what prevailing costs might be. Just some ideas. There is lots of information out there, but an onsite visit is the most fun. Happy hunting.
December 3rd, 2013 | #
Janet, that makes sense… been doing research online and plan on vacationing in the areas we are interested in just to get a feel. Plus, talking with people I know who are planning or are retired there. Been looking at homes for sale and comparing it to where I currently live. I live in a hot climate now and what I like to call centrally isolated as I live in a valley 18 miles from a free (which is major in California).
December 4th, 2013 | #
Sorry not so responsive to these couple of questions. Since I live in such a retirement playground here in Arizona, I have been so busy playing tennis, mountain biking, and playing pickleball (that's a game you ought to research for exercise in retirement…it's for everybody), plus some sports dates I had made at the university this past week that I haven't been on the site for a while.
I first of all do not want to throw around biased reporting of Green Valley just because of I have lived and loved it here for 14 years now. Yes, I think it's great here, but I will try to give facts with the negatives included as I see them for this area to try to answer that inquiry. Then I will try to give information from my searches elsewhere in the Southwest. I'm just one person, but I was a writer here in Southern Arizona for eight of those 14, so I have interviewed literally hundreds of people, including Native Americans, immigrants and Border Patrol, cowboys, business people, historians, artists and athletes, and so on, you name it, and of course a majority of retirees who live or have rented in Arizona, New Mexico, Utah, in my journalistic travels. I will try to draw upon my memories of my conversations with them, too, to try to be more unbiased about my perceptions. I warn those who like blog brevity than I can go on and on, but I guess I have seen a lot since retiring here from Michigan in 99.
Green Valley is a unique small town logistically in that it does not have a typical urban center. It is instead a series of neighborhoods with three different shopping areas dividing it from north to south…about a 25 minute drive up the freeway to Tucson, which has a major university, lots of live theatre, pretty good restaurants, usual bigger city shopping malls, but some upscale boutique style stuff, a safe downtown with decent entertainment options and festivals, a good airport, plenty of good hospitals, some rundown neighborhoods here and there, some gang activity in certain areas, not really very difficult traffic issues for the most part (in fact you would find pretty friendly drivers compared to most bigger cities),not enough freeway so a lot of driving on surface streets, though it's easy to find one's way around. Gas is cheaper than the rest of the country, and enough competition and variety of shopping choices to keep costs pretty low for most things. Both Green Valley and Tucson are surrounded by mountains and as you drive the 30 miles south to Green Valley you will note it seems to get greener…there are pecan groves and lots of palms and mesquite and palo verde trees and saguaro cacti. Yes, it's desert with cactus and scrub and open sky with no tall buildings, but the thousands of residents and dozens of businesses landscape their places which adds to a less barren look than elsewhere in this area. You will see that in the east valley of Phoenix as well, but that is an urban look and feel and this is a distinctly rural and small town feel, and since the observatories here want low light, it feels even more non-urban at night, especially since it is almost exclusively a retirement town so you have to go to Tucson for nightlife unless it's just a dance or party sort of thing for the most part. You can go to a concert or play or bar, but it's local and small town feeling and not late for any nightlife. What struck me most when I first looked at it was it's beautiful open country with majestic mountains, although there is copper mine to the west that can detract from all that. Some might not like that, but I guess I don't really notice it that much anymore.
Climate: GV is at 3k feet so is nearly ten degrees cooler on summer evenings than Tucson. Daytime temps in the summer are still hot about the same as Tucson, 8-10 less than Phoenix, but you generally find it easy to be outside till 11 and after 6 in dead of summer, where Phoenix is freaking hot 108-115 not uncommon for days on end and it does not cool off at night. June is hottest daytime here, 100 or so high each day, but cooler mornings and nights and July then starts to get humid (not Fla humid), but still in the 90s and some 100s with some gully washers through August till it cools fairly well by mid September. Rain storms can get heavy, but usually only about an hour or so, then cools off things. Summers can be tolerated okay, much better than Phoenix or Tucson, if you go to the pool or stay inside in mid day a lot and do other things then. Sunny most all the time and astronomers love it at night. Sunsets can be outstanding. It is dry, so you use lotion and always sunscreen and a hat and sunglasses. Rarely use windshield wipers or coats and no snow except in the mountains. Winters get a few overnight freezes so plants are covered and sometimes over the holidays it can be 50s daytime for a while, but usually sunny means you can still be out for most activities (you can tell I love talking about this place). Spring can be windy sometimes, but not like the plains, though you can get a dust storm here and there. Oct 1 to Memorial Day seems like best weather I have seen anywhere other than SoCal, except for Christmas to Jan 20 or so, which can be very unFlorida like cool and cold at night–down into the 30s generally overnight and cold daytime to me 50s and 60s, not to visitors from the north so much. They seem to think it's warm.
Demographics and lifestyle: Lots of old people, but most are very active. Lots of HOA's with rules, but that also means no run down neighborhoods in the whole town. Quiet, quiet, quiet. You can shop for most things you need right here. Every economic situation from manufactured home park to condos to townhomes to big homes with big views of the mountains. Most of the neighborhoods are age restricted, so you will not see young people around very much unless you go to sister town Sahuarita, which has two high schools, or into Tucson. You would have to like being around mostly retirees almost all the time. Homes are very nicely priced, and you can get anything you like, but it's tract housing for the most part, so builders are the usual corner cutters. You can get 2 b, 2bath from 1200 to 1600 in older const. in nice quiet neighborhoods from 90 to 160 depending on garage, outdoor space, view, location, etc. or you can go to luxury 18k on up in the usual 200 to 400 range depending again on property, location, extras, etc. You can rent easily, too. It's quiet and safe virtually everywhere.
Got a tennis match, so will add more later on the border, the recreation, the attitude/politics, services, things to do, the art community, and then my thoughts about Phoenix vs here and NM and Utah vs here on our time in searching and deciding if it's helpful and as long as anyone is interested.
December 9th, 2013 | #
mike t, very helpful and informative information on GV. Thank you and look forward to the rest of your comments.
December 10th, 2013 | #
You are no so wordy Mike T……you just explain yourself fully, and that is helpful. I look forward to your post-tennis match comments on Phx and surrounding areas. I happen to be moving to the northeastern section of Mesa in September/October, 2014, so I am particularly interested in your experiences and impressions. I have already purchased a patio home in a small 55+ gated community in Mesa….so our move will happen soon.
Your comparisons of lifestyles, communities, attitudes and the like are very interesting, and actually very insightful. I can tell you are a writer….so keep it up! Many of us are appreciative of the time you spend sharing your thoughts with the rest of us. :cool::
December 10th, 2013 | #
Mike T, thanks for the helpful info on Green Valley. What about the water situation? Is there going to be water at a decent price 10 or 20 or 30 years on, or will the aquifers all be used up?
December 10th, 2013 | #
Well, thanks for the kind words. Will try to give honest insights concisely if I can and avoid commenting on things I'm not certain about.
Going further with GV specifically, interaction with others is important to most in retirement since you will leave old friendships and family, so another unique aspect of living in a retirement "town" like this, as opposed to a retirement community in a big city like Phx or Tucson, is the striking difference re backgrounds, education, economic history, etc. Sometimes in a "community" it's an easily read common theme with that…if you really generalized, which I realize is dangerously open to backlash on what you say, you could say in a "country club" type of atmosphere (I found that kind of feel looking into Robson's communities….doesn't mean people weren't very nice and friendly, etc. and that everybody was welcomed it seemed to me)I think you can expect most to be coming from more "upscale" backgrounds, used to and expecting finer top drawer facilities, and maybe more looking for that lifestyle, but in GV you find quickly that the retired bus driver is often living next door to the retired CEO, depending on the neighborhood, and certainly use of recreational facilities means you might be playing tennis with him or her. I liked the Robson choices (Pebble Creek, Sun Lakes, Quail Creek down here) and they do have great facilities and sometimes a relatively younger demographic, but they did seem to me to be more geared toward folks looking for the CC or "resort" style living, which is fine. GV, on the other hand, is a town with manufactured home neighborhoods all the way on up to luxury homes and each home pays a ridiculously low annual fee to use what you want to use (17 tennis, 7 pickleball, 13 pools, 8 gyms, bocce,table tennis, racquetball,woodwork, lapidary, clay, cpu,arts, dance, music, hiking, biking, photo, etc, etc., you get the picture)located all over the town. You have to be willing to drive or bike usually a few miles to get to things, unless it's one of the rec centers in your neighborhood. This is also an issue for shopping. Some neighborhoods are at least 3 or 4 miles to a gas station, store. The freeway runs thru the town, and if you locate close you will hear traffic noise. On the other hand, it makes it often easier to get back and forth to places. Most neighborhoods are close to a gym and pool and tennis court, but if you are into photography, say, you might have to drive four or five miles to the studio to do your thing.
It is nice to have a "family town" right next door, so you will see all ages in stores and restaurants, but your neighborhood will likely be just 55+ and you will be surrounded by old folks a lot, which means it could more easily bore you to live here if you are not into the recreation and clubs or crafts and hobbies, etc., but it also means it's really really peaceful and quiet all the time. The majority are politically conservative, I would say, but there are many more on both sides of the political fence than you would find in places like Sun City, for example. Not much of a minority presence, a little bit, but there is a Latino influence everywhere in this area that is very friendly and seamlessly interactive. There are border issues that people talk about here, but in my opinion they do not have a direct effect on the quality of life here. If you bike in the desert and hike in the mountains, as I do, you will see evidence and Border Patrol presence, but it just has not become a part of daily living in this town. It is a very quiet and peaceful place with most neighborhoods ungated, but there is no question that there is illegal immigrant traffic that comes through this valley.
Summarizing my pros and cons for Green Valley…pros: 3k feet elevation means you can live fairly easily year round if you use pools and AC in summer mid day, beautiful open country surrounded by mountains, unparalleled recreation facilities, golf, hiking, biking, walking for low costs in sunny weather almost every day of year, variety of backgrounds of people, very very peaceful small town living with no traffic or other crowd hassles, lots of hobbies, clubs, social activities, pretty inexpensive for most everything, including most housing, most anyone can fit in (although it is mostly white middle class and upper middle class), very close and easy access to a great small city with some night life, cultural activities, good medical, and a major university, close to San Diego and close to great mountain retreats in AZ and NM that are much cooler….cons: 100-104 average for much of the summer, freeway runs through the center (though it's not heavy traffic), very little diversity by race, except for Latino, not much nightlife, closer to the border issues, water is not a problem now, but there is discussion about it so it needs to be looked at, might be too casual, laid back, boring, quiet, unstylish, whatever you would call it (it's a long long way from Scottsdale), the copper mine is an eyesore to the west sometimes, more churches than bars, not really a great restaurant, old people with old thinking sometimes, if you know what I mean, medical care here but hospitals in Tucson only, although a small one is being built now, shopping is pretty much Walmart tho stores are coming.
I hope that provides some insights on those looking into Green Valley. It's not for everybody, obviously. We settled on it because we wanted small town living close to a city, lots of sunshine for outdoor activities we like, and the low cost of living and lack of hassle and traffic. If we were into more indoor things and wanted good restaurants and nightlife and bookstores, coffee shop around the corner, walk downtown, and shopping and those kinds of things to do, we would not live here. If we were not okay living around older folks, we would not live here. If you can't stand heat, don't live here year round, although probably 50 to 60 percent use this as a winter home only, Oct thru April or May, and many of us travel, or go to the mountains or San Diego in the summers.
That is one nice thing about where Dave C is going. Mesas is a great jump off point to head to the White Mountains and Rim Country in the summers. You can be up at 20 degrees cooler in less than 2-3 hours depending on where you go. I can speak about those areas, too, as we have a cabin in the Whites.
You did not mention the community, Dave, but I can guess which one, and if so you will like the small but active lifestyle with that one. Sometimes a 55 active like Sun Lakes, for example, which is down in Chandler, not far from you, can be overwhelming. It's so big. Very nice, but lots of things you might never use, and probably not as laid back as where you are going if I am guessing right. I would like probably the smaller more intimate community as long as there were enough things to keep me occupied…I'm kind of a jock. You will be also close to the lakes up in the Tonto area, the Superstitions, Scottsdale for shopping and dining and cultural, nice easy access to the airport, ASU is close by for tons of things to do, and Mesa has a great small airport for some summer getaways to Wyoming, Montana, etc. We liked the east valley for many of those reasons, although we did like Pebble Creek in the west valley very much, too, since it's closer to California places we like plus some other things out that way, but that's another story. I already went on and on with this one. Hope it provided some insights for those still searching.
December 10th, 2013 | #
Just moved to St. George, UT. from WI
Completely happy with our decision.
Have been welcomed by everyone.
Love the outdoor activities.
Housing very reasonable.
No doubt the right choice for my husband and I
December 10th, 2013 | #
Would agree with Carol on St. George. We spent some time there. Active outdoor seniors living in lots of sunshine and can tolerate the summers, though it is hot in summer. Plenty to do, very friendly, lots of great recreational facilities. Zion is close and so is Cedar City for summers in the pines…quaint little quiet place not a long drive north with Shakespeare and a nice university and some art galleries, etc. St. George is a real mecca for active retirees who love outdoors and plenty to do with those who have similar interests.
December 10th, 2013 | #
[…] A while back we wrote an article about retirement in the great American Southwest – "Retirement 101: A Guide to Arizona, New Mexico, and Utah". Recently the comments to this article were rejuvenated when member Mike T volunteered to […]
December 16th, 2013 | #
Sorry Pat J. Some cookies were preventing me from getting back into the site to answer your about water in Green Valley, Arizona.
I hesitate to give the impression that there is a clear and easy answer to the water issue here, plus a lot depends on who you talk to or what you read, so it's not fair to give the reader an answer like, "You will be buying a house in a area where there is a definite risk of losing the water supply one day," nor is it fair to say," There is never going to be a water problem here."
The up side seems to be as follows: Green Valley is part of a water replenishment district and there are albeit limited CAP water facilities that can be used when needed, plus we have a winter run-off agreement with the Apaches. Golf is somewhat on the decline or at least very flat, and probably any new course is going to be true desert landscape anyway. Green Valley itself is very limited in what likely will be any future growth. It is going to be hard to find new building here for much longer unless it's in Sahuarita, and most newer and remodeled homes are much more efficient on water use anyway. Pretty much all of Southern Arizona has always been pretty good about keeping desert landscape which uses much less water. The replenishment rules for the most part are being used to make the case that we will be okay for decades to come. Not sure when or even if it will, but the plan is to try to bring more CAP replenishment potential further south of Tucson. Water is pretty reasonably priced, although ironically it has been seeing increases over the last few years because we all keep using less and less and when demand is down, the price gets increased. The stories about polluted water seem to be just pretty much stories. Never have seen evidence of it.
The down side seems to be as follows: Copper mining uses a lot and a new mine is being proposed nearby, although they appear to be applying stricter rules on replenishment than those "grandfathered in." The proposed mine is spending a lot of money already on the concern and have been trying to make the case that they will put back whatever they take. Will it happen that way? Most of the mining interests from what I can see are unobligated when it comes to water replenishment and use, and we have a very pro corporate state government. The farming and mining do seem to have their hold on what they want and need. Southern Arizona has been experiencing a 14 year drought and only this past summer has there been much hope it's going to end soon. This is a desert.
A good bottom line is that one should ask about it before buying and read all you can and form a opinion as to how much of a real "risk" our water issue is going to ever be in your lifetime.
December 16th, 2013 | #
What about Albuquerque. It seems to be getting a lot of kudos as a great retirement location. Does anyone on this forum live in Albuquerque, or retired to Albuquerque from another location? This forum seems to focus on the southeast and Florida, which I personally do not have much interest.
December 17th, 2013 | #
I would also like to hear from anyone retiring near Albuquerque or Santa Fe. It does seem that New Mexico taxes seniors more than other states…but again would like to hear what people who have retired there have to say.
December 18th, 2013 | #
My wife and I are planning to retire to New Mexico from Long Island in about a year. We have been to the three 55 and over active communities around Albuquerque. Jubilee in Los Lunas; Alegria in Bernalillo and Sunrise Bluffs in Belen. We have visited each community twice and are leaning towards Jubilee. We have been to Albuquerque in the summer, winter and fall and enjoy the change in seasons. Being close to Albuquerque is a plus. Best pizza; Giovanni's.
December 18th, 2013 | #
Thank you Basil for the info. What made you decide on New Mexico for retirement?
December 18th, 2013 | #
Well Bubbajog I guess there is not just one thing to pin it down to. My wife and I have in and through every state West of the Mississippi twice as we both love the West for its fantastic beauty and open spaces. Mostly on our secend trips we would ask each other could we live here; meaning where we were at the time. For myself I might have picked Durango; too cold for too long for my wife and too expensive for both of us. The Albuquerque area gave us the four seasons we wanted as well as the city fix we needed at a modest cost. It also gives us a jumping off place to travel the West.
December 19th, 2013 | #
Basil,
Did you look at changes in your cost of living (taxes and the like) when you made your choice. I know that New York has a high cost of living. How about New Mexico and other places you looked at?
December 20th, 2013 | #
Lynn,
Coming from Long Island and just 18 miles from Times Square we are very used to a fairly high cost of living and for two salaried workers all these years it hasn'nt been easy. We always spent within our means; I'm waiting for this big box tv to implode so I can get our first flat panel. Don't get me wrong I'm not crying poverty by any means; we have had many good times in the past. We can aford to retire here but we want more than to just get by; we want to LIVE! Our hard earned bucks will go a lot further outside this area. We will actually be upsizing into our first real home from our 850sq ft CO-OP apartment. Santa Fe is a lovely city but expensive; we will visit from most likely Jubilee in Los Lunas. I realize where your coming from really matters cost wise I met a woman who was downsizing to a 4300sq ft home; blew my mind but for her it was an issue; finally a garage/man cave I felt good.
December 21st, 2013 | #
Thanks Basil,
We moved from Maryland (high taxes and cost of living) to Florida, which has low taxes and inexpensive housing. Our dollar goes further here than back in Maryland. But we are looking to move on in a few years and New Mexico is on our list. It appears, though, that New Mexico has rather high taxes, compared to Arizona and Texas, for retirees, but the housing costs are low. But, as you say, some areas are more expensive than others.
December 22nd, 2013 | #