Category: Best Retirement Towns and States
– This article was updated in April, 2014 –
May 22, 2012 — By popular demand we are providing a basic course in southwestern U.S. retirement, similar to what we did in Retirement 101:Florida (a 2 part series). We will cover 3 southwestern states with many similarities: Arizona, New Mexico, and Utah. Population and income data is from American Fact Finder-U.S. Census Bureau.
In our experience, most (but by no means all) retirees who immigrate to these states tend to be from west of the Mississippi and including many from California. The region is popular with people who are fleeing humidity and allergens.
A Few Facts
Arizona is by far the most popular of the three states for retirement. It is also the most populous with an estimated 2012 population of 6,553,255. Utah was next in size with 2,763,885, and New Mexico's population was 2,059,179. The age statistics suggest that Arizona and New Mexico are much more popular for retirement than Utah: 14% of the AZ population is 65 and over, New Mexico is similar with 13.4%, and Utah is much younger with only 9.1% of the population in that age bracket.
Economics and Home Prices.
Arizona has made great progress in recovering from an overbuilt situation in the Phoenix area. In 2014 Zillow's Home Value Index for Arizona homes was $178,400, well above what it was 2 years earlier, and similar to the index in New Mexico ($177,800). Scottsdale was the state's priciest Metro at $371,700. Santa Fe was New Mexico's most expensive Metro at a value of $337,500. At $216,800, the Utah index was considerably higher than both Arizona's and New Mexico's. Salt Lake City tends to have the priciest homes in Utah with a Zillow index of $247,600. The median household income in Arizona was $50,256, higher than New Mexico's $44,886, but well below Utah's $58,164.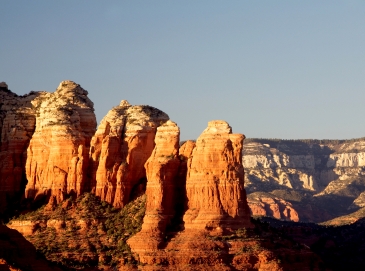 Climate
Being at the same latitude, Arizona and New Mexico tend to have similar climates, although New Mexico's greater altitude makes it a bit more temperate in summer and gives it more snow in winter. Utah is more northerly and at higher altitude, making it cooler with lots of winter snow in the mountains. All three states have a desert to semi-arid climate. The northern part of Arizona tends to be a higher plateau and thus cooler than the southern part of the state. The eastern part of New Mexico is lower and more in the Great Plains that its mountainous west. Humidity tends to be low in all 3 states. All 3 states have mountain peaks well over 12,000 feet.
Tax Environment Comparison
Arizona and New Mexico are the tax-friendliest of these states (see state and local tax burdens below). Arizona exempts social security and some pensions from state income tax. The data below is from the Tax Foundation and Tax-Rates.org. For more detail about taxation and other information about each state see our mini State Retirement Guides.
State
Arizona
New Mexico
Utah

Tax Burden Ranking
40th
39st
29th

Avg State Inc Tax
3.52%
3.63%
5% flat rate

State Sales Tax*
6.6%
5.13%
4.70%

Med Prop Tax Rate
.72%
.55%
.60%

*Localities may add additional sales taxes
State
Arizona
New Mexico
Utah

Taxation of Social Security
No
Yes
Yes

Taxation of Pensions
Yes, in-state & milit. exempt
Yes, most milit. exempt
Yes
Places to Live by State
Arizona State Guide
The Phoenix area has the biggest retirement population. Most of the towns around the Phoenix area are suburban and tend to be characterized by new growth. The city's size exploded after World War II, engulfing neighboring farm towns like Glendale in the process. During the buildup that led to the 2007 housing bust development occurred in communities farther and farther out from the center – places like Goodyear, Surprise, and Buckeye to the northwest – and Gilbert, Chandler, Apache Junction, and San Tan to the southeast. The old and affluent suburbs like Scottsdale and Paradise Valley, and the college town of Tempe were less affected by the recent buildup. Over-development in the outlying areas helped lead to the bust, and that real estate hangover caused Arizona's real estate prices to crash, although they are mostly recovered now.
On the plus side, the Phoenix area is loaded with nice places to live – both towns and active communities. Many have a large assortment of amenities. The Sun City communities are well established and huge, although many of them have an older population.
Northern Arizona
In our opinion some of the nicest places to live in Arizona are in the northern portion of the state among its cooler hills, pine forests, and mountains. Real estate prices reflect that – they are considerably higher than in the Phoenix area.


Prime towns for retirement are artsy and beautiful Sedona (at left) , the old wild west town of Prescott, and Flagstaff, which was America's film capital before Hollywood. Of all the towns in northern Arizona, by far the greatest choice of active communities is in the Prescott area.


In the northwestern part of the state is another group of less know towns. Those include Kingman, Lake Havasu City, and Bullhead City. Real estate is generally much less expensive than elsewhere in northern Arizona. If you live in these towns you will be closer to Las Vegas than Phoenix.
Southern Arizona
The area along the Interstates between Phoenix and Tucson and down to the Mexican border also has its interesting share of retirement towns and communities. Casa Grande is the closest one to Phoenix. Tucson has many fans for its beauty, warmer winters, the University of Arizona, and mountains. Communities around it like Oro Valley have their attractions as well. Lastly, almost in Mexico are Bisbee and Green Valley – one of the largest retirement places on earth, with close to a dozen or more communities within it.
Southern Arizona is obviously a lot hotter in the summer and warmer in the winter. Much of it is serious desert, although there are plenty of mountains to enjoy. Birdwatching and golf are 2 popular activities. The farther south you go, the further you are from the mainstream U.S.
New Mexico State Guide

This less populous state does not have that many choices for retirees. The most desirable towns are concentrated in a few pockets of the central portion of the state. Albuquerque, located near its center, is by far the biggest city with the most retirement communities to choose from. North of that is the arts town of Santa Fe, the most affluent town in the state. The popular ski resort of Taos(shown here) is also located in the northern part of NM.
In the southern portion of the state retirees are attracted to towns like Ruidoso, Las Cruces, and Alamogordo. This area of the state tends to be warmer and closer to west Texas. For the most part the towns are beautiful, but isolated.
Utah State Guide
The third state we are comparing in this trio is also the least oriented towards retirement. It has a younger and fast growing population and a vital economy (along with a lot of tourism). Utah also has a significant (60% according to Wikipedia) population that belong to The Church of Jesus Christ of Latter-day Saints (LDS Church), which many non-Mormons feel uncomfortable about. That concentration varies by area – it is much less in resort towns like Park City and booming retirement towns like St. George. Much of the state is uninhabited, with population centered within an hour of so of Salt Lake City.


Salt Lake City, Park City (at left) and Ogden, located in the north, are both great towns for folks who love the outdoors. Although there are some 55+ communities in these towns, you are more likely to find developments or neighborhoods that are not active adult communities. The outlier in the state for retirees is St. George, which is very close to Arizona in geography and feel. Along with Zion National Park, it has by far the most active communities of any Utah town.

Comparisons and Observations
- Arizona is by far the most popular state for retirement of the three. Topretirements has reviews of 32 retirement towns for Arizona, but only 9 towns each for Utah and New Mexico. Our site has reviews of over 150 Arizona active adult or 55+ communities, compared to 34 in New Mexico and 25 in Utah.
- Arizona is the cheapest in terms of real estate.
- From a tax standpoint for retirees AZ also comes up tops, with no tax on Social Security and the lowest income tax (although the highest property tax rate).

For further reference:
State Retirement Guides
Retirement 101 Mid-Atlantic States: MD, DE, VA, NJ
Florida Retirement 101
Dueling Carolinas: NC vs. SC
Dueling States: Arizona vs. Florida
California Retirement 101

Comments? We and all your fellow members love to know what you are thinking. Please share your thoughts about retirement in these 3 states in the Comments section below.

Posted by John Brady on May 22nd, 2012
Comments (103)
Entries (RSS) and Comments (RSS)
103 Comments »
I live in Northern AZ, close to the CA border, in Bullhead City (BHC). There are 3 huge lakes within 45 minutes drive, and the Colorado River. Laughlin with its casinos is less than 10 miles away. Between BHC and Laughlin, there is just about all the dining choices you would have in a major city. Entertainment choices include most of the traveling acts that go through Las Vegas, about 1.5 hours away. It can get hotter than heck here, but my combined electric, gas and water bills for a family of 3 are less than $150/month, even during summer! The house I bought is 7 years old, about 1700sf, mint condition, on a paved landscaped street, with sidewalks and streetlights, at $125K. Gasoline is between $.40 and $.50 less per gallon than in CA. Los Angeles is about 3 hours away. I have seen 2 flies in the house this year, no mosquitos and no cockroaches. I am pretty satisfied with my move from CA for the moment.
May 23rd, 2012 | #
I've lived in Arizona for 14 years, both before and after retirement. I spent a goodly amount of time in the Phoenix area, and moved up to the White Mountains in 2009. Flagstaff is beautiful, but expensive, and cold in the winter. A less expensive four-season town is Show Low, near where I live. Prescott can be spendy, has lovely winters, but will still be hot in the summer. Smaller towns in the same general area with a similar climate are Camp Verde and Cottonwood. Payson, at the west end of the Mogollon Rim, has cooler summers than Prescott, and warmer winters than Flagstaff.
The water supply is also a factor in desert Arizona, so some research in that area is valuable. Water rationing can be a factor in drought conditions. Arizona is beautiful with its mixture of desert and mountains, red rocks and the white cliffs near Camp Verde, the grass lands of SE Arizona and the Saguaro forests mid-state.
May 23rd, 2012 | #
[...] of Florida retirement towns and active communities Part 2: Best Florida Region for Your Retirement Retirement 101: Arizona, New Mexico, and Utah Dueling Carolinas: Which is the Best Carolina for [...]
June 3rd, 2012 | #
[...] California Retirement Towns and Active Communities State Retirement Guides Florida Retirement 101 Retirement in the Southwest Comparison Dueling States: Arizona vs. Florida Dueling Carolinas Posted by John Brady on June 26th, 2012 [...]
June 26th, 2012 | #
This is a very helpful topic for my wife and me. We're going to retire in AZ in two years or so. Most likely PHX area, most likely East Valley.
Any advice for a couple wanting a patio type home, a 55+ community, not so much a "resort" type with everything from soup to nuts…..but a pool (to attract visitors), a gym and a community building. We're not looking for 3 pools, a golf course, woodworking rooms, jewelry making room, etc, etc.
I think I like the newer part of Mesa, my wife is not sure. We visited for a week recently, looked around, talked to a realtor, but really got no where.
Any city/town/suburb recommendations? We don't want city center, but want to be close enough to make use of events, shows, theatre and such.
We're coming from the Chicago area. Any spacific communities we might want to investigate?
I'm thinking renting for 6 months to take a closer look might be a good option….yes?:shock:
June 27th, 2012 | #
I was told that basements in AZ is not typical, and would like to find out if anyone knows which towns/cities (if any) in AZ can you build a new home with a basement. Does anyone know?
October 1st, 2012 | #
George – basements aren't common in AZ because the land is rocky and hard to dig out. You can do a search on Realtor.com for homes with basements this will tell you where a basement is possible but you'll find most of them are built into the side of a sloping hill or above ground, backfilled and graded.
October 2nd, 2012 | #
George, I live in the Phoenix-Scottsdale area, and you can find a few with basements, and you can build one with it. However, the majority of homes here do NOT have basements! This is an article on basements in Phoenix..http://phoenix.about.com/cs/real/a/basements01_2.htm
October 2nd, 2012 | #
We looked all over these 3 states in a four year search in most all the areas you list in this article, which I think gives a nice overview and is pretty accurate. We finally settled in Green Valley 14 years ago and obviously are very happy with the choice. We spent a considerable amount of time looking into virtually every 55+ active community around at that time, including all the Del Webb communities, Robson communities, and smaller ones as well. We spent time searching communities, climates, general info and access to cultural recreational, shopping, etc., in St. George, Utah, Salt Lake City, Albuquerque, Santa Fe, Ruidoso, Las Cruces,all over Phoenix, Tucson, Laughlin, Casa Grande, Silver City, Flag, White Mountains, Bisbee, Yuma, Prescott, Payson, and probably some I can't remember anymore. We know people who retired in many of these areas and have discussed pros and cons with them over the years. Of course, we believe Green Valley is the best bet for us for a number of reasons, but we found things to really attract us in many of these other locations, too, so I would be happy to share my perceptions and information I gained in our searches and discussions with acquaintances who reside there, if there is someone interested in my comments. Some might be a bit dated by now, but I would be happy to comment if I feel I can be pretty accurate about it.
December 2nd, 2013 | #
I would like to know more about what you found Mike T. Am doing research now for our retirement in 1 to 2 years.
December 3rd, 2013 | #
mike t could you please comment more on Green Valley
December 3rd, 2013 | #
HI Mik,
Please tell me about the weather in Green Valley. It is pretty far south and it seems as if it ma be just plain way too hot! But here in the East we always hear about how hot it is in Phoenix. Is this the hottest part of the state? My son and his wife lived in Fountain Hills for a few years and then their professional jobs took them to San Antonio, TX, and now to Charlotte, NC.
I have thought about Sedona area, but it is way expensive. There are some decent places in Cottonwood, Verde Valley area. Just curious?
Thanks,Elizabeth in NY~
December 3rd, 2013 | #
Hi everyone. Mike T is right about checking places out first if you can. My husband and I spent several years coming to AZ on vacations, and then for the winter before we found that we wanted to live full time in Prescott/Prescott Valley. We are happy with our choice as well. One thing to understand about the Southwest, is that elevation plays a huge factor in temperatures. When I started doing research, I would check elevations, etc. Some folks do well in a warmer climate, other folks like it a little cooler. Some folks like to have 4 distinct seasons, others don't. Most towns now have websites that offer good general information, and I always used to try to read any newspapers that happened to be online. Once, I took the Ajo, AZ newspaper for a year, just getting a feel for that area. It is not a bad idea to take a look at real estate listings and rentals in an area, to see what prevailing costs might be. Just some ideas. There is lots of information out there, but an onsite visit is the most fun. Happy hunting.
December 3rd, 2013 | #
Janet, that makes sense… been doing research online and plan on vacationing in the areas we are interested in just to get a feel. Plus, talking with people I know who are planning or are retired there. Been looking at homes for sale and comparing it to where I currently live. I live in a hot climate now and what I like to call centrally isolated as I live in a valley 18 miles from a free (which is major in California).
December 4th, 2013 | #
Sorry not so responsive to these couple of questions. Since I live in such a retirement playground here in Arizona, I have been so busy playing tennis, mountain biking, and playing pickleball (that's a game you ought to research for exercise in retirement…it's for everybody), plus some sports dates I had made at the university this past week that I haven't been on the site for a while.
I first of all do not want to throw around biased reporting of Green Valley just because of I have lived and loved it here for 14 years now. Yes, I think it's great here, but I will try to give facts with the negatives included as I see them for this area to try to answer that inquiry. Then I will try to give information from my searches elsewhere in the Southwest. I'm just one person, but I was a writer here in Southern Arizona for eight of those 14, so I have interviewed literally hundreds of people, including Native Americans, immigrants and Border Patrol, cowboys, business people, historians, artists and athletes, and so on, you name it, and of course a majority of retirees who live or have rented in Arizona, New Mexico, Utah, in my journalistic travels. I will try to draw upon my memories of my conversations with them, too, to try to be more unbiased about my perceptions. I warn those who like blog brevity than I can go on and on, but I guess I have seen a lot since retiring here from Michigan in 99.
Green Valley is a unique small town logistically in that it does not have a typical urban center. It is instead a series of neighborhoods with three different shopping areas dividing it from north to south…about a 25 minute drive up the freeway to Tucson, which has a major university, lots of live theatre, pretty good restaurants, usual bigger city shopping malls, but some upscale boutique style stuff, a safe downtown with decent entertainment options and festivals, a good airport, plenty of good hospitals, some rundown neighborhoods here and there, some gang activity in certain areas, not really very difficult traffic issues for the most part (in fact you would find pretty friendly drivers compared to most bigger cities),not enough freeway so a lot of driving on surface streets, though it's easy to find one's way around. Gas is cheaper than the rest of the country, and enough competition and variety of shopping choices to keep costs pretty low for most things. Both Green Valley and Tucson are surrounded by mountains and as you drive the 30 miles south to Green Valley you will note it seems to get greener…there are pecan groves and lots of palms and mesquite and palo verde trees and saguaro cacti. Yes, it's desert with cactus and scrub and open sky with no tall buildings, but the thousands of residents and dozens of businesses landscape their places which adds to a less barren look than elsewhere in this area. You will see that in the east valley of Phoenix as well, but that is an urban look and feel and this is a distinctly rural and small town feel, and since the observatories here want low light, it feels even more non-urban at night, especially since it is almost exclusively a retirement town so you have to go to Tucson for nightlife unless it's just a dance or party sort of thing for the most part. You can go to a concert or play or bar, but it's local and small town feeling and not late for any nightlife. What struck me most when I first looked at it was it's beautiful open country with majestic mountains, although there is copper mine to the west that can detract from all that. Some might not like that, but I guess I don't really notice it that much anymore.
Climate: GV is at 3k feet so is nearly ten degrees cooler on summer evenings than Tucson. Daytime temps in the summer are still hot about the same as Tucson, 8-10 less than Phoenix, but you generally find it easy to be outside till 11 and after 6 in dead of summer, where Phoenix is freaking hot 108-115 not uncommon for days on end and it does not cool off at night. June is hottest daytime here, 100 or so high each day, but cooler mornings and nights and July then starts to get humid (not Fla humid), but still in the 90s and some 100s with some gully washers through August till it cools fairly well by mid September. Rain storms can get heavy, but usually only about an hour or so, then cools off things. Summers can be tolerated okay, much better than Phoenix or Tucson, if you go to the pool or stay inside in mid day a lot and do other things then. Sunny most all the time and astronomers love it at night. Sunsets can be outstanding. It is dry, so you use lotion and always sunscreen and a hat and sunglasses. Rarely use windshield wipers or coats and no snow except in the mountains. Winters get a few overnight freezes so plants are covered and sometimes over the holidays it can be 50s daytime for a while, but usually sunny means you can still be out for most activities (you can tell I love talking about this place). Spring can be windy sometimes, but not like the plains, though you can get a dust storm here and there. Oct 1 to Memorial Day seems like best weather I have seen anywhere other than SoCal, except for Christmas to Jan 20 or so, which can be very unFlorida like cool and cold at night–down into the 30s generally overnight and cold daytime to me 50s and 60s, not to visitors from the north so much. They seem to think it's warm.
Demographics and lifestyle: Lots of old people, but most are very active. Lots of HOA's with rules, but that also means no run down neighborhoods in the whole town. Quiet, quiet, quiet. You can shop for most things you need right here. Every economic situation from manufactured home park to condos to townhomes to big homes with big views of the mountains. Most of the neighborhoods are age restricted, so you will not see young people around very much unless you go to sister town Sahuarita, which has two high schools, or into Tucson. You would have to like being around mostly retirees almost all the time. Homes are very nicely priced, and you can get anything you like, but it's tract housing for the most part, so builders are the usual corner cutters. You can get 2 b, 2bath from 1200 to 1600 in older const. in nice quiet neighborhoods from 90 to 160 depending on garage, outdoor space, view, location, etc. or you can go to luxury 18k on up in the usual 200 to 400 range depending again on property, location, extras, etc. You can rent easily, too. It's quiet and safe virtually everywhere.
Got a tennis match, so will add more later on the border, the recreation, the attitude/politics, services, things to do, the art community, and then my thoughts about Phoenix vs here and NM and Utah vs here on our time in searching and deciding if it's helpful and as long as anyone is interested.
December 9th, 2013 | #
mike t, very helpful and informative information on GV. Thank you and look forward to the rest of your comments.
December 10th, 2013 | #
You are no so wordy Mike T……you just explain yourself fully, and that is helpful. I look forward to your post-tennis match comments on Phx and surrounding areas. I happen to be moving to the northeastern section of Mesa in September/October, 2014, so I am particularly interested in your experiences and impressions. I have already purchased a patio home in a small 55+ gated community in Mesa….so our move will happen soon.
Your comparisons of lifestyles, communities, attitudes and the like are very interesting, and actually very insightful. I can tell you are a writer….so keep it up! Many of us are appreciative of the time you spend sharing your thoughts with the rest of us. :cool::
December 10th, 2013 | #
Mike T, thanks for the helpful info on Green Valley. What about the water situation? Is there going to be water at a decent price 10 or 20 or 30 years on, or will the aquifers all be used up?
December 10th, 2013 | #
Well, thanks for the kind words. Will try to give honest insights concisely if I can and avoid commenting on things I'm not certain about.
Going further with GV specifically, interaction with others is important to most in retirement since you will leave old friendships and family, so another unique aspect of living in a retirement "town" like this, as opposed to a retirement community in a big city like Phx or Tucson, is the striking difference re backgrounds, education, economic history, etc. Sometimes in a "community" it's an easily read common theme with that…if you really generalized, which I realize is dangerously open to backlash on what you say, you could say in a "country club" type of atmosphere (I found that kind of feel looking into Robson's communities….doesn't mean people weren't very nice and friendly, etc. and that everybody was welcomed it seemed to me)I think you can expect most to be coming from more "upscale" backgrounds, used to and expecting finer top drawer facilities, and maybe more looking for that lifestyle, but in GV you find quickly that the retired bus driver is often living next door to the retired CEO, depending on the neighborhood, and certainly use of recreational facilities means you might be playing tennis with him or her. I liked the Robson choices (Pebble Creek, Sun Lakes, Quail Creek down here) and they do have great facilities and sometimes a relatively younger demographic, but they did seem to me to be more geared toward folks looking for the CC or "resort" style living, which is fine. GV, on the other hand, is a town with manufactured home neighborhoods all the way on up to luxury homes and each home pays a ridiculously low annual fee to use what you want to use (17 tennis, 7 pickleball, 13 pools, 8 gyms, bocce,table tennis, racquetball,woodwork, lapidary, clay, cpu,arts, dance, music, hiking, biking, photo, etc, etc., you get the picture)located all over the town. You have to be willing to drive or bike usually a few miles to get to things, unless it's one of the rec centers in your neighborhood. This is also an issue for shopping. Some neighborhoods are at least 3 or 4 miles to a gas station, store. The freeway runs thru the town, and if you locate close you will hear traffic noise. On the other hand, it makes it often easier to get back and forth to places. Most neighborhoods are close to a gym and pool and tennis court, but if you are into photography, say, you might have to drive four or five miles to the studio to do your thing.
It is nice to have a "family town" right next door, so you will see all ages in stores and restaurants, but your neighborhood will likely be just 55+ and you will be surrounded by old folks a lot, which means it could more easily bore you to live here if you are not into the recreation and clubs or crafts and hobbies, etc., but it also means it's really really peaceful and quiet all the time. The majority are politically conservative, I would say, but there are many more on both sides of the political fence than you would find in places like Sun City, for example. Not much of a minority presence, a little bit, but there is a Latino influence everywhere in this area that is very friendly and seamlessly interactive. There are border issues that people talk about here, but in my opinion they do not have a direct effect on the quality of life here. If you bike in the desert and hike in the mountains, as I do, you will see evidence and Border Patrol presence, but it just has not become a part of daily living in this town. It is a very quiet and peaceful place with most neighborhoods ungated, but there is no question that there is illegal immigrant traffic that comes through this valley.
Summarizing my pros and cons for Green Valley…pros: 3k feet elevation means you can live fairly easily year round if you use pools and AC in summer mid day, beautiful open country surrounded by mountains, unparalleled recreation facilities, golf, hiking, biking, walking for low costs in sunny weather almost every day of year, variety of backgrounds of people, very very peaceful small town living with no traffic or other crowd hassles, lots of hobbies, clubs, social activities, pretty inexpensive for most everything, including most housing, most anyone can fit in (although it is mostly white middle class and upper middle class), very close and easy access to a great small city with some night life, cultural activities, good medical, and a major university, close to San Diego and close to great mountain retreats in AZ and NM that are much cooler….cons: 100-104 average for much of the summer, freeway runs through the center (though it's not heavy traffic), very little diversity by race, except for Latino, not much nightlife, closer to the border issues, water is not a problem now, but there is discussion about it so it needs to be looked at, might be too casual, laid back, boring, quiet, unstylish, whatever you would call it (it's a long long way from Scottsdale), the copper mine is an eyesore to the west sometimes, more churches than bars, not really a great restaurant, old people with old thinking sometimes, if you know what I mean, medical care here but hospitals in Tucson only, although a small one is being built now, shopping is pretty much Walmart tho stores are coming.
I hope that provides some insights on those looking into Green Valley. It's not for everybody, obviously. We settled on it because we wanted small town living close to a city, lots of sunshine for outdoor activities we like, and the low cost of living and lack of hassle and traffic. If we were into more indoor things and wanted good restaurants and nightlife and bookstores, coffee shop around the corner, walk downtown, and shopping and those kinds of things to do, we would not live here. If we were not okay living around older folks, we would not live here. If you can't stand heat, don't live here year round, although probably 50 to 60 percent use this as a winter home only, Oct thru April or May, and many of us travel, or go to the mountains or San Diego in the summers.
That is one nice thing about where Dave C is going. Mesas is a great jump off point to head to the White Mountains and Rim Country in the summers. You can be up at 20 degrees cooler in less than 2-3 hours depending on where you go. I can speak about those areas, too, as we have a cabin in the Whites.
You did not mention the community, Dave, but I can guess which one, and if so you will like the small but active lifestyle with that one. Sometimes a 55 active like Sun Lakes, for example, which is down in Chandler, not far from you, can be overwhelming. It's so big. Very nice, but lots of things you might never use, and probably not as laid back as where you are going if I am guessing right. I would like probably the smaller more intimate community as long as there were enough things to keep me occupied…I'm kind of a jock. You will be also close to the lakes up in the Tonto area, the Superstitions, Scottsdale for shopping and dining and cultural, nice easy access to the airport, ASU is close by for tons of things to do, and Mesa has a great small airport for some summer getaways to Wyoming, Montana, etc. We liked the east valley for many of those reasons, although we did like Pebble Creek in the west valley very much, too, since it's closer to California places we like plus some other things out that way, but that's another story. I already went on and on with this one. Hope it provided some insights for those still searching.
December 10th, 2013 | #
Just moved to St. George, UT. from WI
Completely happy with our decision.
Have been welcomed by everyone.
Love the outdoor activities.
Housing very reasonable.
No doubt the right choice for my husband and I
December 10th, 2013 | #
Would agree with Carol on St. George. We spent some time there. Active outdoor seniors living in lots of sunshine and can tolerate the summers, though it is hot in summer. Plenty to do, very friendly, lots of great recreational facilities. Zion is close and so is Cedar City for summers in the pines…quaint little quiet place not a long drive north with Shakespeare and a nice university and some art galleries, etc. St. George is a real mecca for active retirees who love outdoors and plenty to do with those who have similar interests.
December 10th, 2013 | #
[…] A while back we wrote an article about retirement in the great American Southwest – "Retirement 101: A Guide to Arizona, New Mexico, and Utah". Recently the comments to this article were rejuvenated when member Mike T volunteered to […]
December 16th, 2013 | #
Sorry Pat J. Some cookies were preventing me from getting back into the site to answer your about water in Green Valley, Arizona.
I hesitate to give the impression that there is a clear and easy answer to the water issue here, plus a lot depends on who you talk to or what you read, so it's not fair to give the reader an answer like, "You will be buying a house in a area where there is a definite risk of losing the water supply one day," nor is it fair to say," There is never going to be a water problem here."
The up side seems to be as follows: Green Valley is part of a water replenishment district and there are albeit limited CAP water facilities that can be used when needed, plus we have a winter run-off agreement with the Apaches. Golf is somewhat on the decline or at least very flat, and probably any new course is going to be true desert landscape anyway. Green Valley itself is very limited in what likely will be any future growth. It is going to be hard to find new building here for much longer unless it's in Sahuarita, and most newer and remodeled homes are much more efficient on water use anyway. Pretty much all of Southern Arizona has always been pretty good about keeping desert landscape which uses much less water. The replenishment rules for the most part are being used to make the case that we will be okay for decades to come. Not sure when or even if it will, but the plan is to try to bring more CAP replenishment potential further south of Tucson. Water is pretty reasonably priced, although ironically it has been seeing increases over the last few years because we all keep using less and less and when demand is down, the price gets increased. The stories about polluted water seem to be just pretty much stories. Never have seen evidence of it.
The down side seems to be as follows: Copper mining uses a lot and a new mine is being proposed nearby, although they appear to be applying stricter rules on replenishment than those "grandfathered in." The proposed mine is spending a lot of money already on the concern and have been trying to make the case that they will put back whatever they take. Will it happen that way? Most of the mining interests from what I can see are unobligated when it comes to water replenishment and use, and we have a very pro corporate state government. The farming and mining do seem to have their hold on what they want and need. Southern Arizona has been experiencing a 14 year drought and only this past summer has there been much hope it's going to end soon. This is a desert.
A good bottom line is that one should ask about it before buying and read all you can and form a opinion as to how much of a real "risk" our water issue is going to ever be in your lifetime.
December 16th, 2013 | #
What about Albuquerque. It seems to be getting a lot of kudos as a great retirement location. Does anyone on this forum live in Albuquerque, or retired to Albuquerque from another location? This forum seems to focus on the southeast and Florida, which I personally do not have much interest.
December 17th, 2013 | #
I would also like to hear from anyone retiring near Albuquerque or Santa Fe. It does seem that New Mexico taxes seniors more than other states…but again would like to hear what people who have retired there have to say.
December 18th, 2013 | #
My wife and I are planning to retire to New Mexico from Long Island in about a year. We have been to the three 55 and over active communities around Albuquerque. Jubilee in Los Lunas; Alegria in Bernalillo and Sunrise Bluffs in Belen. We have visited each community twice and are leaning towards Jubilee. We have been to Albuquerque in the summer, winter and fall and enjoy the change in seasons. Being close to Albuquerque is a plus. Best pizza; Giovanni's.
December 18th, 2013 | #
Thank you Basil for the info. What made you decide on New Mexico for retirement?
December 18th, 2013 | #
Well Bubbajog I guess there is not just one thing to pin it down to. My wife and I have in and through every state West of the Mississippi twice as we both love the West for its fantastic beauty and open spaces. Mostly on our secend trips we would ask each other could we live here; meaning where we were at the time. For myself I might have picked Durango; too cold for too long for my wife and too expensive for both of us. The Albuquerque area gave us the four seasons we wanted as well as the city fix we needed at a modest cost. It also gives us a jumping off place to travel the West.
December 19th, 2013 | #
Basil,
Did you look at changes in your cost of living (taxes and the like) when you made your choice. I know that New York has a high cost of living. How about New Mexico and other places you looked at?
December 20th, 2013 | #
Lynn,
Coming from Long Island and just 18 miles from Times Square we are very used to a fairly high cost of living and for two salaried workers all these years it hasn'nt been easy. We always spent within our means; I'm waiting for this big box tv to implode so I can get our first flat panel. Don't get me wrong I'm not crying poverty by any means; we have had many good times in the past. We can aford to retire here but we want more than to just get by; we want to LIVE! Our hard earned bucks will go a lot further outside this area. We will actually be upsizing into our first real home from our 850sq ft CO-OP apartment. Santa Fe is a lovely city but expensive; we will visit from most likely Jubilee in Los Lunas. I realize where your coming from really matters cost wise I met a woman who was downsizing to a 4300sq ft home; blew my mind but for her it was an issue; finally a garage/man cave I felt good.
December 21st, 2013 | #
Thanks Basil,
We moved from Maryland (high taxes and cost of living) to Florida, which has low taxes and inexpensive housing. Our dollar goes further here than back in Maryland. But we are looking to move on in a few years and New Mexico is on our list. It appears, though, that New Mexico has rather high taxes, compared to Arizona and Texas, for retirees, but the housing costs are low. But, as you say, some areas are more expensive than others.
December 22nd, 2013 | #
Just returned from our second visit to Prescott AZ. Trying to decide if that is our retirement spot. As we would be relocating from Central Virginia, between Richmond and Charlottesville, this will be a big change. comments on Prescott from those already there would be appreciated.
Thanks for moving the discussion away florida.
April 2nd, 2014 | #
I spent nearly 20 years living in an active adult community north of Tucson, and eventually it became unaffordable due to stupid actions by the insider clique running it most of the time. Be very wary of moving into any large HOA dominated community, especially private ones, because over time their expenses will increase and you may or may not have a say in the matter. You are also on the hook for completely taking care of the streets and other facilities within the community, and that gets very expensive as confirmed by the regular annual assessments and automatic dues increases.
Finally, if you like being told nearly every move you can make on the exterior of your home and yard, than you are ready for one of these communities.Otherwise, avoid them like the plague.
April 2nd, 2014 | #
I moved to Phoenix in 1980 and now I'm retired. I investigated many options to relocate to a cooler climate but the cost of living in those areas was not affordable in my specific financial situation (2008 was a killer for me). Consequently, I've made the decision to move out to the "east valley" to either east Mesa or Apache Junction allowing me to be closer to nature and still close enough to city amenities. Both of these cities have many 55+ active retirement communities. Many of these communities require a monthly HOA fee to maintain the streets, community center, golf course, and all the other activities mentioned above. Noteworthy … Recently, there was an incident in Mesa where the person in charge of the HOA money took off and moved out of state with all the funds. Now that community is struggling with maintaining the streets, etc. So in addition to the prohibitive cost of monthly fees (for me) the issue of management of the HOA funds must be investigated. There are a lot of very large communities 1000+ homes, but also some smaller ones with only 300 – 400 homes. Personally, I prefer the smaller communities so I will have a sense of a neighborhood lifestyle. Most communities have heated pools and hot tubs. There are many that have the golf courses and all the other high end facilities. If you like to golf there are many, many golf courses in Mesa. I could go on and on since I've been investigating and driving through many of the communities, but I'll stop now and hopefully I've given you more to consider in making a move into a 55+ active community. By the way, we're having a beautiful sunny day with an assume blue sky!!! Have a great day!!
April 2nd, 2014 | #
Oops, forgot to mention that most of these communities are land lease. I prefer to own the land, but of course, that's my choice. There are some land owned communities, it's just a bit more difficult to find them, but they do exist.
April 2nd, 2014 | #
I spent some time in fall of 2012 looking at all 3 states and many of the areas talked about. I liked Prescott more than any other town I looked at BUT the traffic there was a pain, especially on the weekend. In general I found the climate in all 3 states a little too hot even for me(from PA)in the summer. I am currently now looking in the North Carolina area.
April 2nd, 2014 | #
This is to anyone out there knowledgeable of the Robson Ranch communities, but mainly Pebble Creek(PC) in Goodyear. Please share some good and bad points. My wife and I currently live in Mass. and are considering PC. Thanks,
April 2nd, 2014 | #
the thing that is not talked about is car and RV registration fees, which I have found to be HIGH in AZ.
April 2nd, 2014 | #
I live in the southeastern part of AZ, not too far from Sierra Vista, which offers good shopping. low cost of living, the best weather at 4500-5000′ elevation, one 55+ development, but is run by a bunch of old Army types who think they just tell folks what to do! Plus the area has the poorest medical care in the state. So some good, some not so good. Each has to know what they like now, and what they might need in the future!
Yes Tucson is only 90 minutes away, (or close to others like Green Valley) but forget about anyplace but the UofA medical, as the Tucson Medical Center, huge and a joke when it comes to care, is not where you want to go. Too many folks have had poor care there, yet all the TMC does is run a big lottery every year to raise more money for poorer care. Never seen a hospital tin cup more than the over priced, under care, for profit Tucson Medical Center.
It seems that most "younger" retirees forget about medical care…like the availability of doctors, specialists, and quality hospitals with quality people, while those of us "older", 70+, are a bit more concerned about healthcare and less about nightlife, restaurants, HOA fees, and the like.
As soon as I can sell my custom 2005 home on 8 acres and a beautiful horse barn, views of 3 mountain ranges,( I can see Mexico from my porch!) I will find a better place. Maybe the Carson Valley of NV, not often mentioned here, but only 30 minutes or less from Lake Tahoe, skiing at multiple areas, low cost of living, no income taxes, moderate climate, good medical, close to Reno and what it offers. Or Albuquerque, Corrales, Tijeras New Mexico. Or Grand Junction CO. Or Mexico, Costa Rica, Panama. All places I have lived or considered. Even the east valley of Phoenix, like Cave Creek or Carefree meet all the requirements, except for hot…but you are not far away from cooler places with an RV or tent for the 3 months you might need to climb out of the pool!
Being retired is great. Don't have to worry about Obamacare, getting fired or laid off. Just have to stay healthy, solvent, and have fun.
April 2nd, 2014 | #
We lived in Sedona AZ from 1994-2000. Loved the scenery and the weather was tolerable year around. Why did we move? Both my wife and I came down with Cancer and good hospitals were in Phoenix. Since neither of us had any relations out west we felt we need to move east to be closer to one of our children. The cancer has been taken care of. We haven't exactly determined how we got it. Some doctors blame in on Valley Fever. Maybe it wasn't environmental. We are in PA now. We are in our mid-70′s. I personally would like to move to a warmer climate again. My wife is not so enchanted about moving away from our daughter. So I have a feeling the west is out forever. We are trying to compromise on moving out of our home into a retirement community maybe down south more either NC or SC. If anyone has any positives or negatives on either of those states would appreciate dropping a note.
April 2nd, 2014 | #
Retired to utah and after 6 years we were finally able to sell our lovely log cabin home and get out of that state! We are now happily retired in oregon( ca originally) built in a small town in utah and they built oil wells on both ends of our street. No recourse. developers were felons and convicted in another state r of real estate fraud. We , as well as others in develooment , were lied to by them state of utah tried but did little to protect our rights , local law enforcement was lax and we felt it was unsafe and harassed whole time we lived there. Utah has some beautiful scenery , but oil industry is everywhere in uintah basin and little regard for natural resources. Rural area everyone has guns hunts and shoots and little regard for retirees Safety or peace and quiet . It was a bad experience .Would not recommend rural iUtah for retirement unless you area devout mormon and hunter fisher . Salt lake city area has worst air pollution in nation shockingly true
April 3rd, 2014 | #
I grew up in Tucson and visit about once a year. I think you should seriously spend at least a month there during the summer before you make a decision to move there. It really is hot! A few years ago in early June it was already 104. Folks from the east say "but it's a dry heat"…..true, but it's darn hot! Phoenix is usually a few degrees hotter than Tucson….and it's too crowded for me. Don't forget to think about being close to good medical care and a fairly good airport, if you will be traveling to visit family. I find many articles underestimate of don't mention the true summer heat in southern AZ.
April 3rd, 2014 | #
If you have an RV and can afford to live somewhere up north in the summer and come down to Arizona for the winter, that is a good option. I did that some years ago when I lived in Montana and came to an area just north of Phoenix for the winter.
I haven't been in Green Valley, AZ for years, so I know it has grown a lot, but what I saw years ago looked pretty good other than it's far away from any major airport, etc. There is a large Indian Casino not far from Green Valley and they sometimes have some very good entertainment. I don't know how GV is now, but some years ago they used to have problems with the illegals breaking in, etc. As Mike says, there is a lot to do for the "older" retirees, but for me at a relatively young 75, it could be too boring, particularly since I am alone and have no family at all.
I now live in Prescott, and I agree that the traffic is outrageous most of the time. Many Californians, New Yorkers, etc. have moved here so the population has mushroomed over the past ten years or so, and the high traffic has come along with that. In the summer, lots of Phoenix people come here because it's cooler, and there are a lot of tourists as well, so drivers often get frustrated with the heavy traffic and lack of parking in the downtown area. Good medical care is lacking and many of us drive to Phoenix, 2-1/2 hrs. away, if we need any kind of major medical care. A lot of us drive to Chino Valley, about half-an-hour away, for good family medical care because it seems that the doctors, their staff, as well as the inhabitants of Chino Valley still know how to be pleasant, kind, etc. Traffic between Chino Valley and Prescott is bad right now, but they are widening the highway. There is not much in the way of shopping here, but we do have 3 Walmarts now, a Trader Joe's, 3 fairly good grocery stores, a couple of health food stores, some fairly good restaurants and "downtown" there are some touristy types of shops, bars, etc. It is rather expensive to buy in Prescott, at least for a person by herself.
Prescott Valley has grown huge over the years and the subdivisions have run just about all of the antelopes out of there, which is a shame. They tried to relocate a lot of antelopes to southern AZ by chasing them with helicopters into pens and then transporting them, which I am totally against. Many of them got killed. Prescott Valley does have a large movie theater, a Kohl's department store, a Walmart, and 3 fairly large grocery stores, and it appears that Prescott Valley is getting more shopping, restaurants, COSTCO, Sam's Club, etc., than Prescott itself. Homes tend to be less expensive there, but you need to watch what kind of neighborhood you buy into, as parts of PV can get a bit dangerous with break-ins, shootings, etc., but that's mostly with the younger Mexican population there.
I lived in Cottonwood for 4 years and now that I've lived in Prescott for 3 years, I feel I should have stayed in Cottonwood, although it gets hotter there. Shopping is not very good and many people drive to Prescott if they want to do much shopping. Cottonwood is about 20 minutes from Sedona and for a single woman such as I am, I feel it's nice to be able to get to Sedona so fast where there is entertainment and some great restaurants. I was not able to buy in Sedona because homes there are extremely expensive … some movie stars even have homes there. Cottonwood and Prescott are quite a ways from the main freeway north and south, but Camp Verde is right by the freeway, making it easier to get to Phoenix, Flagstaff, or any major connecting freeways east and west. Chino Valley, Cottonwood and Camp Verde all still have some ranching and they have more of a rural feel. Dewey/Humboldt, which is outside of Prescott is also an area that is more rural and I like the "feel" there much more than Prescott. If I were to want to stay in this part of Arizona, I would choose Chino Valley or Dewey because I like the more open feeling there, although it's filling up rapidly.
Personally, if I could take the heat, I would live in Phoenix, as they have just about everything down there. Also, I think one can still buy some properties at reasonable prices, since there were more foreclosed homes down there, many of them with pools, two stories, etc.
The Payson area is lovely, since it's up in the green mountains, but the last time I was there, about ten years ago, there was not much shopping, medical care, etc., and the people were driving to Phoenix for most of that. Also, Pine and Strawberry, two small communities are not far from Payson, and kind of tucked into the lovely green mountains. One does have to consider the fact that they do often have some forest fires up there, but if one keeps the area around their house clear, that is relatively safe.
I had a home in Casa Grande, south of Phoenix, and sold it almost ten years ago. I have heard that since then, Casa Grande has grown a lot and now has lots of amenities, which we did not have when I lived there. They do get some horrible sand storms where it looks like a wall of sand is coming at you, which was one big reason I left there, and it gets very hot.
Flagstaff is a great university town and has almost as good medical care as Phoenix, as well as many nice restaurants and some good shopping. The green mountains with skiing are all around Flagstaff. The town is on Highway 40 so one can get east and west very well, e.g., Laughlin, Las Vegas, California, New Mexico, etc., as well as Utah is not far from there. It does get lots of snow most of the time, although this year they didn't get much. I've heard that homes are expensive so one would definitely have to check that out.
I lived in Utah, near Salt Lake City, about 15 years ago, before the Olympics were there, and I found it quite nice in that area. Salt Lake is a university city with all kinds of amenities and I liked the fact that it is centrally located on some major freeways if one likes to travel north and south. I imagine that one could still buy a home in one of the outlying areas there at a reasonable price. There are some nice areas around Provo and Cedar City. I would have stayed in the Cedar City area but I discovered there that I am very allergic to cedar and the name of the city tells one that there is lots of cedar there
I found the people in Utah very nice.
I also lived in Albuquerque and Santa Fe in the late 1980′s and I loved Santa Fe, but in those days there was not much in the way of shopping since it's a very touristy area, so one would have to drive to Albuquerque for anything major. Maybe that's changed over the years. The outskirts of Albuquerque were very nice in those days, and probably still are and the climate is very nice. I also have lived in Truth or Consequences, NM years ago and I found that area and its people wonderful. New Mexico has lots of the "old time" Mexicans and they are very friendly people. They have lived there for many generations and their culture has remained. I don't think that NM has had the illegal problems that AZ has experienced.
Well, I've rambled on enough and have pointed out more of the negatives of AZ than the positives …. I could have painted a much more positive picture about some of the areas of AZ, but had I known the negatives of Prescott before I moved here, I would not be here now … I'd more likely be in Oregon, Utah, Colorado or New Mexico since I like to have more greenery around me.
April 4th, 2014 | #
Ursula, wow, you really have traveled around. I have only lived in a few places during my lifetime, New York, Connecticut and Colorado. Thank you for all your information about Arizona, Utah and New Mexico. I really appreciated all the "rambling". I am in Southern Colorado right now, selling my home, and hoping to move to Arizona, around Phoenix. I realize that it is really hot in the summer, but so is Southern Colorado and we have winters, which I am looking to avoid. I am also a single lady, visited Phoenix many years ago and now looking for year around climate. My dream would be to get a small house and a small RV and during the hot months go north and cool off. After I sell I will probably rent for 6 months or so, and check some places out, but Phoenix area is a start. Thanks again for all your info.
April 4th, 2014 | #
I moved to Phoenix Az 3 years ago from California after having lived in San Francisco, LA, Newport Beach and Palm Springs. Still love California, and go there in the summer to escape the heat in July and August, but I love it here, wonderful weather about 8 months, great people, and soooo much to do! Great place to retire, wonderful health care, clean, low cost of living as compared to Ca! Easy to get around, wonderful restaurants, shopping, incredible sunsets, wonderful hiking, cool events to go too, sports, music,theater…you can never be bored if you choose to stay active. Everyone I meet that moves here from elsewhere raves about it! Just adding my two cents, this is what I am experiencing! You have to be prepared for the hot summers if you choose to retire here!
April 4th, 2014 | #
Loralee, you said the hot months are during July and August. Is that the only months that are hot. I have been told that probably 4 months during the summer it is really hot. I remember visiting, years ago, Goodnight during April and it was pretty hot. My house is up for sale and going towards Phoenix, still my dream, but just curious about the heat.
April 5th, 2014 | #
My in-laws wintered in Mesa for the last 25 years. They always wanted to Be on their way back to Minneapolis by the first week of May. They always said mid-May to mid-September was the "Big Heat" in the valley.
My wife and I bought their Mesa home and will move there around Sept. 15th. We love the desert, but I bet we'll do a little traveling in the summer of 2015. We are biting the bullet and moving "lock, stock and barrel" from Chicago to Mesa! I know Arizona & Florida are referred to as "God's waiting rooms
April 5th, 2014 | #
Cont.
"God's Waiting Rooms"…..but at least I'll die warm!
April 5th, 2014 | #
Svenska, I don't mind June here, but by July I need cooler, so I leave. I would say plan 4 really hot months. It is what it is, you learn to run in and out of air condition! To Dave: I don't go to Mesa but this is not "God's Waiting Room" at all. Lot's of younger cool retirees here too and everything else!!! Good luck to you both, hope you enjoy it! Loralee
April 5th, 2014 | #
Loralee: Do you know anything about the M H Villages in the Phoenix area? There are numerous sites, and the cost of the manufactured homes appeared to be inexpensive, however they do have lot rentals. My wife and I are also looking at Green Valley.
April 6th, 2014 | #
Loralee thank you. As I said my house is on the market and I am planning to move to the Phoenix area. I will try to get a rental for a couple of months, then travel around and check out the area. I have acquintances in Apache Junction and I have also heard, maybe from you, that north of Phoenix is nice, so will do some research that I was not able to do previously. I appreciate all your info and hope that I will be as satisfied as you are. Really looking forward to this new venture in my life.
April 6th, 2014 | #
What is ABQ NM like year round?
April 6th, 2014 | #
If you look at the Albuquerque weather the next 4 days it will be sunny. They get lots of sunshine. My husband's family is there but it is mile high and too cold in the winter. We just moved to San Antonio, Texas for retirement. It is an inexpensive place to live. Check Sperlings cost of living comparison. We are from Wisconsin so will go back to Wisconsin in the summer.
April 6th, 2014 | #
I am on the road to Tucson as we speak. Have a 16′ moving truck, towing my car. I am so excited! Currently in Tulsa, OK visiting my childhood friend. We drove from NY looking for spring…finally found it! Everything blooming here in Tulsa. So pretty. Will head out later this morning, on our way to New Mexico. Hope to make Tucson Tuesday night. Finally got my house in NY empty. Workmen coming in to do my yard, and a few house repairs. Tenants come May 1. Can't believe I did it! It's been a long, hard road. Now, when I get to Tucson, me and a coupe of friends will paint the interior of my new house, put down new plank vinyl floors and move me in. I will be home!
April 7th, 2014 | #
Congrats Ginger, ANSI best of luck. Dick and I will be moving out to Saddlwbrook as soon as house in SC sells. We just can't wait. Barbara
April 7th, 2014 | #
L.D. – here is a link to a site that list manufactured homes for sale. Just enter the city & state or name of the community (i.e., Montesa at Gold Canyon).
http://www.mhvillage.com/
We spent over a week looking at 55+ communities near Tucson and Mesa. Came to the conclusion that most were similar as far as amenities (Of course larger communities had more amenities)and it came down to where we want to be. We were looking for smaller & low cost community based on our age and financial situation. Also wanted to be near Phoenix in case I wanted to work part time. We bought a place at Montesa at Gold Canyon. 1,500 sq ft home for $99K. Perfect fit for our dog and my hobbies.
Good luck looking.
April 7th, 2014 | #
Sandie, You are moving from Central VA and asked about Prescott. We moved from Midlothian (suburb of Richmond) to Scottsdale and ended up buying a second home in Prescott. Prescott calls itself America's home town. It is quaint and easy to get around. You can find most of what you want or need in Prescott Valley. There is always something going on in Prescott but it is not too commercialized. It has a great home town feel. The population is small and most people know each other. If you want big city you can go to Phoenix in ~2 hrs. Prescott has good restaurants. Its claim to fame is Whiskey Row a section downtown with bars and bands. There is something there for everybody.
April 7th, 2014 | #
Barbara, why are you leaving SC? Have considered looking at Myrtle Beach area for our retirement. We like AZ but have read about water concerns.
April 8th, 2014 | #
Glenn: Thank you so much for the link to MH Village and great information. My wife and I will fly to Phoenix in August to see how bad the heat is.
April 8th, 2014 | #
Lee S, leaving SC for a variety of reasons. I'm sure I'll miss it at times because of some people and the beach, but I know I wouldn't miss the ridiculous costs of insurance, the over the top nasty political commentary, and all the rhetoric about North vs. South. I was in Hilton Head for 20 years, and when I met Dick, we decided a change would be good. Tucson has the scenery, great weather for much of the year, a good cost of living, a mix of cultures, a university,proximity to two good airports, and while Arizona is polically conservative, things are in flux there. Tucson is considered purple, an I like to hear divergent points of view. Hence the move.
We saw Saddlebrook, and it seems to meet our needs for golf, companion ship, a myriad of activities and a real mix of people from many different places. We really enjoyed the time we rented there and found it a wonderful base for touring a lot of western states…something on our bucket list.
April 8th, 2014 | #
Ginger, so happy for you and so glad you will be settled soon. I have my house up for sale and as soon as it goes I am on my way also. Did get in touch with your park and the management was very nice. I am not sure yet where I will go but if the house sells quick, will pack the dogs and essentials and drive down to Arizona and maybe rent for a couple of months till I know where I want to live.
So glad for you and let us know how you are doing.
April 8th, 2014 | #
Barbara: I was interested to read that you've chosen to leave SC. I'll be moving to either NC or SC shortly for a few years
April 9th, 2014 | #
Whoops – somehow hit Enter without meaning to, and don't know if we can edit posts. I've been told to stay near cities where there are a lot of transients like Charlotte or Myrtle Beach, because the more rural parts of NC and SC are extremely conservative and unfriendly to Northerners (bless our hearts). Would you agree?
April 9th, 2014 | #
Utah St George (southwest corner of State ) is nothing like Salt Lake City Husband and I recently moved from SE Wisc. and could not be happier!! We are not LDS, looked into SLC area, but agreed with other posts, too busy, and way to much pollution. If you like to hike, bike, and overall be outdoors this is the place to consider. We have been very much welcomed by the community. Housing is a bit pricey, bcz of the Calif. influence, but well worth it. Hospitals great, very low crime. Shopping is easy. And best of all, it is cooler in the summer here than AZ, but the winters are not much diff. than AZ.
April 9th, 2014 | #
Ave ska, I think he has other units he rents short-term, if you are interested in Tucson. I finally made it, and have been so enjoying the lovely weather and friendly neighbors!
April 10th, 2014 | #
Svenska, i think he has other units he rents short-term, if you are interested in Tucson. I finally made it, and have been so enjoying the lovely weather and friendly neighbors!
April 10th, 2014 | #
Ginger, so happy you made it and that your knees are holding up. That is a lot of work to pack up and move and sit in the car for long house. I read that Phoenix is today 99 degrees. Please send me again the name of the park as I have misplaced it. Hoping I will join you soon.
April 10th, 2014 | #
Sharon, there are lovely parts in both places and wonderful people too. Charlotte and the Research Triangle ( Raleigh, Durham, Chapel Hill) and Asheville have the more diverse populations in all ways. Hilton Head/Bluffton area and Myrtle Beach have a wider group too, although the summer renters in both areas can make for bad traffic. NC is more politically diverse. I really enjoy hearing multiple points of view on all topics. I just didn't find that, and felt things were going in the wrong direction. In my neighborhood of about 300 homes, there were 6 couples who didn't agree with the majority position. Two of us are leaving to look for something else. I don't want to go to parties and hear diatribes from anyone. I don't want to hear that groups of people are going to hell. You can have your values and opinions, but I want mine to be respected too.
Just be careful where you go, and you can have a very nice time. I've only lived on the East Coast, from Florida through New England. I've always wanted the chance to live overseas, but couldn't because I have an adult child on the autism spectrum and two parents who lived into their 90s and needed me. Now is time for a change, and I thought long and hard about what would make me happy. Dick and I picked Tucson because it meets many requirements. Hope your choices make you happy. I think that's what this blog is supposed to be about. Barbara
April 11th, 2014 | #
Thanks Barbara. I think we're a lot alike! I'll keep your suggestions in mind as I keep hunting, and hope you have a great time in AZ. I've seen pictures of Saddlebrook in a magazine, and it looks beautiful.
April 11th, 2014 | #
Ed,
Thanks for your comments. We too live in the Richmond metro area. One of our big concerns about leaving here is medical care. Richmond has great resources for medical care with an excellent medical school, lots of hospitals and new facilities springing from the ground after it rains. Right now, our health is good, but after helping our parents through their declining years, we realize the importance of good local medical care.
After last winter, I don't want to go any place that gets snow. Have been to Prescott twice now and do like the place, but we need to look deeper. Hubby suggesting that we spend next january there to see how bad the winter gets.
Thanks for all the good input on this site.
April 12th, 2014 | #
Looking for some insight from you all. I am almost 64,work full-time in a management position, high stress job, but I do love it – non-profit organization with a lifesaving mission. But I do need to slow down. Husband is retired, has been for several years and in poor health. Both our daughters live in Raleigh/Durham area as do our grandchildren, ages in utero to 9 years old. All indications point to both daughters staying in the area and setting down roots. We visit every 8 to 12 weeks and have discussed moving down there. But I do have reservations. I have friends and a familiarity where we live now (northern Delaware), am a Rotarian and involved. I have some minor health problems myself, which I am addressing. My quandary is, A) when to retire and B) not sure being that close to daughters, sons-in-law, grandchildren is the right solution. Older daughter feels we should be close so that when aging and health deterioration inevitably set in that it would be "more convenient". Just afraid to pull up roots and move without any connectivity to my new community. We do need to unload our large home that we no longer need. Sorry for the rambling. Thoughts?
April 12th, 2014 | #
Mary K –
We're somewhat in the same boat as you. Our daughter & her family moved from NoVa to Holly Springs right outside of Raleigh last summer to slow down their life & make it so she didn't have to work full-time any more. I am retired at 62, but hubby at 63 still works in DC at a job he loves though he hates the commute. However, we are both aware that what are minor health issues now can turn into larger problems as time goes on.
We discussed the situation with our son who lives in the eastern MD suburbs as well as our daughter. We have all agreed that we will move to the Raleigh area & we are in the active planning stages now. It's been a difficult decision because, like you, we have a large circle of friends developed over 35 years. The reality we came to is that we will be able to visit our adult friends about as often as we see them now & they are closing in on retirement, too, & will come down to visit us. Our son & his partner have a lot more mobility & flexibility to visit than our daughter & her husband have to drive up to NoVa since their 6 y.o. attends year-round school.
I've been down for several house-hunting trips to eliminate ones I knew hubby wouldn't even want to see. We eliminated all the 55+ communities after a careful review of all of their rules & have identified a community we want to live in if we can work it out with the builder. Our agent & I spent hours driving through communities on both weekdays & weekends to get the vibes in different neighborhoods & looked for a good mix between strollers & old farts like us watering the flowers.:smile:
Good luck with your process. We are all so different in the decision-making process, but we're really happy that this website gives such a sounding board of opinions.
PS – I retired now because we are able financially after 40+ years of work & saving. I watched friends & family decide to keep working & retire "someday when I get old" who ran out of time due to health changes or death. We realized that we don't want to wait until one or both of us is no longer physically or mentally able to do the things we've saved for all these years.
April 12th, 2014 | #
Svenska ….. Valley of the Sun mobile home park in Marana, AZ
April 12th, 2014 | #
Mary k….. I am 64 and recently retired. Why does your decision have to be considered as if you only get one decision for the rest of your life? You are young enough now that you probably have 20 years before you would seriously need care from your children, and who knows where they will be then? I think there are stages of retirement, just like the rest of life. Why not make a decision that works for you now, with the understanding that you may need to make a change later? I just moved to a mobile home park in Tucson. I have no family or friends here. Maybe in my 80s I will need assisted living, or the care of family. I plan to possibly get LTC insurance plan, save money, keep working part time,..to prepare for future changes, but I plan to have fun now.
April 12th, 2014 | #
Hi Ginger,
I am so very happy for you that you have finally completed the process of decision making, etc, and have DONE IT.:lol::lol::lol: YOU WILL LOVE TUSCON.
We are still here in NY and not making a lot of progress. This is tough, and I know that one ever said it would be easy!!! Congratulations on your Big Move. Yay!
Elizabeth in NY~
April 12th, 2014 | #
Mary K, I totally agree with Ginger that you shouldn't think of this next stage as being a final one. Plans that you make in your 60s may not work in your 80s, but so what. Do you want to plan for the worst case scenario, or enjoy life for however much more time you have. My parents enjoyed generally good health through their 80s. They lived where they wanted to, away from family. When there was a problem, one of their children got involved. We asked them to move closer to one of us when Dad turned 90 and the issues were becoming more common. Those 30 years they enjoyed living in Florida and traveling in tbe summers were their reward for working hard and raising 6 kids. I'm glad they did that, and my siblings feel the same. Do what you are able to do to make a happy life. Barbara
April 13th, 2014 | #
I feel like I stumbled on the therapy group I needed.
my husband and I relocated almost 15 years ago to Florida and began second careers. He has since retired, and I continue to work (self employed). We have traveled to the Phoenix area several times in the past five years! and have spent several weeks in sedona. Yes.. We know it is touristy as is our area of Florida. Yes we know it is expensive… But we are definitely
April 13th, 2014 | #
Oops… Accidentally posted too soon. We really love the climate, the scenery, and the area. We are not social butterflies, more in to home, reading, outdoor activities, etc. reading others thoughts and pondering makes me realize that 1) we are not alone 2) no decision is a forever decision, and there are many others in similar positions… Thanks…
April 13th, 2014 | #
Could anyone tell me about Moab in Utah? We were there a few years ago and I absolutely fell in love with all it had to offer, especially the scenery, the hiking and the general laid-back feel. My husband and I will be retiring back to the States after many years in London so we're looking forward to a spot where there's a lot to do outdoors as well as having a healthy arts and volunteer scene. Any suggestions in Utah, New Mexico and Arizona are greatly appreciated! Many thanks for your suggestions!
April 14th, 2014 | #
Can anyone tell me about Sun City outside Phoenix? A dear friend of mine is moving there in the next few months and the place seems to have something for everyone. From what I've read, the place looks fabulous; does anyone have any personal experience? Thank you! Michele
April 15th, 2014 | #
Sun city is nice but every new home purchase you pay a fee for becoming a resdent in that particular retirement community it is added onto the price of your residence. I lived in AZ 9 years and the pollution their is only worsening. I looks pretty but when you live their it is a hidden and unspoken health hazard. Try Hawaii it is the best for air quality and a pristine environments. Also, car insurance in AZ. is high there check rates before moving. Valley fever is only found in this area of the country and I'd become educated on this medical issue prior to relocating. Old properties are over priced and home owner fees for most complexes are high. Real estate prices in AZ have jumped 20% + in the past year. You don't receive what you pay for any longer. Find a location with good air quality elsewhere.
April 15th, 2014 | #
Hi Folks,
If anyone can help me with this, I would be grateful. If you have any opinions on the following cities, as possible retirement sites, please tell me what you think, good or bad.
- Benson, AZ
- Florence, AZ
- Portales, NM
- Truth or Consequences, NM
I am looking for a small town to retire in, so info on these would be great. Or if you have any other small towns to recommend, please let me know.
Thanks in advance!!
April 15th, 2014 | #
Darrel, not far from Florence is Maricopa, a wonderful town of 45,000 that is just far enough from Phoenix to have the best of both worlds. I live in Province , a 55+ community there. Real estate less expensive than Phoenix. Check it out.
April 16th, 2014 | #
I moved to Phoenix a little over 3 years ago from California. ALL of my expenses went down, taxes, car insurance, homeowners insurance, etc. Love it! I am 14 minutes north of Scottsdale in a new community, and my homeowners is $122.00 a month for a gym, spa, pool, tennis, basketball courts, hiking trails…it's awesome. Also we have world class medical care so close by! It has worked for me. All I can say it is a lot cheaper than California!!
April 16th, 2014 | #
Loralee, would you mind giving the name of your community? We are in the process of looking at Arizona. There is also going to be a 55+ in Verado at Buckeye and do you know anything about that area?
April 17th, 2014 | #
Just settling in to my new park model home in Tucson area. Wow is this area beautiful! I am impressed everyday. I am still unpacking and arranging. All you folks who are downsizing…be brutal. I am finding that I don't want to cram stuff into my new little home and have made two trips to Goodwill already, with more to come. And I paid to haul this stuff cross country. What seemed important when I was packing in NY doesn't seem important here at all. Let go, let go. And the weather is fantastic so far. Hot times coming, but even then the mornings and nights cool way down. So glad to be here!
April 18th, 2014 | #
So very happy for you, Ginger!
April 19th, 2014 | #
I have the house up for sale and as soon as that goes through I am on my way. I will probably rent for a couple of months, or maybe longer, to see where I want to be but many have mentioned Tuscon so I certainly will check the area out. So glad you are happy and things are working out. So your suggestion is to get rid of "stuff". I guess the living is simpler in the hot weather but I am planning to have a big "moving sale" and get rid of most of the "stuff".
April 19th, 2014 | #
Sounds great Ginger. Let us know if you find there are any essentials that should NOT be downsized.
I will get rid of as much as I can, but I am terrible at it. I especially find it so hard to give up some of my books…non fiction books.
April 19th, 2014 | #
HI Ginger,
Wow, what terrific advice. I still have tons of stuff and I, like Elaine, love to hang on to all my books. I can't wait to get it all out of this house and to get moved on. We are definitely not ready, although I was ready several years ago.:lol::lol: Enjoy your new life in AZ! Elizabeth in NY~
April 19th, 2014 | #
Elaine and Elizabeth – Most of the active adult communities, 55+ over, have lending libraries and would love to have your books. By giving them, you are allowing others to enjoy your books as well and maybe that would make it easier for you to let them go. Hope this helps.
April 20th, 2014 | #
Maybe this should be moved to http://www.topretirements.com/blog/retirement-planning-2/12-steps-to-downsizing-success.html/ admin?
I do donate my gardening books whenever I move…different climate, but not sure that the dog training/behavior books would be of great interest and I do love referring back to them. Fiction is much easier to donate. The texts I used for teaching are easy to donate. The health admin ones were happily taken by the university library.
April 20th, 2014 | #
Thank you all for your kind remarks. Once I got to Arizona, my internal clock started changing. I am up earlier, and in bed earlier. The light and heat seem to affect that. The first thing I did was paint my interior pale yellow with white ceilings and trim, and put down wood look floors. Everything looked very clean and spare. Then I didn't want to fill it up with stuff! I want to maintain a clean, simple, cool look. I am just realizing that things that seemed important in other environments may not be right fir your new environment.
The skies here are amazing. Tucson is headquarters for the dark sky society, and strives to keep city lights low so the night sky will be dark. The eclipse was fantastic here. Also, yesterday I took my friend to the train station and noticed there is an 'old Tucson' with beautiful historic buildings. I think there is much here to be discovered. We are entering the hot season, so I may hold off exploring till the fall, but am excited about the options.
This is a big change for me, so I am going slow and letting my body adjust. Change in altitude, change in temperature, change in time zones. Next week I will visit the university medical school and try to hook up with doctors, for my knee and my lungs.
I am hoping to rebuild my health here; that was a big part of my desire to move. We have aqua aerobics in our pool I will join, and other activities. And the heat makes me want to live on salad and ice cream!
April 20th, 2014 | #
Ginger, you sound wonderful and happily.expectant for what comes next. As I stated once before on this site, I found Tucson to be slightly "alien" in the
April 21st, 2014 | #
Oops. Anyway.Tucson seems different in a really interesting way. W when you have time check out the talent or call NE Tucson. the biosphere 2 is there and there's a great little restaurant called the patio cafe for lunch.
April 21st, 2014 | #
That was Oracle for the town. I loved this restaurant because of the fun and funky fibe. They invited.us to this dinner they do once a month called Dinner.with Dave. The chef.cooks.whatever.
April 21st, 2014 | #
Site acting up today. Chef cooks, you.bring beverages and and they seat you at big communal tables so you can go.by yourself and meet new people. It was a blast.
April 21st, 2014 | #
HI Nikki and All, I already donate books that I do not intend to use again but there are many I just want! I tend to be sort of attached to some of these books. I may just say Bye to them. I will have to figure it all out.
There ought to be some great entrepreneurs who will open businesses to help us pack up and clean our homes of all the gathered stuff! There are some but not where I live.
Great day to All and Blessings! Elizabeth in NY~
April 21st, 2014 | #
Barbara, I hope I followed your comments correctly…I found a place called The Patio Cafe in the town of Oracle that looks quite inviting. And I think you said biosphere 2 is there. It is 38 miles from me…think I will head out there soon, maybe today! Thanks for the tip!
April 22nd, 2014 | #
Has anyone explored retirement in the Tacoma, Washington area?
April 22nd, 2014 | #
Steve, I did. I lived there for 3 years, right after my retirement. I found the housing to be slightly pricey, but the market collapsed after th t. I bought my condo at te peak. It was a nice area, but seemed a bit run down to me…the whole town. And of course there is the 'Tacoma aroma' to contend with. Still, you are near Seattle in a much more affordable area. The Summer is fabulous. 9 months a year it rains, although we usually got a week or two of snow in winter. Always gray in winter. October to may. I found it very gloomy.
April 23rd, 2014 | #
What about medical care in New Mexico? I have heard it is not good. Have also heard it is very poor and that "I don't want to be there". I have visited and stayed many times over many years and I am still enchanted. But is there good medical care? Cancer? Heart problems? Orthopedics? It is important to have accessible and GOOD health care. Thanks for any information!
April 23rd, 2014 | #
steve – if you're looking around Tacoma have you considered Sequim? Better weather and more reasonable real estate price.
April 23rd, 2014 | #