Best Retirement Towns and States
Editor's note: This is an unusual post from one of our Members, Harv. He originally posted it as a Comment to our "Dueling Retirements: AZ vs. FL" Blog article. But due to its length we thought it might be good to break it out as its own article. Please forgive the spelling and punctuation as this was originally meant to be a Comment, not an article, so there are some errors. It is also quite conversational. Hope you enjoy it. PS – Here in 2016 we have had quite a few comments about retiring to Arizona. So we added those Comments to the bottom of this article – not to mention the many Comments made to the original 2015 article!
January 28, 2015 — We retired to Tucson for very specific reasons. Many people here say "I'll never again live where I need to own a snow shovel!" I totally agree with that sentiment, and I add that "I'll never again live where I need to own a lawn mower!" No snow shovel … no lawn mower … life in Tucson is good!
In our view, 32 degrees is a "deal-breaker" when it comes to deciding where to retire. Bad things start to happen at 32 degrees! Water freezes! So the average number of days that temps get below 32 is very important to us. It affects safety in driving and walking. Increasingly as we age, our reactions slow, so driving or walking on snow or ice is dangerous! I find I'm less able to catch myself when I slip or stumble, and it's not going to get any better with advancing age!
Tucson averages few days below 32 degrees … and when it happens, it usually gets only a few degrees under 32 … and it doesn't reach 32 until the wee hours just before dawn … and it's back above 32 again shortly after dawn. I can live with that. Phoenix has even fewer days under 32.
Second, humidity matters! It matters enormously! Humidity is our second "deal-breaker" … which is why Florida didn't attract us. Humidity makes it so uncomfortable if one perspires (and I sweat a lot!). After being in Tucson for nine months, we returned to Wisconsin at 10 pm on a June evening; I carried 3 light boxes into the house and my hair was wringing wet from sweat! I told Carol, "We were in Tucson for 9 months and have been back in Wisconsin for only 10 minutes, and I've sweat more in these 10 minutes than I did during 9 months in Tucson!" Of course I actually did perspire in Tucson, but I wasn't aware of (or frustrated by) it because sweat evaporates immediately and helps cool your body.
People like me from the North Country often wonder if they could survive the heat of summer in Southern Arizona. Is it humanly possible to survive 105 degrees? Well, Carol and I have now survived three summers in Tucson … and we lived to tell about it! Actually, it's really not as bad as my imagination had conjured up. As they say, "It's a dry heat." When we started snowbirding to Tucson in 2006, I asked a question to several people from the Midwest who had lived here for years: "So what does it feel like here in the summer? When it's over a hundred degrees here in Tucson, what temperature would you equate that to in the Midwest?" Almost everyone said they thought it was equivalent to a 10-15 degree difference … that 100 degrees in Tucson feels like 85-90 in Wisconsin of Minnesota. After 3 summers here, I can't disagree. 10-15 degrees sounds about right.

So doesn't 100 or 105 feel hot? Absolutely! It feels VERY hot, BUT … it's much more livable that we Northerners often imagine. During the heat of the day during hot months, you're typically either comfortably inside an air conditioned house, an air conditioned car, or an air conditioned store or office … or you're walking briefly from one to the other. Aside from the walk and getting into a hot car before the AC kicks in, it's not an issue. And if you want, you can even install a remote start on your car so you can start the motor and AC to get the car cooled off before you walk to the car. And even though it does get hot, there is some time basically 365 days a year when you can feel comfortable being outside. Even when it gets to 105, it's usually in the 70s in early morning … until 9 or 10 … and usually comfortable outside after 9 or 10 at night. And the weather during the other 9 months is so awesome that it's worthwhile. And the 360 days of sun are so psychologically uplifting. It's hard to be depressed when you have so much amazing weather and sunlight. While Florida claims to be the Sunshine State, according to "20 things you didn't know about Arizona" at matadornetwork.com: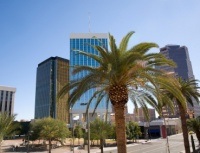 'Sunshine State' is a more accurate nickname for Arizona than Florida. Meteorological statistics don't lie. Arizona is the sunniest state in the country. (Florida comes in fifth.) Yuma is sunny 90% of the time, and Phoenix and Tucson tie at 85%. No city in Florida even makes the top ten." …
Interesting, huh? And surprising, right?
I've talked to several people who moved from Florida to where we live (at the Voyager RV Resort just outside the Tucson city limits). Almost every person has said that Florida humidity was what they were escaping, often complaining about the mildew, mold and bugs in Florida. In fact, the house next door was just purchased by a couple from Florida.
Speaking of bugs, I figure I average seeing only about one fly per month in Tucson. And mosquitoes are even rarer. We usually leave our doors wide open with no screen door … because there are almost no flying bugs! Awesome! No screen door? In Wisconsin, we needed a screen porch on our house if we wanted to enjoy being outside (unless we bathed in insect repellent!). It may seem like a small thing, but it matters.
Plus, the low humidity in Tucson makes it so much easier for each of us to breathe. In Wisconsin, we felt like the commercial with the elephant following us from room to room, sitting on our chests. In Tucson, the elephant is dead!
Speaking of avoiding driving on "frozen water", driving safety becomes increasingly important as we age. Allstate Insurance annually compiles the "Allstate America's Best Drivers Report". Phoenix, Tucson and Mesa each led the nation in their category of city size for having the safest driving. (source: blog.allstate.com, August 27, 2013) Phoenix topped the nation 9 years in a row among large cities (pop'n over a millon). Tucson and Mesa had best in the nation among similar sized cities (pop'n 500-750k and 250-500k respectively). Not losing our driver license is critical to our independence, so living in a community with a low accident rate like Tucson is a plus to us.
Many people incorrectly assume that Tucson must be warmer than Phoenix since Tucson's farther south. In fact, Tucson averages 4 degrees cooler than Phoenix (about 5 degrees cooler during summer & 3 degrees cooler during winter). Tucson's cooler than Phoenix because it's at a higher elevation. Phoenix's Sky Harbor Airport's at 1141 feet while Tucson International Airport's at 2654 feet.
Snow is rare in Tucson and almost unheard of in Phoenix. Some mentioned the skiing two hours from Phoenix. Mount Lemmon Ski Valley is just outside Tucson, less than an hour drive up the mountain from metro Tucson. It's the southernmost ski destination in the continental U.S. While Tucson averages less than an inch of snow per year, Mount Lemmon Ski Valley gets 180 inches (15 feet).
Tucson is highly rated for bicycling, almost always ranked in the top ten cities in the U.S.
Tucson (and Phoenix) is considered one of the best areas in the United States for those who have arthritis because Southern Arizona, Southern California and Hawaii have the least changes in barometric pressure in the U.S. It's the change in atmospheric pressure that aggravates arthritis and leads people to say "I can feel it in my bones that the weather's going to change because my joints hurt." Many people find that barometric pressure changes trigger migraines, congestion and sinus headaches. Stable weather patterns in Southern Arizona make a huge difference … my wife & I both experience noticeably fewer aches & pains in Tucson than in the Midwest.
In my view, the best way to compare the two cities is by how they "feel". As a real estate person said, Phoenix feels like a city while Tucson feels like a sprawling town. When walking in downtown Tucson, even though Tucson has 500,000 residents with one million in the metro area, I don't at all "feel" like I'm in the center of "a big city". Phoenix is more "upscale" and has a higher cost of living than Tucson. Tucson is very informal and laid back. We never feel the need to dress up to go anywhere (and we don't!).">
Someone earlier posted that the Mayo Clinic has a Florida campus in Jacksonville. The Mayo Clinic also has an Arizona campus. It's located in Scottsdale, a Phoenix suburb that's a reasonable 2-hour drive from Tucson. Mayo's Florida campus in the far northeast corner of Florida, 25 miles from the Georgia state line and far from many of Florida's most popular retirement areas.
The Administrator in the intro addressed political attitudes. Tucson metro is a blue island in a sea of red. Phoenix metro is very red.
Harv
(Editor's note: Thanks Harv – we appreciate hearing your point of view!)
More thoughts about Arizona from other visitors
PS – Here are some other visitor Comments about retiring to Arizona made to some of our other posts – we hope that by putting them in one place and adding them to this article you will find that useful. And don't forget the 191 Comments made to the original Dueling Retirements: AZ vs. FL article.
Dave M: We moved to Mesa, Arizona, in 2007 from Minnesota. We thought we received excellent healthcare in Minnesota, but the quality of medical care here in Arizona is well above what we received there. I have the best set of doctors that I have ever had. I have been able to get into to see my primary care provider on a same day basis a number of times and almost always within two – three days. My dentist is heads and shoulders above what we had previously. I have a lot of issues with living in Arizona but medical care is not one of those.
—
Louise: Dave M, can you tell us your 'issues' living in AZ? I have never been to AZ and find the State intriguing. I have been to Aruba and I can imagine the terrain being similar, however no ocean! How did you choose what city to live in? How did you narrow your choices? Good to hear there is good medical care there.
—
Dave M: Arizona is not a very good place for people with allergies. Since there is something growing/blooming almost every day of the year, there is no down time to let your immune system rest up as the cold weather does in the north. Compounding that problem is the frequency of dust storms during the monsoon season. I have to take monthly allergy shots to be able to stay here and, in fact, my doctor has advised me to move. But all places have some allergy problems. Urban air pollution and ozone also play a factor for those with respiratory diseases.
More problematic for me is legislation being passed in Arizona. The state is becoming too red politically for me.
—
Dave Hughes: I have lived in the Phoenix area (east valley: Tempe, Chandler, Gilbert, Ahwatukee) for over 20 years, and I have NEVER had a problem with roaches. In my experience, roaches come when there is food waste to eat. As long as you keep your kitchen clean, you shouldn't have a problem. I was born and raised in Ohio and lived in the Washington, DC suburbs before moving to Arizona, and we have far fewer bugs of all types here than anywhere else I have lived or visited.
—
Kathy: checkout the Fountain Hills AZ area – it's safe, quiet and a small walking community where your rental dollar goes a lot further.
—
Ginger: I'm in Tucson, and yes we have hot summers, but the rest of the year is beautiful. I lived in Tacoma WA for 3 years and you have to like it pretty cold and very gloomy to like that climate. Not my cup of tea. I like upstate NY better. Summers not too hot, and winter is snowy but sunny. I don't like gloom.
—
Norm (referring to a list provided by Larry – Check it out for yourselves: http://lpl-research.com/~rss/Thought_Leadership/TL_Retirement_Index.pdf): One comment I have is that Arizona which got low marks for health yet my brother who recently moved to Tucson said he disagrees with that.
—
Joann: Very interesting list. I question how they ranked Healthcare score for AZ= score F and WV=score B? I mention this after viewing a tv show discussing how NPs were working out of an old RV visiting communities to offer healthcare. AZ with it's huge population of retirees is where I would expect to have numerous doctors and better medical facilities. We have to do so much research to get through these misleading articles….
—
Loral: I live in Phoenix, and we have some of the best hospitals, including Mayo Clinic , Banner Hospital, St Josephs, which does research and has received many awards…and lot's others here. Excellent doctors here! That article is way off. S
—
For further reading:
Dueling Retirement States: Arizona vs. Florida
Retirement 101: Arizona, Nevada, New Mexico, and Utah
What Sandy and Roger Learned in 8 Years of Looking at Retirement Communities
One Year Later: Why Artie Moved to Carolina from New York
9 Things Betty and Jim Learned While Looking for Their Best Place to Retire
Morris and Carol Explore Florida and Texas
Hop on Jay Michael's Retirement Tour Bus (2 part series)




Posted by Admin on January 28th, 2015