Massachusetts Best Places to Retire - A Guide
Overall
Have you thought you might retire in Massachusetts? This website has useful data and opinions about the best places to retire in Massachusetts, including exciting active adult retirement communities in the Bay State. This New England state had almost 6.5 million people in 2008. It includes one of America's oldest cities, Boston, charming sea coast villages on Cape Cod, and rural towns in the western part of the state leading up to the Berkshire Mountains. Its diversity guarantees a Massachusetts community where you can be happy in retirement. The Wikipedia entry for Massachusetts has more facts.
Boston's Charles River

Massachusetts Climate
The Massachusetts climate is called humid-continental. There are 4 seasons. Summers are hot and winters are cold with frequent snowstorms, some of them heavy nor'easters. Western Massachusetts has a more severe climate, Cape Cod more moderate.
Economy & Home Prices
Massachusetts has one of the highest median household incomes (almost $62,283) in the United States. Median home prices can range dramatically - apartments in wealthy Boston routinely cost a million dollars or more, while the 1st quarter of 2013 median home in the Metro sold for $332,200 (source: NAR). In Worcester, however, the median home price at $203,600 is still higher than the national median of $170,000. Cost of living in the Boston Metro is very high. State wide the median sales price of a home in late 2011 was $292,600 according to Zillow.
Massachusetts Taxes
Tax Burden: Massachusetts, often referred to as "Taxachusetts", has made great strides in overcoming a reputation for having one of the highest tax burdens of any state. Limits on property taxes and income taxes appear to be the reasons for this success. Massachusetts was ranked 23rd in the nation for tax burden, a considerable improvement from earlier years.
Marginal Income Tax Rates. The state has a flat income tax rate is 5.3% on all income.
Retirement Income Exemptions. Pensions are exempt.
Social security exemption. Social security income is not taxed.
Sales Tax: Sales tax is 6.25%.
Property Taxes: The Bay State is 8th highest in the nation for per-capita property taxes collected. There is a $1000 tax credit for people 65+ who qualify on an income basis.
Homestead Exemption. There is no official homestead exemption, but there is a Homestead Act which permits a homeowner to shield his or her permanent residence up to $500,000 in equity of that house from creditors.
Estate and/or Inheritance Taxes. There is no inheritance tax. There is a limited estate tax on properties valued at $1,000,000 or more.
Link to Massachusetts Department of Revenue.
Certified Retirement Communities
Massachusetts does not have a certified retirement community program.
Best retirement communities in Massachusetts
Topretirements has profiled a number of towns that make great retirement communities; many of these have active adult communities. MA is a great state for active adults and people over 50, particularly if you live there already. Boston is considered by many to be the historical and cultural capital of the nation. Many baby boomers choose an urban retirement lifestyle in an exciting city like Boston, opt for a quiet life on the Cape, or even in a small college town in the west like Northampton. Check out our profiles on the lovely Cape Cod towns of Provincetown, Chatham, or Falmouth to find vital information to help you assess pros and cons of living there.
Other "best" retirement communities include the Berkshire college town of Williamstown, or the lake town of Worcester.
New eBook - "100 Best Retirement Towns
Download this eBook and find your perfect retirement community. Objective facts and useful details on why these towns are the top retirement communities at Topretirements
Get started with thebest Mass. retirement towns listed in the right column
Chatham MA Lighthouse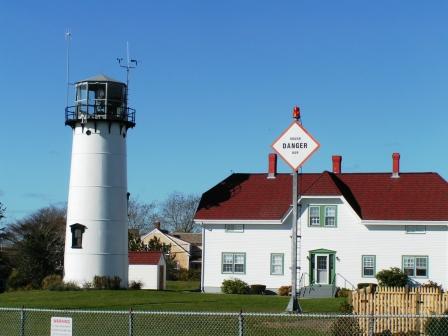 Click on the Massachusetts Retirement Community reviews on the right.
Custom Search
Massachusetts Retirement Communities