Category: Best Retirement Towns and States
November 8, 2012 — Weather is a critical input in the retirement happiness quotient for most people. Back in September we provided a list of resources where members could research the best weather conditions to fit their personal tastes. This month we've taken a different approach — we've selected the top 10 places to retire based on our own weather criteria. And because there are lots of good choices, we've also included a few honorable mentions. Note that although our choices are numbered 1 – 10, the choices are so subjective it is better to view them as all good choices rather than one is better than another. This article was prepared in cooperation with WSJ MarketWatch, who published a beautiful slideshow version of the 10 Best Places to Retire for the Weather.
The places on this list all offer good weather, which we define as a combination of relatively low amounts of rain or snow, fewest number of days below 32 or above 90 F., most days with sunshine, and low humidity. In addition to our own research we relied on 2 great sources: the "Camelot Index" (remember the Jay Lerner song from Camelot which includes this lyric: "…The climate must be perfect all the year…", as well as the Milken Institute's Best Cities for Successful Aging project. (Thanks to member Ron M., who turned us on to this great resource).
Thoughts about our selections
We tried as hard as we could to offer some geographic diversity to the list. Although we managed to find finalist on both coasts and along the Gulf of Mexico, retirees looking for good weather destinations in the midwest and northeast will be disappointed – it is just too cold and/or wet in those places. We focused on towns and small cities rather than large cities, figuring more folks are interested in the former for their retirements. We also concentrated our picks on towns that we know to be attractive to retirees.
The top 10 Great Places to Retire for Weather
1. San Luis Obispo, CA. Here on central California's Pacific Coast the average January low temperature is in the low to mid 50′s and the average July temperature is in the high 60′s.  From December to February you can count on at least 4″ of rain monthly; the rest of the year is quite dry. San Luis Obispo offers the attractions of a college town (Cal Poly), great beaches, as well as several active adult communities to choose from. We chose San Luis Obispo but the fact is almost any California city would qualify as a great weather retirement destination, notably San Diego (the one place in the country where the weatherman can always be right, since the sun is always shining). The Milken Institute also included Santa Barbara, San Luis Obispo, Napa, Santa Rosa in its top 10 rated weather cities.
2. Las Cruces N M. One of the best things about towns like this in the southwest is that their higher altitudes (Las Cruces is 4,000 ft. above sea level) moderate the year round climate. The dry climate is also a plus, which makes Las Cruces especially appealing for people who hate humidity. The town is #17 on the Milken Institute list for weather (Small Metros), which combines such "perfect" weather conditions as heating degree days, cooling degree days, humidity, rain/sleet, and days of sunshine. Locals boast the sun shines 350 days a year in Las Cruces. Plus,attractions like New Mexico State University liven things up and help make it a great place to retire.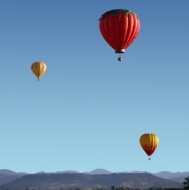 3. Medford, OR. The stereotype about Oregon is that it is so rainy that people wear WD-40 instead of sunscreen. The reality is that the state is a series of climate regions. The farther you get from the coast the dryer it gets. Located in the south central part of the state in the Rogue Valley, Medford is #12 on the Milken Weather list for weather. The climate is great for fruit too, as one of the big local industries is Harry and David of mail order fruit fame. On the negative side, there are complaints about winter fog.
4. Carson City, NV. The capital of Nevada has an elevation of 4,700′, situated as it is in the Sierra Nevada foothills. The amazing beauty and recreational opportunities of the mountains and nearby Lake Tahoe are a big plus, as in the absence of a state income tax. (#19 on the Milken list).
5. Sequim, Washington. Airline pilots gave Sequim its nickname, the "blue hole", because they kept noticing it was the only cloudless spot in this region. Even though it's on the incredibly wet Olympic Peninsula, it gets just 14″ of annual rainfall, about the same as Los Angeles. Outdoor recreation is outstanding, as is the boating on Puget Sound.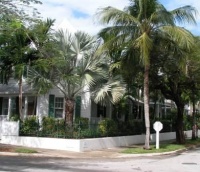 6. Key West, FL. The southern-most city in the continental U.S., Key West is also the only frost-free city in the lower 48. The all time low temperature was 41 degrees. Yet even in summer the temp range is in a very small band – the highest temperature ever recorded was 100, and that was in 1886! Key West ranked 10th on the Camelot Index (but don't come here if you dislike summer humidity!). By 1860 Key West was the largest and wealthiest city in Florida (and the wealthiest per capita in the U.S.). Its stock of perfectly preserved Victorian homes and its island atmosphere are two of the city's many attractions.
7. Lake Charles, LA. Water is a big part of Lake Charles' appeal since it is Located on Lake Charles, Prien Lake, and the Calcasieu River in southwestern Louisiana. This booming city boasts warm winter temperatures and a #20 rating on the Milken list, the highest ranking of any city in the central or eastern U.S. High humidity is one of its few weather drawbacks.
8. Prescott, AZ. Arizona towns don't rate quite as high on weather parameters as other places in the west, mostly because of scorching summer temperatures. But places like Prescott, Sedona, and Flagstaff that are higher above sea level in the northern part of the state aren't quite so brutally hot. Prescott, which was the capital of the Arizona Territory, is a fun place to live and popular place to retire. Whiskey Row and the courthouse are local hot spots. (# 27 on the Milken list).

9. St. Marys GA. We like the location of this up and coming area. Being near the coast moderates temperatures a bit year round, plus you can always escape to the beaches and Georgia's Sea Island. St. Mary's is in very southern Georgia, just above Jacksonville (FL) and not that far from Savannah. It shares similar weather to nearby Brunswick, #33 on the Milken list. Home to a U.S. Navy submarine base, St. Marys is especially popular with military retirees.

10. Asheville, NC. We chose Asheville for this list because it is ideal if you want to retire in a place where you can experience the 4 seasons – in moderation. There is a touch of winter from its location in Carolina's western mountains, but that also makes it cooler than the rest of the state in summer. Asheville is also the perennial most popular retirement spot at Topretirements. The average July high is 84 and the average January low is 27 (the average high is 46). The wettest month is March (4″).

Honorable Mentions [Rank on Milken list shown in ( ) ]
Blacksburg, VA (#46). Blacksburg, home to Virginia Tech University, is in western Virginia west of the Blue Ridge Mountains.
Myrtle Beach, SC or Wilmington, NC. (#50). Both of these towns on the Carolina coast have a moderate climate, great beaches, and plenty of places to live.
San Angelo, Midland or Odessa TX (#32-34). These towns in western Texas near the New Mexico have some of the best weather in Texas. Plus they are quite prosperous thanks to their oil wealth.
Florence, SC (#55). In addition to some pretty good weather the city has a successful downtown redevelopment project along with a diversified economy.
Hattiesburg, MS (#70). This "Certified Retirement Community" is home to 2 colleges and a huge historic district of Queen Ann, Victorian, and Greek Revival homes.

For further reference:
References for finding places with the best weather
Camelot Climate Index
Milken Institute Small Metros Ranking for Successful Aging (General)

Comments?
What is your ideal weather for retirement? And what places are you thinking about retiring to for the weather you like best? Please let all of us know by posting in the Comments section below.

Posted by John Brady on November 8th, 2012
Comments (21)
Entries (RSS) and Comments (RSS)
21 Comments »
"Blacksburg, home to Virginia Tech University, is in western North Carolina along the Blue Ridge Mountains."
Uh, no, it's in western Virginia.
Editor's Note: Whoops, our mistake. Thanks for the correction (now made).
November 8th, 2012 | #
You left out the Hawaiian Islands. No better weather anywhere.
Aloha
November 8th, 2012 | #
No hat tip to Ron M. for telling you about the Camelot Climate Index back in September?
Editor's Note: Thanks Ron.M. You sure did, and it was one of the best tips ever! Our apologies.
November 8th, 2012 | #
No San Diego, no credibility.
Editor's note: You are right Barry and John Taylor. San Diego's weather is about the best in the country, as is most of Hawaii's. But in this list we were trying to get a little bit off the beaten track, we didn't mention them mostly because our concentration was on smaller to mid-sized cities. Bottom line: if you want the very best weather and don't care about city size, go to San Diego or Hawaii.
November 8th, 2012 | #
My dream retirement site would be like a beach vacation, all year around. But it seems like most beaches are not good year around homes, humidity and
hurricanes, etc. I cannot afford 2 homes. Would like to swim year around.
Maybe a lake community in the Carolinas?
Noone has reported on how the idylic Central American and Island sites fared
in hurricanes.
With rising sea levels we definitely need to stop building right on the coasts.
November 9th, 2012 | #
I too would like to swim year-round. I had been looking at retirement communities in Arizona (willing to trade the HOT summer for nice winter), then discovered that most of the communities close their pool in the winter! Although it is warmer than NY, apparently not warm enough to swim all winter! Now I am looking at Florida where I believe it is more likely to find a place with pool open year round. Or the other option is to focus on places with indoor pools. the whole swimming thing is a challenge!
November 9th, 2012 | #
Frankly, I'm not sure I'd like to live in any of the places mentioned. And definitely not in Hawaii; or San Diego — though the weather IS great there, if you like that kind of weather all year round; which I don't. For some of us, once a four-seasons person, always a four-seasons person. I could not live without a real spring, and the fall color change and wonderful fall skies and brisk winds. And for that matter, I don't mind winter. Here in the Niagara Peninsula of NY we have relatively moderate winters — much less snow than Buffalo only 30 miles away (and Rochester, et al). We have no floods, no fires, no earthquakes, no mud slides, no tornadoes, no hurricanes (though sometimes extra rain and some winds from East Coast hurricanes). We DO have wonderful scenery, lots of water, we on the border with Canada, have a very moderate cost of living, moderate real estate prices. We're in a corner here where we miss the lake-effect snow from both Lake Erie and Lake Ontario — but have the scenery and recreational benefit of living near those two Great Lakes. We've been looking around for quite a while re: places to move when my husband retires. We're on the verge of deciding we've got a much better situation here than we'd find anywhere else we were looking, despite not being near family. This area is a well-kept secret.
November 9th, 2012 | #
The Big Island of Hawaii (Hawaii County), near Mauna Lani and Mauna Kea Resorts has the most perfect location (for us) imaginable. Seems winter is when it gets down to 65 and summer is when it gets up to 85. For different climates, we go to Kamuela (30 minute drive) and it will be cooler and Mauna Kea even has SNOW in the winter. A drive to the active volcano will give anyone the spine tingling chills, along with some of the most beautiful scenery on this rock.
Each to their own, but Heaven is where you find it, and Paradise is in the middle of the Pacific.
Aloha
November 9th, 2012 | #
I think you missed a good bet by ignoring Bellingham, WA. Less rain than Seattle, more moderate temps. 4 seasons, coolish summers (90′s rare), low humidity, on the bay, close to mountains, 4 yr Univ. great artists in residence, casual living at its best. Truly good example of "wool sox and Birkenstocks" crowd. The City of Subdued Excitement is our motto.
November 12th, 2012 | #
I moved to Las Cruces, N.M. from N.Y.C. last year. The weather IS beautiful but there are other considerations.I am retired & signed up for medicare & a supplemental ins.My doctor will Not accept assignment from medicare & my Insurance because he says that Medicare doesn't pay enough. Now, I have to pay for medicare, Blue Cross AND the doctor.He says I have to make up the difference to what he thinks he should be paid.He says that 50 miles away ,in El Paso ,Texas , he can get paid 25% more. WHY aren"t all states treated equally? There are so many things we don't know about until we get to where we move.Many of the good doctors are leaving .I lost my mother here this year because of a different SUBSTANDARD doctor, who appeared to have good credentials( THE geriatric specialist). it took a few monthes to find a doctor.Now I am afraid what will happen to me if I get sick.
How do we know about these facts until we live here ?
The food here is priced higher than in NYC.Gas is lower.
November 14th, 2012 | #
This situation with doctors and Medicare is just ONE reason that many experts recommend renting for a month or two in a city that seems attractive. You will be forced to buy groceries, gas and shop for things that interest you and see what is available. Hopefully you can also find residents close to your own age and ask questions about medical care, etc. and perhaps the person you rent from will be able to give you information about real estate and taxes. In your case, lcrdrnr, this doesn't really help but I was told similar tales about Asheville and the answer seems to be to talk to other residents who are on Medicare and find which doctors they use. If there's a senior center in Las Cruces or an agency that assists seniors that might be a valuable resource. Apparently befriending a resident who is a long-time patient of a particular doctor and dropping their name when you inquire about him/her is an acceptable and widely used practice! As the song says, shop around!
November 15th, 2012 | #
Cherie: I just visited the Asheville, NC area and walked away w/mixed feelings. I'm just curious as to the "similar tales" for this area that you are referring to. I was unable to speak w/anyone that had recently located (5-8 yrs) so, if I were to consider this area, I would need to definitely need to rent!!!
November 15th, 2012 | #
KLFulf, I would be interested in hearing about your "mixed feelings" of Asheville! We attended the annual Creative Retirement Exploration Weekend there last May.(Held every Memorial Day weekend at the University of NC @ Asheville) We were kept very busy with workshops, some taught by recently relocated individuals, and attended some evening events where we were paired up with these relatively new locals. They were extremely informative and helpful and didn't pull any punches in their answers to our questions. I came away liking the vibrancy of the town and its artsy feel. I also liked the slightly liberal leaning of the populace vs the conservative feel of the rest of NC. We were told the medical facilities were top notch but one couple related an experience after just moving there that a few doctors she approached were not taking new Medicare patients because of "low reimbursement rates." This concerned us as I will turn 65 in a few days. Other locals repeated similar stories but gave us tips on how to find good doctors that were willing to take Medicare patients. I believe this is a problem almost everywhere when a relocation is involved because of the huge numbers of boomers entering the Medicare system. My family doctor here in PA with whom I have an established relationship is not likely to refuse me but a doctor in a new location who is a stranger to me and my family might. We will be spending the entire month of March in Asheville to get a better "feel" for the city and surroundings. We're pretty good at insinuating ourselves into new activities and groups, plus we will hook up to the UNCA Lifelong Learning Institute, so we're hoping to get more detailed inside information!
November 16th, 2012 | #
Cherie: I'm familiar w/CREW and am giving that some consideration for 2013. I have lived and worked in both SF and DC – Asheville is the SF of the East Coast. The area was beautiful and extremely busy wk of 10/14 because of the leaves changing colors. Took the trolley for two days to see and get a feel for the area….went to Biltmore…walked the downtown area…found great places to eat….everyone was friendly and it was extremely pet friendly which impressed me…BUT between the artist community and the well-heeled, I just didn't get a feeling of being able to find a fit. You need to have a car to get around even though I did see a bus and driving is something that needs to be considered for the future. Understood the area was superior for medical but, after reading your comments, this needs to be a consideration as well. Asheville's cost of living is above the natl average – something else to think about…it's liberal, I'm middle-of-the road and I'm single which can/does add to the burden of relocation.
November 16th, 2012 | #
I have also been looking at Asheville for a possible move. I am a few years away from Medicare but being single I was hoping for a walkable town with activities to find to keep busy. I have a few other towns I am also considering but find this all so confusing. Currently I am in DC but have a good bit of travel experience and find most places have wonderful perks but deciding which of the 'wonderful' place I want to spend the next phase of my life is difficult.
November 16th, 2012 | #
D: I, too, am looking for a walkable town w/activities – could you share the names of the other towns you might be considering?
November 17th, 2012 | #
I was talking with a lady who has relatives here in Prescott. She was here from Kentucky. I started asking her all sorts of things, e.g., how is the humidity in Kentucky, how is the climate in general, etc., and she indicated that life there is great, compared to Arizona. She said she does not have problems in Kentucky like she has in Arizona, such as her nose getting stuffed up, her eyes bothering her, her skin looking like alligator skin, her throat feeling dry, etc. I live in Prescott, Arizona and I have all the problems this woman described, but always thought it was just "me". I have to use nose spray every night so that I can breathe (I do fairly well in daytime), and I have to use eye drops and even eye ointment constantly.
So now I have something else to think about
Does anyone have any input about Kentucky?
As for Asheville, I sent off for loads of information a while back and I loved what I read and the pictures I saw. Then I spoke with the cousin of a friend of mine who loves there, and she said she cannot wait to get back to Reno, Nevada …. she said the mosquitoes eat you alive, the many bugs are huge, and the trees are so thick that you cannot see the sky and you feel very claustrophic. So after hearing all this, I ruled out Asheville
November 17th, 2012 | #
KLFulf, I have not tried this website (walkscore.com), however they say to enter the city and the site will give you the distance to places you can walk to, such as book stores, eateries, and so on.
November 18th, 2012 | #
I check out http://www.walkscore.com every time I find an interesting city! There's also a bikescore.com website. In all my investigations, I've only found 2 cities, altho I'm sure there are more out there, which rated a 100 (out of 100)and they were Toronto and (drum roll..) Lewisburg, WV! I spent a few days in Lewisburg last week and it's an adorable little town. Voted coolest small town in US. I have added it to my list! As for the interesting comments about Asheville, I was there in May of this year for a week and got way more bug bites back home in PA. Also, I guess it depends on what you are used to, but the trees in Asheville are beautiful and the mountain vistas certainly would not make most people feel claustrophobic. I would pay a visit before writing it off. I will admit it's considerably different from Reno but in a very positive way!
November 18th, 2012 | #
Glad to read I am not the only one overwhelmed by all the choices and decisions. Hawaii sounds great but Is it not very expensive and
Is it not expensive flying back to see the kids or for them to visit
me? I feel one could probably find small towns in Hawaii with a
walkable lifestyle.
November 18th, 2012 | #
I also like Lewisburg, WV BUT it is way too small for my consideration but it is a sweet little town.
I am driving myself crazy trying to choose a new location. To KLFulf I have on my list Asheville, Cary and Chapel Hill (Carborro) NC, Athens, GA, Nashville, TN and on/off Rehobeth Beach area of DE.
Thanks for the walkscore.com website I will enjoy checking it out.
November 19th, 2012 | #