Alabama Best Places to Retire - A Guide

If you have been looking for the best Alabama retirement communities this website has the data and opinions you need. Choose from the best places to retire in Alabama such as Eufala or Fairhope.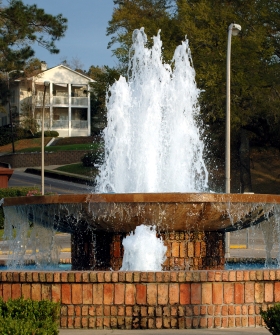 Overall
Alabama has become a top state for retirement communities because of its warm climate and welcoming community. The Tax Foundation's research indicates that Alabama is one of the most tax-friendly states in the union. Winters are warm mild and the long sea coast has many great beaches and harbors Alabama's population was about 4.8 million in 2012. The median age is 37.1, slightly older than the U.S. average.
Climate
The Alabama climate is humid subtropical. Moist air from the Gulf of Mexico produces hot, humid summers with frequent thunderstorms. Winters are mild, even more so along the coast. Average January low temperature is 40, high is 61.
Economy & Home Prices
The Alabama 2011 per capita income was $23,483. The statewide Home Value Index was just $115,900 in mid-2013 (Zillow). The median home selling price in Birmingham was $145,100 in early 2013 (NAR). Median selling price in one of its larger cities, Mobile, was $96,100 in early 2013 (NAR). The cost of living in Alabama is well below the U.S. average.
Taxes
Tax Burden: Alabama has a low tax burden compared to other states (38th highest at 8.6% of income).
Marginal Income Tax Rates. Alabama top marginal income tax rate is 5.0%, which applies once income reaches $3000.
Retirement Income Exemptions. There are a number of income sources that are exempt from state income tax. Those exempt sources include federal and state pensions, "defined benefit plan" pensions, and social security benefits.
Social security exemption. Social security is exempt.
Sales Tax: There is a 4% sales tax in Alabama, and it is included on food. Local communities can add their own sales tax.
Property Taxes: Property taxes are the lowest in the nation; additionally, homeowners 65 and older are exempt from state property taxes if they are disabled or make less than $12,000.
Homestead Exemption. Alabama has a homestead exemption
Estate and/or Inheritance Taxes. The state does not impose a separate state estate or inheritance tax. The state collects the maximum credit allowed on the federal estate tax return for state death taxes.
Link to Alabama Department of Revenue.
Certified Retirement Communities
Alabama does not have a certified retirement community program.
Best Retirement Communities
Alabama has attracted many developers of retirement and 55+ active adult communities. One of the most interesting retirement communities in the U.S. is in Alabama, the former utopian community of Fairhope near Mobile. Another top-rated one is historic small town of Eufaula.
This site will also get inside information on retirement living communities in the neighboring states of Mississippi, Louisiana, Georgia, and Florida.
Get started with reviews of the Alabama retirement towns on the right.
Alabama Retirement Communities