Florida Best Places to Retire - A Guide
If you have been looking for the best places to retire in Florida this website has the answers you need. Choose from almost 70 of the best places to retire in Florida that are popular with active adults 55+.
Overall
Florida is where many people instinctively look for a retirement community - it probably has more retirement oriented communities than anywhere in the world. Its climate is warm all year round and you are never too far from water. Living costs can vary a great deal within the state; inland and northern towns tend to have more inexpensive options, while high-end communities like Naples have real estate prices and a significantly higher cost of living. Recreational activities are exceptional in this state with a double coastline on the Gulf of Mexico and Atlantic Ocean. The 2012 household population was 19.3 million. Median age is 40.7, several years higher than national average. This page will acquaint you with some basic facts about the best retirement places in Florida.
Best retirement towns in Florida
Florida is so big that is likely to have the perfect retirement lifestyle for just about anybody. Some obvious picks include places like Venice, Key West, and Winter Park. Other towns to investigate include: Stuart, Delray Beach, Sarasota, and Gainesville. Two other popular retirement towns that are very different but close geographically are Abacoa and Vero Beach. Many people are interested in a Central Florida retirement. See our free mini-guide to The Villages (near Ocala), which is the #1 most popular active adult community at Topretirements.com. For more ideas, see the list at right.
Climate
The Florida climate is characterized as humid subtropical. Summers are hot and wet, winters are warm or mild. Marine air from the Gulf of Mexico and Atlantic controls the climate. Key West is the only frost-free location in the continental U.S.
Economy and Home Prices
In 2007 the Florida per capita income was $26,125, near the middle for all states. Median home value in early 2012 was $120,000, well below the national average of $145,000 (Zillow data). By way of comparison, the National Association of Realtors reports the median sales price of a home in the U.S. to be $164,500. Prices have declined drastically in Florida since 2006, particularly south Florida, where home values have been cut in half. In Cape Coral/Ft. Myers the median selling price was $190,000 in late 2014 (National Association of Realtors).
Taxes
Tax Burden: Florida's total state/local tax burden is 27th highest (Source: The Tax Foundation).
Marginal Income Tax Rates. Florida is one of the few states with no income tax, which automatically makes it a tax bargain.
Sales Tax: Sales tax is 6%, one of the higher rates compared to other states.
Property Taxes: Florida`s successful Save Our Homes law has attracted tens of thousands of permanent residents from other states. The Florida law caps increases in a home`s assessed value at 3% a year for full time residents. Local communities in Florida can change mill rates at will, but at least the most volatile component of the property tax, wild swings in appraised values, are moderated. The state is ranked 16th highest in per-capita property tax collections.
Estate and/or Inheritance Taxes. Florida does not have inheritance or estate taxes.
Link to the Florida Department of Revenue
In 2010 the state is considering radical budget cuts to cope with budget deficits. Note: See very interesting commentary about "Save Our Homes" from OldNassau in our Forum.
Certified Retirement Communities
Florida does not have a certified retirement community program.
Get started with reviews of the best retirement communities.
Reviews of best retirement cities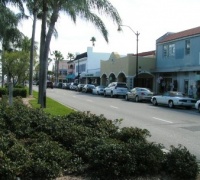 Park near downtown Venice FL - a popular retirement community
Click on the Florida Retirement Community reviews on the right. Or to find information about what retirement is like in different states for example to retire in Kentucky, retire in Georgia, retire in North Carolina, and retire in Tennessee.
Custom Search
Florida Retirement Communities