California Best Places to Retire - A Guide
If you have been looking for the best places to retire in California this website has the answers you need. For each community - from Berkeley to Lake Tahoe - you will find objective reviews of California retirement communities written by active adults, not marketers.
Overall
California has as many top retirement communities as any state in the union. Its climate is exceptional and so is its beauty. On the downside, other states generally offer better value for your retirement dollar - real estate and the cost of living here is significantly higher than almost any state. The Mercatus Center rates CA 44th out of 50 states for fiscal health, although the state is working to improve that. On the other hand, recreational activities are exceptional in this state with a Pacific Ocean coastline that stretches from Mexico to the Oregon border. The state had 38 million people in 2012. This site will acquaint you with some basic facts about retirement to the best places in California.
Active adults looking for retirement information on best retirement communities like Eureka, San Diego, Laguna Woods Village etc. will find it here. To find more helpful information check out the Wikipedia page for California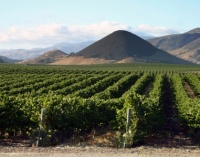 Vineyards in San Luis Obispo
Climate
The California climate is characterized as Mediterranean. Summers are warm and dry and winters are cool and wet. Marine air from the Pacific controls the climate.It is such a big state that there are significantly different climates within it.
Per Capita Income and Home Prices
In 2012 the California per capita income was $44,980, near the top of all states. California cost of living tends to be very high. Zillow reported that in early 2016 California Value Index of homes was $454,700. The 4th quarter 2015 median selling price of a home in Los Angeles/Long Beach was $481,900; in Sacramento the median selling price was $294,100 (source: NAR).
Taxes
Tax Burden: The California tax burden was the 4th highest of any state in 2011 according to the Tax Foundation.
Marginal Income Tax Rates. Top marginal income tax rate is 13.3%; the lowest is 1%. The income tax is very progressive; the top marginal rate is the highest of any state.
Retirement Income Exemptions. Social security benefits are excluded from state income tax in California.
Social security exemption. Social security is exempt.
Sales Tax: Sales tax is 6.5% and the county adds an additional 1%. With local sales taxes, the tax can be as high as 10%, one of the highest of any state (localities can add another 2.5%).
Property Taxes: Proposition 13 limits property tax valuations to resales, which tends to favor long-term owners. Property tax is limited to a maximum of 1% of value. Qualified homeowners can get a $7000 exemption from value. Taxpayers over 55 in certain counties may transfer their low base value to a new or replacement home under Propositions 60 and 90.
Estate and/or Inheritance Taxes. There is an estate tax.
Link to the California Tax Service Center.
Certified Retirement Communities
California does not have a certified retirement community program.
Best Retirement Communities
Although expensive, crowded, and highly taxed, California does have great weather and many wonderful places to retire. Some of the best places to retire are the college town of Berkeley, the beautiful city of Santa Barbara, the perennial golfing paradise of Palm Springs, the 7 Claremont Colleges in Claremont, or the wine country of Napa etc.
You will also get inside retirement information on living in bustling city of San Diego, fabulous La Jolla or nearby communities in Washington state. Many more communities are profiled (see links at right).
Each California retirement community profile at Topretirements.com features ratings on expenses, age restrictions, taxes, recreation, amenities, transportation, and security so you can compare how other active adults 55+ have rated that city or development. In the Forum for each California city or development there is a chance to pose queries and give your own opinions.
Click on the reviews of the best California retirement towns on the right to get started.
Custom Search
California Retirement Communities