Nevada Best Places to Retire - A Guide
Overall
Nevada, population just about 2.8 million in 2014, has been one of the fastest growing states in the union, which means there are plenty of best places to retire in Nevada. Its population increased 30% from 2000. The Silver State attracts a growing number of baby boomers to retire in Nevada. The capital is Carson City and the largest city is Las Vegas. Most of the state is unsettled, desolate wilderness. The Mojave Desert occupies much of the southern part of the state; the Great Basin is in the north. The state is known for its relaxed laws on gambling, at least in locations like Reno and Las Vegas. It also home to many families and 55+ communities. The Wikipedia entry for Nevada has more interesting facts.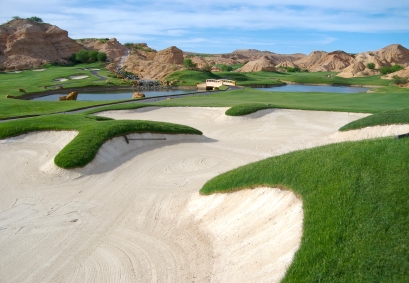 The reviews on this site can help you narrow your choice about where to retire in Nevada and other states - we have important information about real estate prices; what makes each community special and not so special; along with important facts about the cultural, economic, medical, and transportation infrastructure.
Nevada Climate
The Nevada climate is that of the steppe, characterized by aridity and an altitude above 3000 feet. Summers are hot and dry; there is plenty of sunshine. There can be dry snow in the mountains.
Economy & Home Prices in Nevada
Nevada's 2011 household income was $48,927, just below the U.S. median of $52,000. Tourism, mining, and agriculture drive the economy. The Las Vegas real estate market was one of the 3 hardest hit in the nation in the 2007-9 recesson; prices crashed and many homes were foreclosed. Since then the market has recovered strongly. More established 55+ communities generally fared better than those for the general population. The median home price in early 2015 for the state was $195,600 according to Zillow, almost double what is was in 2012. The median home in the Las Vegas area sold for $180,500 in early 2015 vs. the national median of $178,500; the median Las Vegas sales price in 2006 was over $317,000. There is a tremendous range of prices for apartments and homes in the Las Vegas region. Jobs in the tourist industry for retirees in Las Vegas and Reno were normally plentiful prior to the current recession.
Nevada Taxes
Tax Burden: Nevada is a low-tax paradise. Total tax burden in Nevada is 50th in the U.S.
Marginal Income Tax Rates. Nevada has no income tax.
Sales Tax: State sales tax is 6.85%.
Property Taxes: The state ranks 29th highest for property tax collections.
Homestead Exemption. A homestead exemption can cover up to $550,000 of equity in a property.
Estate and/or Inheritance Taxes. Nevada does not have an estate or an inheritance tax.
Link to www.tax.state.nv.us
Certified Retirement Communities
Nevada does not have a certified retirement community program.
Best retirement communities in Nevada
Henderson near Las Vegas and Mesquite are two important centers for retirees. Both had experienced explosive growth, but are now caught in the current real estate mess. Retirees are starting to move to the Lake Tahoe and Carson City region as well. Las Vegas, Paradise, and Sunrise Manor have many retirees. Reno is thought by some to be a particularly nice spot for retirees. Carson City is expensive and not a great city from a tourist standpoint, although its setting in the Sierra Nevadas is great. Nearby to Carson City are the smaller towns of Minden and Gardnerville, which are attracting retirees. The small town of Pahrump appeals to many retirees for its low costs and friendly atmosphere. The University of Nevada has campuses in Reno and Las Vegas. Incline Village-Crystal Bay is the wealthiest community in Nevada, followed by Kingsbury and Mount Charleston.
Free eBook - Baby Boomers Guide to Selecting a Retirement Community - 16 Factors
Download this free eBook and use its fun exercises to help you find your perfect active adult retirement community.
Get started with the Nevada Retirement Community reviews on the right.
Nevada Retirement Communities