6 Reasons to Subscribe to the Free

Best Places to Retire Newsetter

Want to make a smarter retirement decision? The Topretirements email newsletter will help you make all the right moves. Here's why!
Inside information

- Every week you'll get the pros and cons on 2 more best places to retire

Exclusive Reports on Communities

- Detailed reports on the most famous... and undiscovered Active Adult and 55+ communities

Practical Advice and Analysis

- When to take Social Security, Best & Worst Places to Retire, Tax-Friendly States, Florida vs. the Carolinas etc.

The Best Links and Resources

- We are your eyes and ears for retirement tools, interesting articles, new ideas on retirement

We Protect Your Privacy

- We will never share your email address with anyone

Free

- Free when you sign up, get this valuable eBook with quizzes and checklists
Sample Newsletter: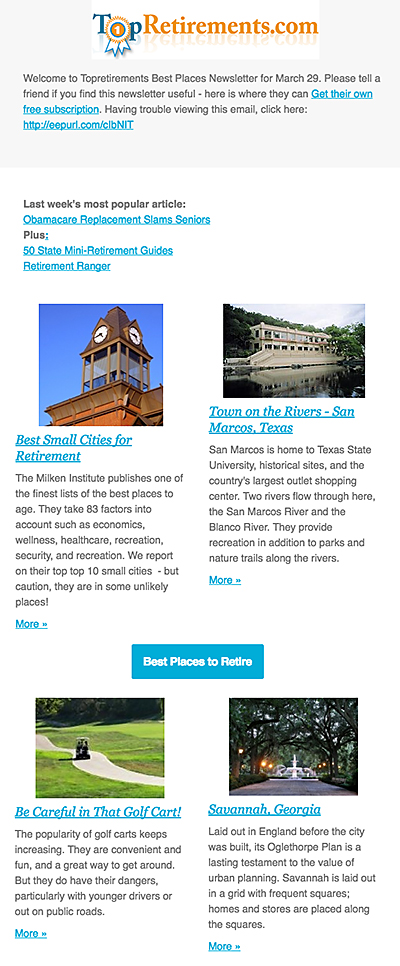 What They Say:
"I relish every detail of your newsletter and have sent it on to my daughter and her husband and anyone else I know who may be looking to relocate/retire into their dream living paradise. No question your letter has "something for everyone."
Patricia Looker, Psy.D.
Author of: "The Search for Meaning in Nostalgia
We protect your Privacy