Retirement Real Estate
May 29, 2019 — We are grateful to Brigitta for suggesting this article on the pitfalls to look out for when buying a home in the Southwest. Here is what she wrote a while back:
"I've been receiving your newsletter for a couple of years. However, I don't think I've ever seen an article about the differences in building practices in different areas of the country. By that, I mean as someone who has lived my entire life on the east coast, I am quite familiar with how homes are/were built going back to the 1700s when my area was settled. I'm also familiar with the types of "pests" and environmental issues, i.e., radon, asbestos, buried oil tanks (for heating) that that NJ homeowners look for.
Now, I am interested in purchasing a home in AZ and I realize I don't know ANYTHING about typical building practices- pro/con, types of homes that one might want to stay away from or might WANT to consider, pests typical to the area, environmental issues, etc as I do about the east coast. "
Thanks Brigitta! It is such a good question we will expand this "pitfalls" article to the Southeast and Florida as well the Southwest, since these are the most common places for retirees to be moving to, and where they tend to lack buying experience. As always, we are hoping for additional Member Comments to make sure we address all the important risks to worry about.
The Southwest
The desert and mountains present inherently different hazards to those found in the Southeast. The Southwest's powerful sun and high temperatures present other differences. This first section will discuss the home buying hazards that can exist in the Southwest. Although many problems in a home can be corrected if you spend money and time, but it is always nice to find a property that doesn't need work.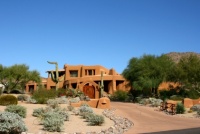 Flooding is possible in the Southwest, especially in areas of low elevation and along large rivers. Geological hazards, including avalanches, earthquakes, landslides, and rockfalls, also occur throughout the Southwest, especially where there is rugged, mountainous terrain. FEMA maps can help alert you to those areas.
(more…)
Posted by Admin on May 28th, 2019