Pictured above:   The "Nickel" view of Monticello, Thomas Jefferson's dream home near
Charlottesville, VA
. 
Not too long ago baby boomers were the chopped liver of the marketing world.  As evidence of the renewed interest in baby boomers as customers, within just a few days of each other both the Wall Street Journal and the New York Times ran articles about the gold that marketers hope to find as the boomer demographic ages.  Read on to see what they are doing to target you  - and how that might turn out to be OK.
Click on a state to see reviews of 625 great retirement towns, plus our descriptions of 1,247 active adult communities. 
When your editor went to school in Phoenix almost 40 years ago, the growth that was going on there was staggering. Every day brought a new development. That growth has continued apace since, although the area is currently in a housing crisis. The transformation in the region has been phenomenal.   Towns that were a glimmer in the eye are now household words. There is every type of town and development to choose from. And since Phoenix is a major city, it offers big time culture and sports.
One of the most amazing statistic from this Bank of America survey of affluent baby boomers is this one - 86% expect to have a much more active lifestyle in retirement than their parents. The words they use to describe what's ahead are very positive too - "freedom", "opportunity", relaxation".   There are concerns and do-over wishes though, with women more worried than men.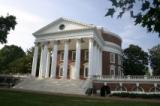 Charlottesville, VA
If you are a Thomas Jefferson fan you are probably already familiar with this beautiful town and region near Virginia's Blue Ridge Mountains. The city is blessed with his home, Monticello, plus the beautiful university he created, the University of Virginia. Charlottesville is very popular as a retirement destination, although housing costs are above average.
List Your Community
Promote your community with a free listing at  Topretirements. Just go to
Add Your Community
. If you already have a listing, update it now to take advantage of our new features.
New Forum Thread - Looking for the Perfect Climate
One of our members, Scott, has created a terrific new thread in the Forum in which he has been researching retirement locations for the perfect climate. It's getting a lot of views, and plenty of comments.
NOTE:
The Discussion continues on page 2 - scroll to bottom of page and hit "Next".
Having Trouble Logging in?
You might not have confirmed your registration. Look for that email.  Or go to our
Help
page (there is a link to it on the bottom of every page).

Subscribe via RSS
RSS Feed  Get live updates in your web browser window.

Unsubscribe
If you no longer wish to receive this newsletter you can unsubscribe here.

Last Week's Most Read Articles
Helpful Resources