What It Is Like to Retire in Loreto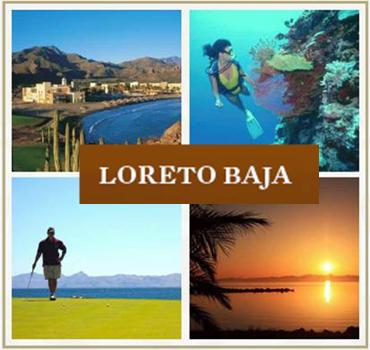 Loreto is located in the North Eastern región of the state of Baja California Sur, about 350 km North of La Paz. This is a calm tranquil paradise blanketed in natural wonders like the Marine park and surrounded by a small number of islands, which make Loreto an ideal place to retire, for those people that love aquatic sports like snorkeling, fishing, and scuba diving.
Loreto's splendid weather and spectacular scenery are closer than you think. Just an hour or two by air from most cities in northern Mexico and two to four hours from the most important cities in the US, paradise is nearer than you ever imagined.
As you stroll through the area, you come to know its history. Loreto was the first Spanish town in the Baja California Peninsula, site of the first mission capital of the Californias founded in 1697 by Jesuit priest Juan Maria Salvatierra. In the Jesuit Missions Museum, you can browse through a collection of 17th and 18th century religious art, tools and antique firearms used in Baja California's Spanish missions.
You can also find cave art carved into the walls and rocks of the majestic Sierra de la Giganta, part of which has been designated a World Heritage site by UNESCO.
Where to Retire in Loreto and Home Prices
Many types of housing is available including single-family, condos, villas and apartments are offered with prices ranging from the low $100's (2,487,472.00 MXN) to over $800,000 (15,304,320.00 MXN).
What Is Special about Loreto
Natural beauty surrounds this small town. Jacques Cousteau called it "The World's Aquarium" as it is a paradise for Scuba divers. It is a birthing place for gray whales and also offers turtle preserves. Loreto is a tourist resort known for great snorkeling, and fishing, but also has a golf course and a tennis center.
What Is Not Special about Loreto
Temperatures are in the 90's during summer months. If you don't love outdoor activities and water sports you won't find much else to do.
Who Will Like Retirement in Loreto
The small town is considered a nature lovers paradise and offers one of the most biodiverse body of water in the world. Expats enjoy low housing costs along with good medical and dental care at lower cost than in the U.S.
Local Economy Is Driven by
The economy is driven by tourism and fishing.
Climate and Physical Environment
The climate here is hot and humid with the hottest temperatures from June through October and have average highs of 93 degrees with winter temperatures in the 60's and 70's. The hurricane season (June through November) is a concern for Loreto, with the last one hitting in 2006.
Restaurants & Cultural Scene
Loreto is a quiet fishing village that does not offer the glitz of other Baja towns. There are several seafood restaurants here along with Mexican, Latin, and pubs most with great reviews on TripAdvisor.com. Culturally, there are several sites and Missions that are considered historical monuments, but Loreto draws tourists and expats for its overall beauty and outdoor activities which include many sightseeing boat tours, fishing charters and water sports. There are popular town festivals celebrated in September and October.
Crime
Crime rate here is low and does not have the drug violence that affects other parts of Mexico.
Medical Facilities
Medical standards are high in Baja. North Americans often choose to have dentistry or medical treatments or elective surgeries done here because of the quality of the care and the cost.
Transportation
Loreto has only two main roads with many side streets made of packed sand. The city is served by Loreto International Airport.
What people are saying about Loreto

No Comments
Facts about LORETO
State: MEXICO
Environment: Mountain,Coastal,Small Town,Boating Community,Outdoor Oriented,Resort Community,
City Population: 10,000-25,000
Median age of Population: 45-64
Avg Jan Temperature: 61 +
Avg July Temperature: 81+
Median HH Income: 20,001-40,000
Average Home Price (MLS): $200,001-$300,000
Annual Property Tax on a $200,000 house: Less than 2000
Total Crime Index: 81-90 (low)
Cost of Living Index: 81-90 (low)
Culture Index: 91-100 (slightly below average)
State Sales Tax: Yes
State Income Tax: No
Name of the Guide: BoomersAbroad
Can you add to or correct these Facts? Or do you have a photo of this community we could use? If so, please click on Edit these facts
Please note that all contributions to Topretirements may be edited, altered, or removed by other contributors. If you don't want your writing to be edited mercilessly, then don't submit it here. By submitting content and/or photographs here you agree to give Topretirements.com the rights to use them in any manner without cost or attribution.You are also promising us that you wrote this yourself, or copied it from a public domain or similar free resource (see Project:Copyrights for details). DO NOT SUBMIT COPYRIGHTED WORK WITHOUT PERMISSION!