Branson, Missouri
What It Is Like to Retire in Branson
Branson is a town in central Missouri with a population of just under 13,000 (2020).  Branson is a major tourist center  and is sometimes called the "Family Friendly" Las Vegas because of the many attractions and bright lights in town. There are more than 100 live shows in over 50 theatres, plus museums and amusement parks. An astonishing number of top entertainers have established theatres in Branson. One of the pluses for retirees is the potential for part-time work in the tourist industry. Branson got its start as a tourist destination with some famous caves. In 2009 the town celebrated the 50 year anniversary of its first show, put on by the Baldknobbers. Photo of Moon River Theatre, founded by Andy Williams, is one of Branson's many theaters hosting live music and entertainment, courtesy of Wikipedia and Billy Hathorn,  Licensed under CC BY-SA 4.0/ .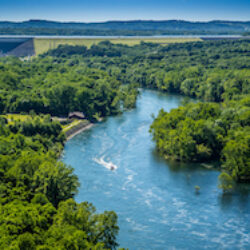 Where to Retire in Branson and Home Prices
The median home value was $261,023 in mid-2023, according to Zillow. There is at least one active adult community in Branson-see link on left.
What Is Special about Branson
Branson is a major tourist destination for music and amusements. It has an extraordinary collection of theaters, museums, and golf courses. Branson Landing is a lakefront commercial district that opened in the summer of 2006 on Lake Taneycomo.
What Is Not Special about Branson
To live in Branson you have to like living in a tourist town. Traffic can get pretty intense.
Who Will Like Retirement in Branson
Branson is ideal for retirees who like music and going to shows. About 25% of the population is over 65, so it is popular with retirees.
Local Economy Is Driven by
Branson is a top-tier tourist destination. As such it offers the potential of part-time employment for people who retire here.
Climate and Physical Environment
Branson is located in the beautiful Ozarks of southwestern Missouri. The huge Table Rock Lake is just to the west along the river.
Restaurants & Cultural Scene
With 50 theaters, 10 museums, and plenty more, Branson undoubtedly has the highest cultural index per capita of any place in the world. The trend is for big stars to open up their own theaters in Branson, so look for ones from Andy Williams, Mickey Gilley, Tennesee Ernie Ford, Dick Clark, the Osmonds, Oak Ridge Boys, etc. Over 100 shows are usually in production.
Crime
The crime rate in Branson, a tourist town, is about twice the national average. However, most of it appears to be thefts ratehr than violent crime.
Medical facilities
Skaggs Community Health Center serves Branson. Other medical facilities are about 30 miles away.
Transportation
Branson has a rare distinction in that it has one of the largest private airports in the U.S. It provides commercial service to this town on land formerly owned by Tennessee Ernie Ford. Branson is considered a very walkable community.