Delaware Best Places to Retire - A Guide
This state guide to best places to retire in Delaware can help simplify your retirement research. For each Delaware retirement town or active adult community profiled in "The First State" you will get detailed facts, objective insight, photo, Google Map, and more. Updated 5/20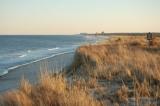 Rehoboth Beach beach scene
Overall
Whether you are currently living in Delaware or whether you are thinking about moving to this low key state, you can find your best Delaware retirement communities and towns on this website. This small state has 4 seasons, wonderful access to the water, and medium sized cities and towns. The Delmarva Peninsula has a relaxed, pastoral feel from another era that is very attractive to retirees. The state had a 2018 population of just over 965,000. The Wikipedia entry for Delaware has more facts.
Best retirement communities in Delaware
Delaware has many retirement communities that are popular with active adults over 55. Those include Rehoboth Beach, a resort town on the Atlantic Ocean near the end of the Delmarva Peninsula that is known for its diversity. Active adults will also find retirement communities in surrounding beach towns such as Lewes, Georgetown, and Bridgeville. Use this link to find information about specific Delaware active adult communities.
Wilmington, which has a central location on the eastern seaboard, has some nice retirement communities, although it has a big industrial feel. Some of the suburbs to its north towards Pennsylvania are quite appealing. Hockessin, Middletown, Newark and New Castle are highly rated as retirement communities. Some other cities and towns in Delaware include Bear, Brookside, Fenwick Island, New Castle, Newark, Wilmington, Dover, Georgetown, Seaford, and Smyrna.
Delaware Climate
The Delaware climate is in the transition zone between humid-sub tropical and humid-continental. The Gulf of Mexico and the Atlantic exerts a strong influence here. Winters are relatively mild, particularly near the shore, and there can be quite a bit of precipitation.
Economy and Delaware Cost of Living
Household income of $64,805 is close to the U.S. average. According to Zillow.com, Delaware's median home listing price in early 2020 was $257,521, somewhat higher than U.S. median. According to the NAR the median selling price of a home in Dover was $218,600 in early 2020.Cost of living: Delaware has the 32nd lowest cost of living in the U.S.
Taxes
Tax Burden: The total federal, state, and local tax burden in Delaware is the 16st highest of all states at 10.2%. Yet for retirees the tax burden is low - because of exemptions and low property taxes. See our discussion of DE and other Mid-Atantic states.
Marginal Income Tax Rates. Delaware's top marginal income tax rate goes from 2.2% to 6.6%, which goes into effect with incomes over $60,000.
Retirement Income Exemptions. Delaware exempts up to $12,500 of investment and qualified pension income for people 60 and over (including out of state and military pensions).
Sales Tax: Delaware has no state sales tax, although some cities have one.
Property Taxes: Property taxes in Delaware are one of the lowest of any state at .43% of assessed fair market value, with the median property tax paid $1,078.
Social security exemption. Since social security benefits are not taxed in Delaware, and because up to $12,500 of pension income (including capital gains, interest, and dividends) is exempt from state taxes for people aged 60 and over, many retirees will pay little or no income tax to Delaware.
Estate and/or Inheritance Taxes. Delaware does not have an estate or inheritance tax.
Here is information about its Senior Property Tax Relief program.
Certified Retirement Communities
Delaware does not have a certified retirement community program.
At Topretirements.com our mission is to help you find the best community for you, and provide you with the objective facts and peer-reviewed profiles to make an intelligent choice. So if Delaware is where you will retire, check out the listings on this site. Likewise if you already live here, post a free review of your town and let others know about what a smart choice you made.
Get started with reviews of the best retirement communities.
Click on the Delaware Retirement Community reviews on the right.
Custom Search
Delaware Retirement Communities