Best Places to Retire in Panama - A Guide
Panama, a Central American country of 4 million people, is one of the most best and most popular places for expatriate retirement. (updated Jan. 2022)
There are several reasons why Panama is so attractive to retirees. Here is what one Topretirements Member said: "The Republic of Panamá is absolutely one of the best place in the world to retire. People speak English, they use the US Dollar, protected safe environment, many activities, incredible places to enjoy, friendly people, flora and fauna that are unbelievably beautiful, and it has an extremely international flavor of people and customs!
It has these attractions:
- Warm, year round climate
- U.S. dollar is the local currency
- Heritage as a place friendly to North Americans and other countries
- Stable government
- Easy to gain residency here
- Many choices when it comes to finding a place to live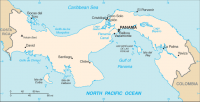 Let's talk a little bit about Panamanian retirements.
Health Care. Panama City offers the Johns Hopkins-affiliated Hospital Punta Pacifica in downtown. Services here are reputed to be very good and at a fraction of the cost of comparable ones in the U.S. There are clinics in other towns that provide medical services. Most doctors speak English. We do know some expats, however, who return to the U.S. for very complicated procedures, particularly if they are covered by Medicare or company insurance.
Cost of Living. It is no longer as cheap to live in Panama as it once was. However, you can still maintain an excellent lifestyle at greatly reduced cost. According to Numeo it has the 51st highest cost of living. We have seen figures that call for about $2,000 a month to live comfortably.
Residency. People over 18 years of age can qualify for the Panama Pensionado (Retired) Visa if they have proof of a lifetime minimum $1,000 USD per month pension. If you purchase Panama real estate worth at least $100,000 then the minimum monthly amount goes down to $750 USD. There are numerous other advantages that immigrating retirees can take advantage of.
Airport. Tocumen International Airport has been steadily expanding and offers flights all around the world.
Taxation. Panama is famous for its light treatment of taxes. Only income earned in Panama is taxable, so most expatriate retirees will in effect pay no income tax there.
Where to Live. Panama City is the big town and one choice. Balboa is nearby and has big city shopping and infrastructure. Coronado Beach is very popular with retirees. Cocoli, developed as former American military housing along one of the big locks, is 20 minutes from Panama CIty and offers an array of expatriate housing choices. You can also live on the coast or more in the highlands. Boquete is one of the most popular expat retirement spots, which is located at over 3,000'. There are numerous other developments that cater to the international set. See our Panama Directory of Active Adult Communities for more.
Climate. Panama has a tropical climate. Temperatures are uniformly high—as is the relative humidity—and there is little seasonal variation. The temperature range within a typical dry-season day in the capital city might be: the early morning minimum may be 24 °C (75.2 °F) and the afternoon maximum 30 °C (86.0 °F). The temperature seldom exceeds 32 °C (89.6 °F). Temperatures on the Pacific side of the isthmus are somewhat lower than on the Caribbean, and breezes tend to rise after dusk in most parts of the country. Temperatures are markedly cooler in the higher parts of the mountain ranges. The highest point in Panama, Baruacute, is 11,500'. The dominant feature of Panama's geography is the central spine of mountains and hills that forms the continental divide.
Security and Crime. Life inside the gated communities is not that different from what you see in the states. But outside the gates you are in another country, if not the 3rd world then the 2nd world. The U.S. State Department advisory on Panama warns about travel to the Darien Province and the Mosquito Coast, both of which are fairly inaccessible. It also states that Panama Panama remains relatively safe when compared to other Central American countries, yet crime rates are still higher than one would encounter in most of the United States. This constitutional democracy has a rapidly developing economy but also faces problems of corruption and has a weak, non-transparent judiciary.
Panama Retirement Communities