A very popular retirement spot for Europeans, Americans, and Russians. The popularity is due in large part to its warm winter climate and great beaches along the Costa del Sol. The slumping economy has also helped in that housing prices are far below what they were at their peak. Spain's government granted residency permits to foreigners who buy high-end homes or start new businesses. The package would award resident status to those who spend at least €500,000 ($646,700) for real estate or invest at least €2 million. Updated 5/22.

Residency. Becoming a legal resident does not appear to be difficult, particularly if you are a citizen of the EU. In most cases you need to apply and provide proof that you can support yourself, a current passport, photos, and (sometimes) with a medical certificate. Here is more information. Anyone can stay in Spain for 90 days. In order to try to reduce its inventory of unsold homes Spain launched a residency program where foreigners who purchase a property worth at least 500,000 Euros can receive a family residency permit.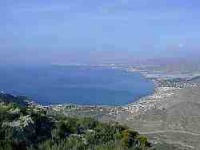 Taxes. Generally if you live in the country more than 183 days you need to pay income taxes. But the laws against double taxation vary from country to country, so you should consult a tax professional to make sure you are doing the correct thing. A 2013 law affected many expats living in Spain. The law requires that anyone living in Spain for more than half the year (183) with assets worth more than 50,000 Euros must declare them to the Spanish government.

Crime and Security. This is what the gov.UK says about this issue: "Most visits to Spain are trouble-free, but you should be alert to the existence of street crime, especially thieves using distraction techniques. Thieves often work in teams of two or more people and tend to target money and passports. " There are instances of criminals posing as police officers asking to see your wallet or purse. Ask for their identification, real officers wouldn't make such a request - and only show your identification. Motorists traveling in the countryside should be wary of bogus inspections or unsolicited offers of help.

Medical. Citizens of the European Union probably have healthcare insurance that works in Spain. People not covered by the state run plan might be able to purchase insurance. US Medicare is not honored in Spain. However. medical care is first rate and relatively inexpensive. See this gov.uk link for more on health care.

Cost of Living. The numbeo.com price comparison shows Spain has a cost of living 28% cheaper than in the U.S., with an index of 58, vs. the U.S. and UK at 70 (New York City is considered 100, so all of these places are cheaper).

Weather. Spain is the warmest country in Europe, which is one of the reasons it has attracted so many northern Europeans as winter residents. Along its extensive coast it is fairly mild all year round, although dry. Inland and in the mountains the winters can be chillier.

Best Places to Live. See the list of the Spanish cities we have reviewed in the top right hand column. Many retirees prefer to live along the coast for the beaches and atmosphere, while others prefer quaint villages in the hills. Cities like Barcelona and Madrid have plenty to do, although they will generally be more expensive. Some of the more desirable areas for retirees include Murcia, the Costa del Sol, the Balearic Islands, Marbella, the Costa Blanca, and the Costa Brava.

Plusses and Minuses. Spain is a cheaper alternative than the UK and France. The weather is warmer than just about anywhere in Europe. There are any number of places to live where expats will feel comfortable. It is farther away, if you coming from the UK. The economy has been on a rough ride with very high levels of unemployment, particularly among the young.


See our Spanish Directory for a list of possible retirement towns and active communities.
Spain Retirement Communities