New Jersey Retirement Guide
Overall
Have you been thinking you might move to one of the many exciting best places to retire in New Jersey? If so you can use this website to find data and opinions on the active adult retirement communities that have become so plentiful in New Jersey. The Garden State is a populous state (just under 8.8 MM people in 2018) with many faces - from big cities to charming sea coast villages, from wealthy Manhattan suburbs to the vast pine barrens - it is sure to have a retirement community where you can be happy. The median age in the state is 39.6 - 15.1% of the population is over 65. The Wikipedia entry for New Jersey has more facts. Updated Jan. 2020.
Ocean City sunset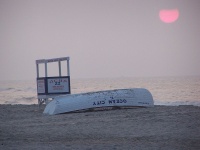 New Jersey Climate
The New Jersey climate is called humid-continental. There are 4 seasons and the climate is influenced alternatively by the Gulf of Mexico and the Northeast Atlantic. Summers are hot and winters are cold with occasional snowstorms.
Economy and Home Prices
New Jersey is the third wealthiest state in the United States, with a 2010-14 household income of $76,475 (national median is about $57,652). It has a vast economy in every sector. Median home prices can range greatly - in the wealthy NYC suburbs prices can be quite high. In the northern New Jersey/NYC region the 2016 median home price, at $400,000, was well above the national median (NAR). In southern New Jersey prices can be a lot more reasonable - in the Atlantic City area the median home price was $212,900 in the third quarter of 2019 (NAR). According to Zillow.com, the Home Value index for NJ homes was 335,600 in late 2019. Cost of living in New Jersey is 8th highest in the nation according to MERIC but differs by region.
New Jersey Taxes
Tax Burden: At 12.2% the total tax burden in New Jersey is the 3rd highest in the nation (TaxFoundation.org).
Marginal Income Tax Rates. New Jersey's top marginal income tax rate is 8.97% on the top bracket ($500,000), the lowest is 1.4%. There is no standard deduction or personal exemption.
Retirement Income Exemptions. Military pensions are exempt from income tax, but most other retirement income is taxable. If your total income is below $100,000 you can exclude up to $20,000 in pension income (joint return). You can also apply the unused amount of your pension exclusion to cover IRA distributions and dividend and interest income. See NJ Taxation.
Social security exemption. Social security income is not taxed.
Sales Tax: State sales tax is 7.0%; local authorities may not charge additional tax.
Property Taxes: There are property tax relief programs for seniors including a homestead exemption, which is a good thing because NJ has the highest property taxes in the nation ($6597 median paid in a recent year). NJ homeowners pay 1.89% of assessed fair market value in taxes. Property taxes are deductible against state income taxes.
Homestead Exemption. NJ has various Homestead tax rebate programs available to individuals up to certain income levels.
Estate and/or Inheritance Taxes. NJ repealed its very high estate tax as of Jan. 1, 2018, including property owned by out of state residents. It still imposes Inheritance Tax on siblings, nieces, and nephews, but excludes spouses and children.
Go here for NJ Property Tax Relief program information. Here is a link to the NJ Division of Taxation for more information.
Topretirements named NJ as the worst state for retirement on its 2014 list.
Certified Retirement Communities
New Jersey does not have a certified retirement community program.
Best retirement communities in New Jersey
New Jersey has some strikes against it as an ideal retirement state, mainly having to do with its high tax burden and cost of living. But, many retirees live here already and don't want to leave the state. Some would like to relocate to an active adult community and an easier lifestyle. For example, many affluent active adults are interested in the beautiful college town of Princeton - you will find vital information to help assess pros and cons of living there on this site.
Other "best" retirement communities include the popular but low-key choice of Manahawkin, the family beach town of Ocean City, or the glorious victorian treasure of Cape May at the southernmost end of the state. Lower cost towns like Toms River, Brick, Waretown, and Little Egg Harbor are in this same area on the Jersey Shore.
At Topretirements.com our job is to provide the objective facts and peer-reviewed profiles to help you find the best community for you. So if you are considering a New Jersey retirement, check out the listings on this site. .
Free eBook - Baby Boomers Guide to Selecting a Retirement Community - 16 Factors
Download this free eBook and use its fun exercises to help you find your perfect active adult retirement community.
Click on the New Jersey Retirement Community reviews on the right. Or to find other state guides to retirement or more on types of retirement communities
New Jersey Retirement Communities