Ohio Retirement Guide
Overall
If you have been thinking about making a move to the Buckeye State, this retirement guiide to Ohio can help you make an informed choice. The reviews on this site will let you know about the best places to retire in Ohio, including the top active adult retirement communities. You will find important information about what makes each community special and not so special; real estate prices; plus important facts about the cultural, economic, medical, and transportation available in Ohio. Updated Nov. 2016.
Ohio had just over 11.6 million people in 2016 with a median age of 39.1. The midwest begins in Ohio - its presence in the friendly people who live here is easy to see. It has several large cities; Columbus, Cleveland, and Cincinatti; many mid-sized cities like Dayton; and many small towns and rural areas. The northern portions of Ohio front on Lake Erie which offers excellent outdoor recreation.
The Wikipedia entry for Ohio has more facts.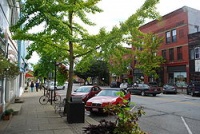 Downtown Oberlin
Ohio Climate
The Ohio climate is humid-continental. There are 4 seasons. Summers are hot and winters are cold with frequent snowstorms.
Economy and Real Estate Values
Ohio's inflation adjusted 2010-2014 household income at $48,849 is slightly lower than the United States average. Ohio has the 19th lowest cost of living of all the U.S. states according to MERIC. At $123,400 in mid 2016, the median home prices are among the lowest in the U.S. (Zillow). The median home in Columbus in mid 2016 sold for $181,600 vs. the national median of $240,900. In the Cleveland area the median home went for $138,900. Wealthy suburbs around Cleveland are more expensive.
Ohio Taxes
Tax Burden: Total tax burden in Ohio is 9.8%, a bit higher than the median U.S. rate. The state's tax burden is 19th highest.
Marginal Income Tax Rates. The lowest bracket starts at .5% and the highest income tax rate is 5%, which kicks in the $208,500+ bracket.
Retirement Income Exemptions. Military retirement pay is exempt. There is a small credit for retirement income.
Social security exemption. Social security income is exempt.
Sales Tax: The state sales and use tax rate is 5.75 percent. Counties and regional transit authorities may levy additional sales and use taxes.
Property Taxes: The per capita property tax is $1215, 29th nationally.
Homestead Exemption. Ohio has a homestead exemption
Estate and/or Inheritance Taxes. The state eliminated its estate tax in 2013. There is no inheritance tax.
Link to Ohio Department of Revenue or Taxation.
Certified Retirement Communities
Ohio does not have a certified retirement community program.
Best retirement communities in Ohio
Active adults looking for retirement information on Ohio will find vital information to help assess this low key state as a retirement community at Topretirements.com. One of the best parts of Ohio is its collection of beautiful and charming college towns - places like Oxford, host to the 16,000 students of Miami University. Other great college towns include Bowling Green, the small town of Fairborn, Athens,Gambier (home of Kenyon College), Yellow Springs, and Granville (home of Dennison College). Columbus is Ohio's largest city and enjoys a tremendous boost from the presence of Ohio State, one of the world's largest universities.
Get started with reviews of the best retirement communities.
Click on the Ohio Retirement Community reviews on the right.
Ohio Retirement Communities