Pennsylvania Retirement Guide
Overall
If you have been thinking about making a move here, this Pennsylvania retirement guide will help you make an informed choice. This website will give you useful information about the best places to retire in Pennsylvania, including the top active adult retirement communities. Pennsylvania, the Keystone state, had just over 12.8 million people in 2015 with an above average median age of 40.4. It has two large cities, Pittsburgh and Philadelphia; many mid-sized cities like Erie and Lancaster; and many small towns and rural areas. The north central portions of Pennsylvania tend to be sparsely populated and offer excellent outdoor recreation. PA has 50 miles of coastline on Lake Erie. The Wikipedia entry for Pennsylvania has more facts. Updated Dec. 2016.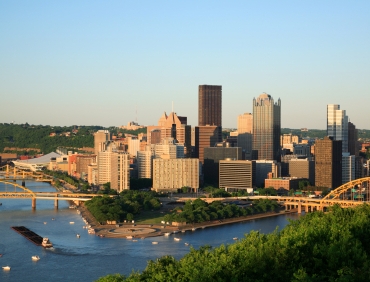 Pennsylvania Climate
The Pennsylvania climate is called humid-continental. There are 4 seasons. Summers are hot and winters are cold with frequent snowstorms. The northwestern part of the state experiences lake-effect snowstorms from Lake Erie.
Economy & Home Prices
Pennsylvania's 2010-14 household income, $53,115, was very near the United States average. It is the 33rd least expensive state according to MERIC. Median home prices are usually much less expensive than in rest of the U.S. The median home in the Erie area sold for $127,400 vs. the national median of $176,600 in late 2016 (NAR). In the Philadelphia area the median home went for $234,800. Wealthy suburbs around Philadelphia are much more expensive, although the statewide Home Value index was $156,0000 in late 2016 (Zillow).
Pennsylvania Taxes
Tax Burden: Pennsylvania has much higher than average tax burden - at 10.2% it is the 15th highest in the nation. When it comes to taxation of retirees, however, its reputation as a high tax state is not deserved.
Marginal Income Tax Rates. When it comes to taxable income, PA has one of the lowest income tax rates - a flat rate 3.07% (although in certain towns there are additional income taxes).
Retirement Income Exemptions. Military incomes are not taxed. Commonly recognized pension, old age, or retirement benefits paid after becoming eligible to retire, and retiring are not taxable. 401k plans and the like might be taxed.
Social security exemption. Social security is not taxed.
Sales Tax: State sales tax is 6%.
Property Taxes: Property taxes are one reason why the state has a reputation as a high tax state. It is the 21st highest state with a per capita collection of $1376. People over 65 with limited incomes might be entitled to a rebate.
Miscellaneous Taxes. PA has one of the highest gasoline taxes.
Estate and/or Inheritance Taxes. Pennsylvania is one of 7 states that collects an inheritance tax, which ranges from 4.5% to 15%
Link to Pennsylvania Department of Revenue
Certified Retirement Communities
Pennsylvania does not have a certified retirement community program.
Best retirement communities in Pennsylvania
Pennsylvania can be a great state for active adults and people over 50. It has a very low cost of living and many livable cities and small towns. Some of the best places for retirement in Pennsylvania are its charming small college towns like Carlisle, Lewisburg, Meadville, Titusville, Lancaster, and Swarthmore. Located in State College is one of the newer phenomemons in retirement living, a university related retirement community, The Village at Penn State. Pittsburgh is not only a great bargain but it is a livable city that is enjoying a renaissance. It has been singled out as America's 8th most literate city. Philadelphia offers an excellent urban retirement with plenty to do and places to live. See list of PA city reviews at top right.
Free eBook - Baby Boomers Guide to Selecting a Retirement Community - 16 Factors
Download this free eBook and use its fun exercises to help you find your perfect active adult retirement community.
Click on the Pennsylvania retirement town reviews on the right to find out more.
Pennsylvania Retirement Communities