Tennessee Retirement Guide
Overall
Tennessee is a state in America's Southeast that attracts many active adults over 55 for its low cost of living and easy lifestyle; therefore, there are many best places to retire in Tennessee, from livable cities like Nashville to lake towns like Paris. The Great Smoky and Cumberland Mountains and many rivers including the Mississippi offer exceptional scenery and recreation opportunities. This site will acquaint you with some basic facts about what it's like to retire in Tennessee population was 6.8 million in 2019, with 16.7% of the population 65 or over (about the same as the U.S. %). Updated July 2021.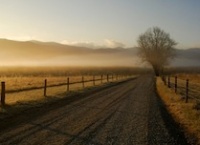 Countryside near Crossville TN
Climate
The Tennessee climate is characterized as humid subtropical, influenced by the Gulf of Mexico. Summers are hot and humid while winters tend to be mild, except at higher altitudes.
Per Capita Income and Home Prices
In Tennessee the 2010-14 inflation-adjusted household income was $53,320, almost $10,000 below the national median.The MERIC cost of living index places Tennessee as having the 5th lowest cost of living of any U.S. state in 2021. Real estate and the general cost of living is well below average compared to the total U.S. - the Zillow Home Value Index was $231,682 in mid 2021 vs. $293,000 in the U.S. overall. The 1st quarter of 2021 median home price in Knoxville was $248,900, for example, well below the national Index of $319,200. The median selling price in the same period for Chattanooga was $232,300 (Source: NAR). Tourism and agriculture (cotton and beef) are important in Tennessee, along with textiles.
Taxes
Tax Burden: At 7.3% its total tax burden is one of the lowest in the country (47th).
Marginal Income Tax Rates. Tennessee has no income tax, which was phased out after 2020.
Sales Tax: Sales tax is 7%, with a slightly lower rate on food. Localities can also add a sales tax up to 2.75%, making the combined total tax the highest in the nation.
Property Taxes: TN has the 47th highest per capita property tax at $799. It has a property tax relief program that the elderly, disabled, veterans, and people with very low incomes can take advantage of. Property taxes are set at 25% of assessed value.
Estate and/or Inheritance Taxes. There is no inheritance tax - it was phased out as of the end of 2015.
Link to the Tennessee Department of Revenue.
Certified Retirement Communities
Tennessee does not have a certified retirement community program, but it has an equivalent, the Retire in Tennessee program.
Best retirement communities
Tennessee has several large cities like Memphis and Nashville, along with many small towns. Several cities and towns in Tennessee are popular as retirement communities, particularly lake towns like Paris or the golf capital of Tennessee of Crossville. Nashville is the country music capital of the world. Maryville is a small town near Knoxville that has two great colleges in it. Johnson City and Franklin are interesting towns in the northeastern and central parts of the state. Active adult communities are being built in and around towns throughout the state and there are many to choose from. Find more helpful information on more than 30 different state retirement guides.
Get started - Click on the Tennessee Retirement Community profiles on the right.
Custom Search
Tennessee Retirement Communities