West Virginia Retirement Guide
Overall
If you have been thinking about making a move to one of the best places to retire in West Virginia, we can help you make an informed choice. The reviews on this site give important information about real estate prices; what makes each community special and not so special; along with important facts about the cultural, economic, medical, and transportation available in West Virginia.
This website will give you useful information about the best places to retire in West Virginia, including the top active adult retirement communities. Updated August 2021.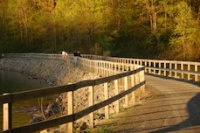 West Virginia, the Mountain State, had just under 1.8 million people in 2019 with a relatively old population. Astonishingly, 34% of the population is over 65 - double the percentage in the U.S. Located in Appalachia, West Virginia is a crossroads between the east and midwest and the north and south. One of the nicest things about this state are its friendly people; some say they are the friendliest folks in the U.S. It is mostly small cities like Morgantown, Charleston, Huntington, Parkersburg, Wheeling, and Weirton, along with many small towns and rural areas. The state is known for outstanding outdoor recreation in its mountains, lakes, and rivers.
The Wikipedia entry for West Virginia has more facts.
West Virginia Climate
The West Virginia climate is on the border of humid-subtropical. There are 4 seasons. Summers are hot and winters are cold with frequent snowstorms in the higher elevations and northern part of the state. Weather differs greatly from north to south and east to west in the state.
Economy and Real Estate Prices
West Virginia's 2019 estimated household income of $53,70 is near the bottom of all states in the U.S. Cost of living in the State is 15th lowest in the U.S. The Zillow Home Value Index at $119,026 in 2021 was much less than half the value in the rest of the U.S. In the Charleston area the median home sold for $161,700 in mid 2021 (NAR), and in Morgantown the Zillow Home Value Index was $231,582. Mining and oil are important to the economy, which has had its ups and downs.
West Virginia Taxes
Tax Burden: Total tax burden in West Virginia is 9.8%, 18th highest of all the states.
Marginal Income Tax Rates. West Virginia's highest income tax bracket is 6.5% and the lowest is 3%.
Retirement Income and Social Security Exemption. Taxpayers over 65 may exclude the first $8000 ($16,000 if filing jointly) of any retirement income. Beginning in 2020, taxation of Social Security income will phased out in 3 years.
Sales Tax: State sales tax is 6%.
Property Taxes: Median property tax is one of the lowest of all the states at $464 per year.
Homestead Exemption. A homestead exemption provides for a $20,000 exemption against the value of a single family residence. Seniors may be eligible for an additional exemption.
Estate and/or Inheritance Taxes. WV does not levy inheritance or estate taxes.
Link to http://www.wva.state.wv.us/wvtax/
Certified Retirement Communities
WV had a certified retirement community program in the past, but it appears inactive now. .
Best retirement communities in West Virginia
Active adults looking for retirement information on West Virginia can find vital information on this site to help assess this friendly state as a retirement community. One of the best parts of West Virginia is the college town of Morgantown, home to the 26,000 students of West Virginia University. This small and livable city is nestled by the mountains and beautiful Cheat Lake. Other great college towns include Bethany (Bethany College) and Buckhannon (West Virginia Wesleyan). Some say Huntington is the best city in West Virginia, a well planned city with wide avenues and easy access to town. Others like the capital city, Charleston, a modest town with low cost of living and easy access to recreation. The WV certified retirement communities included Morgantown, Beckley, Bluefield, Summers County, and Nicholas County when the program was in operation.
Free eBook - Baby Boomers Guide to Selecting a Retirement Community - 16 Factors
Download this free eBook and use its fun exercises to help you find your perfect active adult retirement community.
Get started with reviews of the best retirement communities.
Click on the West Virginia Retirement Community reviews on the right. Or to find other state guides to retirement or more on types of retirement communities