Wyoming Retirement Guide
Overall
Wyoming, the Cowboy State, attracts outdoors oriented active adults over 55; here you will find information on all the best places to retire in Wyoming. You could probably win a trivia contest with this factoid - Wyoming is the least populous state (population was about 576,000 in 2022, with 16% of the population 65 or over. It has terrain ranging from the High Plains to ragged mountains like the Grand Tetons. The Snake, Yellowstone, and Platte Rivers are just some of the rivers that flow through Wyoming. Yellowstone National Park and Grand Teton National Park attract millions of visitors. Cheyenne is its largest city. The scenery and recreation opportunities are outstanding. It is somewhat remote, although Cheyenne is only 100 miles from Denver. Skiing, hiking, and river sports are outstanding in Wyoming. This site will acquaint you with some basic facts about what it's like to retire in Wyoming. Updated May 2022.
The Wikipedia entry for Wyoming has more facts.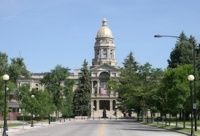 Climate
The Wyoming climate is characterized as semi-arid continental, a higher altitude climate that is drier and windier than most of the rest of the U.S. Humidity is low and sunshine is ample. Low temperatures are severe in winter. Summers are warm except in the mountains which tend to be cooler than at lower altitudes.
Per Capita Income and Economy
In 2020 the Wyoming the inflation adjusted household income was just over $65,304, about the same as the national median. Wyoming's cost of living is just slightly below the national average. The statewide Zillow.com Home Value Index was $315,000 in mid 2022, about 10% lower than the U.S. figure. The Zillow Home Value Index in Cheyenne was $355,000 in mid 2022. a Mineral extraction (coal, gas, oil, uranium) and tourism dominate the economy.
Taxes
Tax Burden: Total tax burden is 9.9% - Wyoming has the second lowest tax burden of all the states - making it a very tax friendly state.
Marginal Income Tax Rates. Wyoming has no state income tax.
Exemptions for Retirement Income. It has no income tax, so all pension, Social Security, and payments from retirement accounts are not taxed at the state level.
Sales Tax: Sales tax is a low 4%.
Property Taxes: Veterans get an exemption on property tax. Per capita property taxes are 10th lowest in the nation at an effective rate of 0.57%. There is a property tax refund program for people with limited income and assets.
Estate and/or Inheritance Taxes. There is no state inheritance or estate tax in Wyoming.
Link to http://revenue.wyo.gov/
Certified Retirement Communities
Wyoming does not have a certified retirement community program.
Best retirement communities
Several cities and towns in Wyoming are popular as retirement communities, particularly resort towns like Jackson Hole and its surrounding areas. Cheyenne is the capital as well as the economic center of the state. Casper, Gillette, Rock Springs, Sheridan, and Green River are some of the larger towns. Laramie, home to the University of Wyoming, is a great town for both retirees and young people.
At Topretirements.com our job is to provide the objective facts and peer-reviewed profiles to help you choose the right retirement community. Check out the more than 600 retirement town reviews on this site.
Free eBook - Baby Boomers Guide to Selecting a Retirement Community - 16 Factors
Find more helpful information on more than 50 different state retirement guides. Or, go here for helpful resources on what it is like to retire in Oregon, California, or Montana.
Wyoming Retirement Communities