New Mexico - Land of Enchanted Retirement
This is the 3rd in our series of "Best Regions to Retire". Go to Tips & Picks and look under "

Regions

" category for more articles in this series.



New Mexico is a delightful, but often overlooked best place to retire. One reason for that might be that there are not that many recognizable towns in what is really quite a large state (it's the 6th most sparsely populated state). Another might be that it tends to be eclipsed by its higher profile neighbors - Utah, Colorado, and Arizona.

New Mexico Retirement Review


New Mexico had just under 2,000,000 residents in 2008, making it the 36th most populous state. It has a large native American population. Its climate, tax structure, relative low expense (in some places), and geography make it a particularly appealing place to retire.



Albuquerque is by far the dominant city in the State with its population of over 500,000. According to Zillow the median list price of a home in the State was $230,000 at the end of 2009, with prices much higher than that in Santa Fe. Prices have been very stable, particularly compared to neighboring states. New Mexico has a property tax reform that does not permit those taxes to go up more than 3% per year. Use this link for complete information about taxes and all aspects of New Mexico retirement.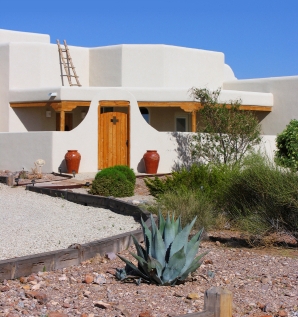 Some pluses and minuses about retiring in New Mexico (at the great risk of oversimplification):



Pros:


- High altitude gives pleasant winters and cooler summers
- Mountain scenery and recreation
- A reputation for art and culture (Santa Fe and Albuquerque)
- Property tax reform
- Inexpensive real estate compared to Colorado



Cons


- Great distances from anywhere in New Mexico to anywhere else
- Some people do not like living in its small towns
- Prices in Santa Fe are very high
- Not that many towns to live in



Best Places to Retire in New Mexico


Albuquerque

is the largest city. Like most places in New Mexico, the mountains and plenty of recreation are nearby. Albuquerque is located in the north central portion of the state at the intersection of I 40 and I 25. It has countless developments and 55+ communities as well as great neighborhoods within town and in the nearby Sandia Mountains. Median sale price of a home was $182,000. Here are some active adult communities in and around Albuquerque:

Albuquerque Meadows
Jubilee at Los Lunas
La Terraza Senior Apartments
Sunrise Bluffs


Santa Fe is one of the most affluent towns in America as well as being one of its arts and culture capitals. The home of Georgia O'Keefe, Santa Fe attracts artists, art lovers, and opera fans to its world class facilities in droves. Not to mention people who like living in these beautiful mountains at an altitude of 7,200'.

Las Campanas
Rainbow Vision
Rancho Viejo



Las Cruces

in extreme southern New Mexico is consistently picked as one of the "best places to retire". It's less expensive than its northern neighbor (Santa Fe), although not everyone who tries to retire here likes it. Some communities:

Fairway Village
Sonoma Ranch
The Boulders on the Sonoma Ranch Golf Course
Trails West



Ruidoso

is an alpine like resort set in the mountains to the north of Las Cruces. Many people, including a lot of Texans, are attracted to Ruidoso because of its nearby Ski Apache Ski Resort, its casino, and quarter horse racing at Ruidoso Downs.

Alto Lakes



Other retirement towns

:
Some of the other places to consider for a New Mexico retirement include Alamogordo (near Ruidoso), Carlsbad, Clovis, and Farmington. You can look these up on Wikipedia.com or City-Data.com to get more details on these towns.



Bottom Line

:
New Mexico is a bit under-appreciated as a retirement destination. True it doesn't have the variety of places to retire that Florida or Colorado have. But it does have a unique climate thanks to its high elevation at a southern latitude, property tax reform, and several really interesting places to retire.



Links:


Southern Oregon retirement
Low Country of South Carolina retirement
New Mexico Retirement Guide