Thailand
Thailand has long been a very popular place for expat retirements. The cost of living is low, it is relatively safe and stable, and the weather is warm throughout the year. Thailand, officially the Royal Kingdom of Thailand and formerly known as Siam, is a Southeast Asian nation at the center of the Indochina peninsula with a population of nearly 70 million. Sex tourism has long been a staple of Thailand's attraction, and undoubtedly there are more than a few expats who retire here with that in mind. The country has some incredibly beautiful beaches and relatively unspoiled islands. Some towns like Chiang Mai have significant expat populations. (Photo below courtesy of Wikipedia).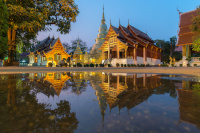 Residency. There are limitations on what foreigners can do about purchasing property, especially land. But there are plenty of rentals and condos as living options. Becoming a legal resident is possible under several different routes. 100 people a year are granted permanent resident visas. Others may qualify because of their occupational status or amount of money they bring in the country. It appears that almost anyone can stay for 180 days. Here is how to become a Thai resident via Wikihow. The Thai Embassy has more details.
Crime and Security. This is what the U.S. State Department says about safety and security in Thailand: "While traveling in Thailand you should exercise caution, especially in locations where expatriates congregate, such as clubs, discos, bars, restaurants, hotels, places of worship, schools, outdoor recreation venues, tourist areas, beach resorts, and other places frequented by foreigners. You should remain vigilant with regard to your personal security and avoid crowds and demonstrations." Violent crime against foreigners is rare. Border areas and the far south of the country are considered dangerous. There are frequent political demonstrations and caution should be taken to avoid these. There are also plenty of scams operated againts foreigners and tourists - check out the State Department website for the latest warnings.
Taxes. If you live in Thailand for 180 or more days a year you must pay taxes on your worldwide income, even if you are not working in this country. You will need a tax ID number.
Medical. US Medicare is not honored in Thalland. Medical treatment is generally adequate in Thailand's urban areas. In Bangkok, Chiang Mai, and Pattaya good facilities exist for routine, long-term, and emergency health care. Basic medical care is available in rural areas, but English-speaking providers are rare. Foreigners should have medical insurance valid in this country.

Cost of Living. The numbeo.com price comparison (CPI plus rent) shows Thailand with an index of 28, vs. the U.S. with 60 and UK at 73. The Local Purchasing Power index is 40 vs. 139 for the U.S.
Best Places to Live. See the list of the Thai cities we have reviewed in the top right hand column. Chiangmai in the north is a cultural capital and the place where most expatriates think about when they consider retirement here. The coastal communities like Pattaya south of Bangkok are also popular with expats.

Pluses and Minuses. Thailand offers a much cheaper lifestyle alternative than Europe or the Americas. The weather is warm year round, in fact it is hot and humid. There are some very attractive places to live where expats will feel comfortable. It is very distant from the West. From time to time there have been dangerous political demonstrations.
Weather. Thailand is very close to the equator, so it is never cold here, although in the highlands it might be a bit cooler. There is a dry and a rainy (monsoon) season with daily deluges a feature of life.