Active adult communities
October 18, 2017 — The allure of Arizona's warm winters, mountains, and deserts has made it a retirement magnet for a long time. Although most people who retire here come from the midwest or west of the Mississippi, it also attracts a fair number of retirees from the East. Some retirees come here as snowbirds for the winter months only, while others move to the Grand Canyon State full time. However they come, Arizona is one of the most popular places in the U.S. for retirement. This article highlights the 15 most popular active adult and 55+ communities in Arizona, as measured by visitor interest at Topretirements.com.
We encourage you to use our Arizona Directory of Active Communities to explore the more than 150 active adult and 55+ communities we have reviewed there under 36 towns. You can also use our Advanced Search to find communities by state, size, expense, type of community, amenities, etc. – you'll be sure to find what you are looking for.
A geographically diverse state
To people who haven't experienced it, Arizona might seem to be one big desert baking in the sun. But in reality it is several different geographic areas. There are tall mountains in many parts of the State, including Mt. Humphreys near Flagstaff at over 12,000′, plus some good size mountains in the south. We encourage people who are interested in a warmer retirement to spend some time exploring these different areas. Arizona has two big cities, Phoenix and Tucson. It also has former cowboy towns (Prescott and Yuma), and recovering ghost towns (Bisbee).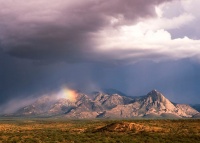 Mountains in Southern Arizona
Arranged by geographic region
A development has to really stand out to make it into the top 15 in such a competitive environment. Green Valley in southern Arizona was the #1 most popular community – no surprise since it actually is a collection of so many communities and Home Owner Associations. We were pleased to see the winners represent a wide variety of communities – from giant master planned developments with multiple neighborhoods and every amenity like Cantamia, to smaller manufactured home and RV communities. Rather than list them in descending order for the whole state, we are going to group them by geographic areas (although their rank in the State is noted). So here you go, AZ's top 15 communities sorted into the areas they are in.

Southern
Tucson and its many surrounding is the heart of southern Arizona. The terrain is interesting with many mountains, hills, and deserts. Further south you run into the #1 community on this list, Green Valley. It extends almost all the way to Mexico. Yuma is tucked into the southwestern corner.
1. Green Valley in the very southern part of the state is actually a collection of active communities with 59 Home Owners Associations. To see the 15 we have listed under Green Valley, go to Green Valley Communities.
Central
The Central part of Arizona includes the huge Phoenix Metro and its many suburbs and outlying towns. A number of the top 15 communities on this list are from Apache Junction located to the east of Phoenix.
2. La Casa Blanca. The beauty of the Superstition Mountains sets the stage for this quaint and friendly desert oasis in the East Valley (Apache Junction). The community is a gated community of manufactured homes.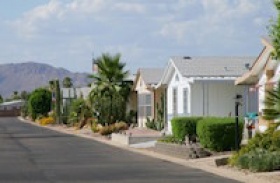 La Casa Blanca
3. Lost Dutchman is another Apache Junction community. The RV/Manufactured home property has three community centers and a wide range of outstanding amenities.
4. Sun Valley is in the heart of the Arizona desert in Apache Junction. The area is rich with western heritage and legends, and is bordered by the Superstition Mountains to the east, and the Goldfield Mountains to the north.
5. Rancho Mirage . Residents in this Apache Junction community enjoy a variety of resort-style amenities and a calendar full of planned activities and events. Amenities include a clubhouse with performance stage, fitness center, billiard room, library and catering kitchen. Outside, residents enjoy a heated swimming pool and spa.
7.Sun City (the Original!). Sun City Arizona, north and west of Phoenix, was not only the first 55+ active adult community in Arizona, but also the first in the country. Del Webb started Sun City Arizona in 1960 and it now has over 26,000 homes, 11 golf courses and countless amenities and social clubs. It is renowned for its incredible home values, low property taxes and minimal association fees.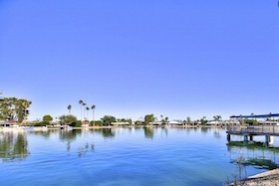 Sun City
8. Brentwood West. This community features a lifestyle enhanced by the stylish Southwestern flair of the "City of the Arts". Surrounded by all of the excitement of urban living in Mesa, residents enjoy art festivals, fine Southwestern dining, concerts, museums, galleries, exciting sport events, and more.
10. Sun City Grand . The third Del Webb active adult community in Phoenix's northwest valley hosts a bountiful lineup of amenities, social activities and golf courses. Residents of Sun City Grand cherish their smaller community for its newer homes in a quiet, un-congested location in Central Arizona. There are 17,000 residents.
12. CantaMia. Located in the foothills of the Estrella Mountains near Phoenix, surrounded by lush desert and abundant wildlife, CantaMia at Estrella is located within the 10,000+ acre master planned community of Estrella, along with a Village Center and 500 acres of parks and hiking trails.
13. Encore at Eastmark opened in 2015 and is the addition to the popular master planned community of Eastmark located in Mesa, Arizona. It is specifically planned and designed for 55-Plus active adults, featuring a state-of-the-art Village Center with a luxurious resort pool, fitness center, class facilities.
14. Hacienda de Valencia. An age qualified, gated community in Mesa designed to offer the most in retirement living. There is an array of social activities like dances, potlucks, games and planned trips.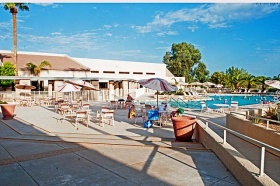 Sun Lakes Arizona
15.Sun Lakes of Arizona is made up of five country club style neighborhoods that each have their own golf course and amenity center. A generous assortment of world-class amenities and social activities cater to the non-golfers who reside in this age-restricted community to the south of Phoenix.
Northern
The northern part of the State includes Flagstaff, Sedona, and Bullhead City (along the Nevada border). This is where the Grand Canyon is located. The area tends to be high desert with some significant mountains, and is cooler year round.
6.Sedona Shadows offers an affordable RV/manufacture home lifestyle accented by a wide range of activities including hiking, swimming, water aerobics, and golfing at nearby courses.
9. The Reserve at Fox Creek offers a range of amenities, an activities director, and a calendar of planned events. Located in the center of the community overlooking a natural arroyo, the million-dollar clubhouse with covered picnic area provides the perfect spot to enjoy breathtaking sunsets and scenic mountain views. It is in Bullhead City in the northwest part of the state.
11. Pine Lakes is an affordable 55+ land-lease community, one mile high in the tall pines, where the homes meet the forest. The community offers views of the nearby mountain peaks and dense forest in the beautiful Prescott area.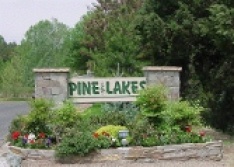 Pine Lakes
About how we compiled this list
To come up with this list we reviewed our site logs from Jan 1 to Sept 30 of this year. The 15 Arizona communities that were viewed the most made the list. It doesn't necessarily mean they are the "best" communities, but in this one important dimension they have succeeded in attracting member and visitor attention on our site.
Comments?. Do you have a favorite Arizona active community you think should have made this list? What area of the State do you think is the best for retirement? Please share your thoughts in the Comments section below.
For further reading:
15 Most Popular Active Communities in Florida
100 Top Active Communities for 2016
Affordable Places to Live on the Waterfront
The Southwest: 10 Great Places to Retire That Won't Break Your Budget
Posted by Admin on October 17th, 2017