Active adult communities
April 10, 2017 — Retiring to a very large active adult community offers a unique experience to baby boomers. Developments with over 10,000 residents almost always provide an amazing variety of amenities and lifestyle options. They often have hundreds of clubs and dizzying choices for non-stop activities every day. Populated as they are with people of all kinds of backgrounds and interests, you would have to work hard NOT to make a lot of great new friends.
Exact figures are hard to come by, but we estimate that there are at least 20 active communities in the U.S. with more than 10,000 residents, and at least 10 that have more than 10,000 homes (some communities might be below that now but have plans to go over). Because of their size they feature a range of recreational and social options that smaller communities generally cannot provide. Here are some of what they typically offer:
– Wide choice of sports suitable for all ages of retirees (multiple golf courses and tennis courts, swimming pools, softball, pickleball, bocci, etc.)
– Active social program with planned events on a daily schedule
– Wide array of clubs to match many different interests. Sometimes there are hundreds of different clubs
– Planned activities to enjoy such as crafts, woodworking, arts, singing, theater, etc.
– Classes and opportunities for life-long learning on campus
– Clubhouses, community centers, ballrooms, and performance venues that bring people and talent together
– Many of these communities have restaurants, stores, medical facilities, etc. on the premises
– Golf carts are usually permitted on internal roads – many people rely on them for their daily transportation needs
– Not all of the communities we list here are exclusively for adults 55+. Some like Daybreak are open to residents of all ages and include children, even schools.
Sun City Center, located in Ruskin near Tampa, is one of the handful of communities that have more than 10,000 homes. The amenities are extensive (8 golf courses, over 250 clubs), and it is inexpensive. The rap on this Sun City is that, since it has been around a long time, the average age of its residents and its facilities is getting up there. So it might not appeal to some young retirees. Also in the Tampa area is Valencia Lakes, a newer but smaller community from GL Homes with plenty of active amenities, minus golf.

On Top of the World in the Ocala/Orlando area has thousands of enthused residents with a planned total of 10,000 homes. The list of amenities and clubs is just about endless, including a multi-acre airport for model airplanes. See our article "What Sandy Learned" for more about this community.
Century Village (Southern Florida). There are actually 4 Century Villages in Southern Florida; in Palm Beach, Deerfield Beach, Pembroke Pines, and Boca Raton (all east coast). In some ways CV has superior locations to many other large communities, as they are much closer to beaches and bigger towns. They are also really big – over 500 clubs, 145,000 sq.ft. clubhouses, and every form of recreation you can think of. As is typical with communities that have been around for a long time, its residents have a higher average age than most of the newer communities.
Peachtree City. This master-planned, all age community is 25 miles south of Atlanta, Georgia. The average age is 37.5 and the population is over 35,000. It has achieved some level of fame for its extremely high golf cart population – like The Villages, customized golf carts seem to be the preferred method of transportation. There are swimming pools, athletic fields, 2,000 seat amphitheater, etc.

ef="//www.topretirements.com/reviews/Arizona/Goodyea
Solivita Another community in nearby Kissimee that might appeal to younger retirees is Solivita, which bills itself as "The Younger Next". Here you can drive your golf cart to one of the championship golf courses, or burn off some of the calories from the community's 3 restaurants at the 32,000 sq.ft. Riviera spa and fitness center.
Villages of Citrus Hills near Ocala has just over 10,000 homes. It is a country club community in the heart of of Citrus County between Tampa Bay and Ocala (Hernando). In addition to golf there are 2 tennis centers, and hundreds of activities and clubs.
Daybreak is a huge community near Salt Lake City that is open to peole of all ages. There are 20,000 homes planned amidst many different neighborhoods. One of those is Garden Park Village, a fully maintained neighborhood designed with the 55+ empty nester in mind. Garden Park has its own private clubhouse, fitness area and easy beach access.
The Villages is the community that most active adults think of when talking about a very large community. The complex spans 3 counties in Florida and had 157,000 residents as of 2016. Its town centers have daily events with a changing schedule of entertainment options. Many restaurants and shops as well as big box shopping are available within The Villages. Perhaps the biggest draw of The Villages for baby boomers is the awe-inspiring array of recreational activities available that are included with the modest fees. The Villages has 26 executive golf courses and 9 Championship courses, dozens of swimming pools, fitness centers galore, and hundreds of clubs.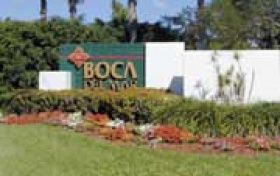 Boca del Mar is a community that not that many people have heard of, yet it is very large with 25,000 residents. It offers single family, town homes, condominiums, and villas. It is not age restricted. Amenities include a country club, golf course, pools, exercise centers, dining, shops, nightlife. Prices range from $100,000 to $1 million.
Cadence is a master-planned, all ages community designed around active lifestyles and spread across 2,200 acres in Henderson, Nevada. The community of over 13,000 homes will feature single family, townhomes and condos and 450 acres of open space with walking trails, bike trails and parks. At the heart of Cadence is the 50-acre central park, where residents can gather and attend special events
Sun City, Arizona was not only the first 55+ active adult community in Arizona, but also the first in the country. It is probably the second largest active adult community after The Villages. Sun City has 48,000 residents. It was founded by Del Webb in 1960. It boasts every conceivable activity – 7 recreation centers, 11 golf courses, 3 country clubs, 2 bowling centers, Sun Bowl, Viewpoint Lake – plus hundreds of clubs. Like many communities established long ago, at 75 the average age in Sun City is well up there.
Sun City Grand is a development by Del E. Webb. It opened in 1996 and completed its last home in 2005. Spread over 4,000 acres, it includes 400 acres of common area, providing a delightful environment for the 17,000 residents living in 9,550 homes. All of the extensive amenities are 100% homeowner-owned. Many of the other Sun Cities communities across the country are very large as well, such as Sun City Texas has 9,900 homes and so does Sun City West.
Bella Vista in Arkansas was originally a very large affluent retirement community, but is now incorporated as a community. The government shares some administration with a POA (Property Owners Association). It has 8 lakes, 9 golf courses, parks, walking trails, Bella Vista Country Club, library, and 26,000 residents including some younger couples and families. 42% are 65 or older. The community has summer vacation rentals and 2 school districts.
McCormick Ranch, Arizona is over 40 years old and has 27,000 residents. This up-scale master-planned community has golf courses, lakes, miles of public trails, parks, resorts, shopping centers, an outstanding hospital campus surrounded by medical specialists and city municipal services. It was once the 4,200-acre working ranch of Anne and Fowler McCormick.
Laguna Woods Village(LWV) is a 55+ age-restricted gated community located on 2,100 acres of rolling hillsides just minutes from the Laguna Beach coastline. The community has 12,736 dwellings and is considered to be one of the largest of its type on the West Coast. Laguna Woods Village is home to 18,000 residents. The average age of residents moving into the community is 67 (which means the average age of all residents is higher). Laguna Woods Village offers a wide range of social and recreational activities, including yoga, dances, shuffleboard, lawn bowling, paddle tennis, table tennis, and bridge. Facilities include seven clubhouses, five swimming pools, a performing arts center seating 814, and the community's "living" amenity, the equestrian center. The community owns several horses available to residents and their guests. There are over 230 clubs and organizations to choose from, and a choice of more than 100 Saddleback College Emeritus courses. Unlike some other large communities, LWV does not have any retail or commercial establishments within the community, although they are nearby.
Hot Springs Village HSV This community near the historic town of Hot Springs, Arkansas is open to all ages. HSV is home to 14,000 residents. It has a full range of amenities and clubs including 9 golf courses and 10 lakes with marinas for boating and fishing.
Green Valley, AZ. Located in extreme southern Arizona, Green Valley is home to several developments and about 20,000 residents in over 12,000 homes. Most of its residents are retired. It has 9 golf courses, 13 recreation centers, shopping plazas, dozens of clubs and volunteer organizations, medical facilities, places of worship and recreation centers. Residents share in a cooperative venture, Green Valley Recreation, Inc., which provides recreational opportunities across the many developments in the Green Valley area.
By no means a complete list
This list of the largest active communities is by no means exhaustive. There are other large communities; Holiday City in Toms River, NJ is one of them. There are undoubtedly others not mentioned here. But before you search only for the largest communities, you should decide just how large a community you would be happy living in. Then it boils down to location and what the community is like.
You can use the Advanced Search at Topretirements to look for 55+ communities by size and other characteristics, such as amenities, price range, and type of community (however, not all communities have all their attributes in our database yet, so there may even be more than you discover). As always, the best answer to the question of where to live is to sample various communities. Take advantage of "Stay and Play" or "Discovery" packages to see first hand if the community is right for you – before you buy!
What do you think? Is a very large active community for you? Or would you prefer to live in something a bit smaller? Did we miss some obvious very large communities (over 5,000 homes)? Let us know your preferences using the Comments section below.
For further Reference:
Large Communities East: Competitors to The Villages
Large Communities West
The Villages – Facts and Opinions
Posted by Admin on April 9th, 2017