Active adult communities
Note: This is the second in a 3 part series. Here is the link to see Part 1, "Destination Williamsburg, Jay Michaels Retirement Tour Bus". Part 3: 5 Years Later on the Bus
Last year about this time, I reported on my travels to Williamsburg, Virginia and Chapel Hill, NC in search of a retirement destination.  My wife Jane and I have continued our search over the course of the last ten months, visiting a number of active adult communities, and wanted to share some observations from our travels.  We welcome input from people on our search.
First of all, let's review again the things that are important to us in choosing a retirement destination.  We presently own a seasonal home in north central Pennsylvania and our children reside in Cleveland and Washington, D.C.  We want to live in one home and be able to visit our children without always being dependent on scheduling air reservations in advance.  Close proximity to an airport and good health care are also very important.  We are both recently retired for the time being, but would like to be somewhere where we could pursue employment opportunities.  Having access to numerous activities and opportunities to meet people is also important.  I am a golfer and a golf community may be desirable.
I will briefly describe each of the developments and areas visited.  We visited a number of communities in North Carolina and like the idea of a warmer climate.  We also visited three Pennsylvania developments since we would be close to our children and Pennsylvania does not tax retirement income.   While visiting our daughter in Cleveland, we also visited an over 55 community.  We are offering our opinions on these developments but please remember these are matters of individual preference and also are based on initial impressions.

Pioneer Ridge in North Ridgeville, Ohio
Pioneer Ridge, an over 55 community Del Webb community in North Ridgeville, Ohio, is very nice with close proximity to the Cleveland International airport and excellent health care at the Cleveland Clinic.  When complete, there will be almost 600 homes. The real estate is very affordable with base pricing ranging from about $133,000 to $225,000. The amenities include an outdoor and indoor pool as well as a nice fitness center and a beautiful clubhouse. We liked this development for the amenities and because our daughter lives in Cleveland, but the climate is not ideal and the housing is not as upscale as what we wanted.
Traditions of America at Liberty Hills in Freedom, PA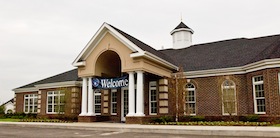 This is an over 55 community in Freedom PA., which is about a half- hour from Pittsburgh.  There are about 325 lots and it is impressive how well it has sold through a slow economic period.  The location is attractive to us since it is close to two major interstates, I79 and the PA Turnpike and this would make it easier for us to visit family.  It is also close to the Pittsburgh Airport and has easy access to outstanding health care at UPMC health system.  The housing is upscale and is what we like.  They have a nice outdoor pool and clubhouse that includes kitchens, activity rooms and a fitness and exercise room.  The setting is rural and pretty, but there would be traffic in getting to outside activities and restaurants, given this is near the Cranberry area that has experienced extensive development.  Our memories of Pittsburgh weather scare us a little and although we like the "smallness" of this development it is too small to support a golf course.
Penn National Community, Fayetteville PA
This community is set in a very rural and remote area and driving to it was quite beautiful as you pass large Mennonite dairy farms. It is situated outside of Chambersburg, PA. and is about two hours from Washington, D.C. and Baltimore, Maryland.   The 1400-acre community was started in 1968 and has over 1,000 homes, with available lots for new homes. There are two golf courses, and a club house with a grill room and a pro shop. There are walking trails and the community is located next to Michaux State Forest and the Appalachian Trail which we liked. We would have been more receptive to this development if it had only one golf course, and instead had an indoor pool and fitness center as well as a better dining facility and better access to larger communities.  There are not a lot of new homes being built in this development.
Fearrington Village near Chapel Hill, NC

Fearrington Village is a quaint community in Pittsboro, NC, just 8 miles from Chapel Hill. It is a unique and fun place to visit and has a relaxing and peaceful feel about it. It is situated on a farm with belted cows, barns and a silo. Within the development are a book store, restaurants, an inn, and some small shops.  The houses are in "neighborhoods" and include condos, townhouses and new homes with older homes found in the "historic" section.  The resale homes will fit most budgets and the new construction begins at about $400,000.  Amenities are a la carte and they include the Swim and Croquet Club and a membership to the fitness center which is run by Duke University.  This community is first class and has a five star restaurant.  There are many clubs and activities for the residents and a farmers market comes once a week during the summer and fall.  We really appreciated the quality of this development but are concerned as to the remote location and that the new housing options may be beyond our price point.
Carolina Preserve in Cary, NC
Carolina Preserve in Cary (near Raleigh) is a large Dell Webb over 55 community in the final stages of completion. The two-story clubhouse is beautiful and includes an indoor pool along with a large and very active fitness center. There are several well-appointed card and game rooms with many activities happening every day including lectures, parties, and special events.  There are also tennis courts and an outdoor pool, bocce court, and a chipping and putting green.  The clubhouse and amenities we really liked.  The lack of a restaurant and golf course were negatives for us in a development of this size.  Also the number of houses on the development were such that we felt it was a little crowded.
12 Oaks Holly Springs NC

12 Oaks is located approximately 20 miles from downtown Raleigh and offers several choices in housing and builders. The community includes a Jack Nicklaus golf course, a clubhouse with an outdoor swimming pool, tennis courts, and fitness center.  The clubhouse also includes a golf shop and a café.  We thought the development was a little more speculative, i.e. had further to go in it development than some others we visited and was not as close to Raleigh as what we would like.  The community of Holly Springs itself does not have a lot that would attract us.  We did not look at any housing in this development.
St. James Plantation in Southport, NC
We visited St. James Plantation located minutes from Southport, North Carolina and about 30 minutes from Wilmington.  Southport is located on the Intracoastal Waterway in southern North Carolina and so the climate is as mild as it gets in North Carolina.  St. James is a community that has been in existence for over twenty years and will have over two thousand home sites when completed.  The community has many distinct neighborhoods as well as condos and villas; much of the natural habitat has been preserved. The development has over six thousand acres and has walking trails, a marina and restaurant on the Intracoastal Waterway, a private beach and beach club on the Atlantic Ocean, 81 holes of golf and four clubhouses, and an outside amphitheatre. We have not visited a community with such extensive amenities and so much to offer.  We did not get a complete sense of the costs to live there and wonder if it is beyond our budget.   There is a significant initiation fee that is paid by all homeowners and then membership levels at various costs can be selected.
Status Report
We have not yet concluded our search but a few things stand out.  Everywhere we went people seem to believe that the place they live is the absolute best choice.  This is good evidence that all of these communities have a lot to offer and that people have diverse tastes.  This also makes us feel that once we commit to a place we will join the ranks of satisfied retirees.
We thought that St. James Plantation and FearringtonVillage had the most to offer and kept us within a day's car ride of our children.  However, both are located in North Carolina, a high income tax state, although property taxes are low in both places.  Fearrington Village is about fifteen minutes south of Chapel Hill and so there are employments opportunities, but it is not an overly convenient location to all parts of the Research Triangle.  The nearest urban area to St. James is Wilmington and we are unsure about employment opportunities there.  Although the Pennsylvania communities have the tax advantage I mentioned earlier and are closest to our children, we did not feel there were as many amenities in the places we visited and the climate is a drawback for us.
Next Steps
We tell ourselves this is an adventure and journey and there is probably a good reason why we have been unable to lock in on a place with conviction.
Our next steps include visiting St. James again and visiting Charlottesville, Virginia since we do not feel we gave that area a good look.  Other than that we just keep thinking and reading and waiting for the light to come on.  We would appreciate your thoughts more than you know since this may be what we need to get the wheels turning.  In particular, if anyone has information on communities we should visit in Charlottesville that would be great.
For further Reference
Part 1: Destination Williamsburg, Jay Michaels Retirement Tour Bus
Part 3: Jay Michaels Retirement Bus 5 Years Later
North Carolina Directory of Active Adult Communities
Ohio Directory of Active Adult Communities
Pennsylvania Directory of Active Adult Communities
Sandy's Active Adult Adventures: Part I
Sandy's Adventures: Part II
Comments
We hope you enjoy Jay Michaels' impressions as much as we did. BTW – have you been out visiting regions or communities – we'd like to hear from you too! Let us know about it in the Comments section below.




Posted by John Brady on May 14th, 2012