Active adult communities
April 17, 2018 — The allure of North Carolina for retirement seems to be gaining momentum every day. It is considered fairly tax-friendly for retirees and offers a milder winter climate than states in the Midwest and Northeast (see our Retirement Guide to North Carolina). A big draw is attractive real estate prices and cost of living. When it comes to finding a place to live, it offers an amazing array of towns, cities, and active adult and 55+ communities. North Carolina has also gained attention for attracting "halfbacks", the so-called retirees who moved from the north to Florida, only to become disillusioned and move "halfway back" home to the Carolinas. This article highlights the 10 most popular active adult and 55+ communities in North Carolina, as measured by visitor interest at Topretirements.com. In the next few weeks we will produce the list of the 10 most popular active communities in South Carolina.

A geographically diverse state
North Carolina has some very different geographic areas, particularly between east and west. The state goes from beach towns on the Atlantic coastal plain to the Piedmont, and ultimately ends high up in the Blue Ridge and Smoky Mountains. Thus in Asheville (NC) you can experience all four seasons, while towns on the coast have winters that are fairly mild. We encourage people who are interested in North Carolina to spend some time exploring these different areas. The State has several big and growing cities, the biggest of which is Charlotte, but nine others with greater than 100,000 population (High Point the smallest of those).
Why these communities were so popular
There are many possible reasons why these 10 communities sparked the strongest interest among Topretirements' members and visitors. Some were new communities and were listed in our Daily Alert or weekly Community newsletters. A few are advertisers. Some others are located in Asheville, which is the most popular town at Topretirements.com. And others… we are just not sure why. Somehow people heard about them and thus generated interest. We encourage you to use our North Carolina Directory of Active Communities to explore more. There we have reviewed 235 communities in 58 towns in the Tar Heel State. You can also use our Advanced Search to find communities by state, size, expense, type of community, amenities, etc.
Top 10 in North Carolina
A development has to really stand out to make it into the top 10 in such a competitive environment. We were pleased to see the winners represent a wide variety of communities – from giant master planned developments with multiple neighborhoods and every amenity like , to smaller manufactured home communities.

1. Fearrington Village in Pittsboro (near Chapel Hill) is the #1 most popular community in North Carolina (or South Carolina for that matter). This community is open to all ages and offers a range of housing types. It is unusual in that it also has a CCRC attached to it as well as a 5 star restaurant, inn, and bookstore at the heart of the community. Residents enjoy the "Belties", beautiful cows who live on the farm portion of the development.

2. Creekside Farm in Arden was next most popular. Farms seem to be attractive in this market. It is a new enclave within the gates of The Cliffs at Walnut Cove, where homes will overlook a 60-acre working farm. The community features over 300 varieties of vegetables, herbs, and flowers, along with chickens, livestock and fruit trees. 5 acres are set aside as a Community Supported Agriculture program.
3. The Ramble at Biltmore Forest is another community in the Asheville area. The Ramble's 1,000-acres was originally owned by George W. Vanderbilt founder of Biltmore Farms and was a favorite walking spot of his. When fully completed, the community will hold 400 homes, with parks, greenways and common areas. There are many amenities and it is near Biltmore Park Town Square, which has restaurants, shopping, and entertainment.
4. Balsam Mountain Preserve in Sylva (near Asheville) s a private club community nestled inside a Nature Preserve. It has a commitment to preserve its natural surroundings, as over 3,400 acres have been placed in a permanent conservation easement.
Homesites at Balsam Mountain Preserve offer mountain views, soothing stream sounds and dramatic elevations. Amenities include golf and an equestrian center.
5. Twin Lakes in Cary is a small all-ages development with modest prices. Amenities include a clubhouse, swimming pool, playground, tennis courts and volleyball, and the Greenway Trails.
6. Sisters Cove in Mooresville. The upscale community near Cornelius features the Estates Row Neighborhood which includes homes with their own for private docks on the lake. The community was a 2018 winner in the National Association of Home Builders for Best Detached Homes over 2,400 square feet.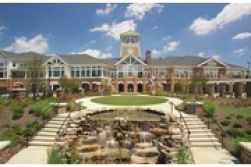 7. Del Webb Carolina Preserve. Located in Cary, this large Del Webb community has an amazing list of amenities. Those include a fitness center, event lawn, amphitheatre, Jr. Olympic pool, kids pool and adult pool. Lifestyle director and Town Center.
8. The Courtyards at Cramerton. Located in in Belmont west of Charlotte, is a new 55+ active adult community featuring all brick architecture and offers single-level home designs featuring open floor plans, gourmet kitchens, cozy front porches, and private courtyard spaces.
9. Fendol Farms in Durham. New in 2018, the community will consist of over 1,000 single-family homes. It will feature a clubhouse with fitness center, kitchen, billiards, bar and lounge, and ballroom. Outside, homeowners will enjoy a swimming pool, tennis and pickleball courts.

10. Albemarle Plantation in Hertford is near Elizabeth City on the Albemarle Sound. It is a private, gated, waterfront golf community. Long established, the community offers various living options and a marina.
How we compiled this list
To come up with this list we reviewed our site logs from October, 2017 through the first half of April 2018. The 10 North Carolina communities that were viewed the most times by visitors at Topretirements.com made the list. It doesn't necessarily mean they are the "best" communities, but they did succeed in attracting the most visitor attention on this site.
Comments?. Do you have a favorite Carolina active adult or 55+ community you think should have made this list? Do you see a Carolina retirement in our future? Please share your thoughts in the Comments section below.
For further reading:
Dueling Carolinas: Which Carolina Is the Best for Retirement?
How North Carolina Climbed Over Florida As A Top Retirement State
15 Most Popular Active Communities in Florida
15 Most Popular Active Communities in Arizona
100 Top Active Communities for 2016
Affordable Places to Live on the Waterfront
The Southwest: 10 Great Places to Retire That Won't Break Your Budget
Posted by Admin on April 17th, 2018