Active adult communities
December 4, 2012 – You can't beat it when your biggest dream comes true. When we started Topretirements.com 6 years ago we imagined this site would be a place where members would share their knowledge and experiences about the places they know and visit. So when we read Carole's amazing post this morning in the Comments section of the "Tell Us Where You Are Going to Retire – And Why" Blog article, we knew our dream has been realized. Carole has shared a newsy, factual, and interesting report on her travels about the communities she and her husband are visiting in South Florida. She's not only provided many useful facts and figures, but she also tells us her impressions, which can be so valuable.
We've reprinted some of her posts in this article not only because they are so good, but because we want more people to see them. Although the post to which she responded now has a stunning 557 comments, the only people likely to see her comments are our Daily Digest subscribers, since the original post dates way back to February. In the interest of geographic diversity we've also included an informative Comment from Morris about his experiences living in The Woodlands, Texas. At the end of the article we've provided links to similar articles from other members like Jay, Betty, Sandy, etc.
Here's What Carole Wrote:
Pelican Preserve (Ft. Myers, FL). I'm going to post information on our scouting trip to the west coast of Florida as we travel this week. Yesterday we visited Pelican Preserve in Fort Myers, a lovely community on the outskirts of Fort Myers, east of I-75. This community felt a bit remote from downtown but is surrounded by other planned, all-ages communities. Shopping is within 5-10 minutes of the community, mostly strip plazas, though there may be a mall nearby that we didn't see. The Southwest Regional Airport is within 15 minutes of the Pelican Preserve. Now that's convenient. Beaches are about 30 minutes away during the off season. Plan for longer trips during the high season but you're within striking distance of Fort Myers Beach, Sanibel and Captiva, or beaches to the south nearer Naples.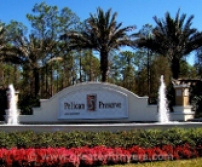 We were given a tour by DJ Johnson who spend about two hours with us, giving an overview of the amenities and houses within our price range. The town center is where most of the activities happen. There's a nice woodworking shop, arts and crafts room, place to play cards, indoor swimming pool to swim laps, indoor walking track, billiards room, function hall, etc. Outside there are horseshoe pits, pickle ball and tennis courts, sand volleyball area, community garden, butterfly garden, 27 hole golf course, resort-style swimming pool, etc. There are biking and walking trails, also sidewalks, inside and outside the community. On a Sunday there wasn't much traffic on the main road outside the community. Nice thing about this community is that you don't have to subsidize the golf course but can play there as a non-member if you want. There are golf memberships and perks you get with that, like a separate gym and restaurant for members only, but it's your decision if you want to join.
Many homes are built around the golf course, small ponds, and a 37-acre nature preserve. There's a premium for having your home built on one of these lots though, usually $5-6.5K. The community is about 50% built out. We looked at the smallest unit, which was a duplex called Milan, and came in at 1200 square feet. That included a two car garage, two bedrooms and two baths with an enclosed lanai. You could go crazy upgrading the unit but this one started at a base of about $155K. Now that seems like a bargain since I come from MA. where real estate is expensive.
The HOA fees for the Milan are about $3900 a year, which I think is reasonable for all the amenities you get. Lawn maintenance/irrigation and cable TV are included. There's also a CDD fee included in your taxes, which runs about $600. HOA fees can differ depending a on the size of your lot, of course, so $3900 is on the low end. There are resales and we saw low rise condominiums, which they're no longer building. We really liked the community, all the amenities and would be satisfied living in the low rise. This visit was just to look at the new homes though. It was quiet on Sunday and the realtor told me that many people go "home" for the holidays and come back after New Years when things really pick up. This community will probably be on our short list though the trip has just begun, and who knows what else we'll find this week.
Heritage Cove. Yesterday we visited Heritage Cove, a 55+ community in Fort Myers. It's closer to shopping and the beaches than Pelican Preserve; both communities are very neat and well maintained. This community is a mix of mid-rise condos and villas. We toured both types of units. Built around 1999-2004, you can buy a small condo (about 1200-1300 square feet with 2 bedrooms and 2 baths) for about $120-$130K.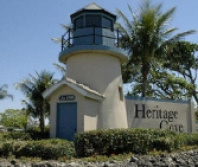 The units we toured had the bedrooms at the back and the open concept living area with kitchen and lanai at the front facing a lovely small lake. You'd still may want to upgrade the counters in the kitchen and bathrooms but for an additional $10K or so, you'd have a nice little place. There are larger, penthouse type condos, that will run you about $160+. These are really nice with two bedrooms and a den, two baths, and a separate storage room. If you like homes, they have villas (detached homes.) The one we looked at was $212K with two bedrooms, den, and two baths. Large open concept living area and kitchen with eat in nook. Also, there was a large lanai with an in ground hot tub. This unit was set on a small lake too.
We visited all the units with Guy Mangano, who was the original sales person when Heritage Cove units were first sold. Now he's back doing many resales. Most realtors are in agreement that sales are on the upswing in FL and prices will continue to creep up. So, don't expect these prices if you wait long.
Amenities in Heritage Cove – the clubhouse was smaller than Pelican Preserve but they had as many activities taking place as that community. Heritage Cove is not a golf course community but plenty of golfing is nearby. From observation I gathered that many people are a bit older than we are (we're 60 & 62). But I have a former work colleague who lives there in the winter and said that younger boomers are buying into the area, so the demographics will change.
Changing Direction – a Manufactured Home Community
For a change of pace, we visited a manufactured home community in North Fort Myers where you lease the land your home is on. The community is called Del Tura Country Club and is located on the southbound side of Route 41 or the Tamiami Trail. We really didn't know what to expect and were pleasantly surprised by the community. It's a bit remote – good shopping is probably a 15-20 minutes away. There's grocery shopping nearby though. These homes look like any on-site built home that you see but the pricing is well below. For instance, we saw a 1500 square foot home built in 2005 (with all the hurricane safety features) that was $98K and we were told we could probably get it for less (and it was fully and nicely furnished.) This home had all the bells and whistles: Corian counter tops, tile floors, large lanai looking over a preserve. Community amenities were fabulous.
This is a golf course community but you don't subsidize the course unless you choose to join. On Sunday it was active too with people eating at the pub, golf carts whizzing about, people in the gym, etc. Now about that pesky lease fee, it varies based on your site. The most expensive was $914 a month for a golf course and water view. The least expensive leases are the perimeter lots at $684 a month. This cost though includes the amenities and property taxes, so you need to figure out the math versus a traditional condo. Even though I think leasing in the long run may be more expensive, it's a matter of lifestyle and this community gives you a big bang for your money. The sales person we worked with was Charles Spradling. More news after today's visits in Punta Gorda and Port Charlotte.
One more thing I failed to mention about manufactured homes, when they're sold the property is subject to sales tax in the state of Florida. So, a $100K home would mean a $6K expense at closing! Also, I found information to explain the own versus lease land options available in some communities. This article is from a realtor but I think the information is fairly unbiased.
(end of Comments by Carole)
The Woodlands, Texas
(This was a Comment made by Morris to the Blog) My wife and I moved to the Houston area almost five years ago with a job transfer. We live north of Houston in The Woodlands and love it. The Woodlands is a great place and provides easy access to Bush Intercontinental airport as well as to Houston. Medical care is plentiful and close, people are very friendly, the cost of living is very low, there is a lot to see and do, and the weather is great! When we moved here we had not expected to stay when I retired but we were surprised at how nice it is and have decided to do so. There are many nice areas around Houston besides The Woodlands but I think you would do best to look west of I-45 and avoid areas east of I-45.
Texas…. is a great state, but yes it is hot in the summer. If you do not like hot weather don't move south unless you are happy with it or can afford to travel to cooler areas during the hottest part of the summer. I never see all the bugs that some … posters (mention). We (use a) pest control business them to treat around our house quarterly – that takes care of any bugs lurking about.
With regard to real estate taxes, check and form your own opinion. I find that the real estate taxes are higher than some but lower than other places we have lived; however, there is no state income tax! And other taxes on goods and services are not any higher and even lower than most other areas I've lived. Overall, we are amazed at the low cost of living here.
Bottom Line
Special thanks to Morris and Carole – and to all the good folks who have been sharing their retirement search adventures here at Topretirements.com. This article barely scratches the surface – we recommend skimming through the entire article and its over 500 comments – the shared experiences are amazing!

For further reading:
Artie's Observations: Moving from NY to the Carolinas
Nine Things Betty and Jim Learned
Hop on Jay Michaels' Retirement Tour Bus (Part 1 of 2)
Sandy's Active Adult Community Adventure Tour (Part 1 of 2)
Posted by Admin on December 4th, 2012