Active adult communities
June 10, 2020 — For over 100 years, Florida's warm winters, soft sandy beaches, and every imaginable kind of place to live has made it a retirement magnet. Some retirees come here as snowbirds for the winter months only, while others jump all the way in, moving to the Sunshine State to become full time residents. However they arrive, Florida is by far the most popular place in the U.S. for retirement. This article highlights the 14 most popular active adult and 55+ communities in Florida, as measured by visitor interest at Topretirements.com. You can see how the list changed by comparing the 2017 version of this article.
More than a few genuine surprises
With reviews of 550 FL communities at Topretirements, a development has to really stand out to make it into the top 14. The winners in this year's report included some big surprises, which adds to the fun. Some might have made it because of curiosity as much as genuine interest in retiring there. The winners offer a wide variety of communities – from giants with every amenity like The Villages – to smaller ones with lower profiles. The three most interesting winners were specialized communities: Nalcrest (for retired US Postal workers), Indian River Colony Club (for retired military), and ShantiNiketan (for former residents of the country of India). Six communities were repeats from our 2017 list (indicated by an R).
Arranged by geographic region
The winning communities are listed by geographic areas instead of descending order (although their overall rank is noted). We have included the regions' marketing nicknames, which are interesting. So here you go, FL's most popular 14 communities for 2020.
——
The Panhandle and Big Bend (Emerald Coast, Forgotten Coast, Nature Coast). This area stretches from Pensacola on the Alabama border down past Tallahassee and counties east of the Apalachicola River. Some of Florida's most unspoiled territory is here along the coast. Although Pensacola has many active adult communities, this is the first year that a community from this region made the list.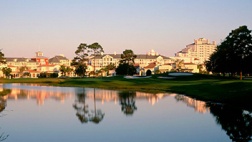 #10. Sandestin Golf and Beach Resort – Destin, Florida. Located in Miramar Beach, the resort offers townhomes, condos and villas both for rent and for sale. The resort is known for its four championship golf courses, beaches, swimming, tennis and beautiful views.
——–
North and Mid-Atlantic Coast (First Coast). This region includes Jacksonville and many beach towns along and near the Atlantic Ocean, stretching down towards Melbourne. It had 3 winners in the top 15.
#1 Amelia Island Plantation. Located just south of Fernandina Beach, Amelia is a resort and community with accommodations ranging from B&B's to Four Diamond hotels, luxury condominiums on the beach, to detached homes on the golf courses.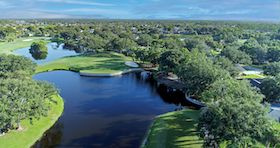 #7 Indian River Colony Club, Melbourne (R). This is a very unusual 55+, active adult community dedicated to those who have served in the military. It is located on 453 acres with 773 individually owned 2-4 bedroom single family homes, all with abundant wildlife and beautiful golf course views.
——–
North Central. This part of Florida is more like Georgia or the Carolinas in many ways. It stretches down the center through Gainesville and Orlando.
#4 The Villages – Ocala. R. This giant community (#1 on the previous list) is the one that almost everyone has heard about, stretching over 3 counties with well over 100,000 residents. There is every kind of activity and club here!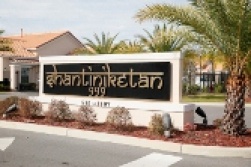 #5 ShantiNiketan, Mount Dora. Another speciality retirement community, this one is a compromise for people who do not want to return to India for retirement. It offers pure vegetarian food. ShantiNiketan is based on the philosophy that as one ages they would like to have their own food and be around people who speak their own native language.

#13 On Top of the World – Ocala R. Another very large community with extensive amenities, On Top of the World enjoys a great reputation as a great place to live and stay busy.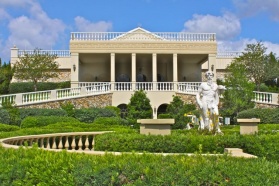 On Top of the World-Ocala
——-
Central Atlantic (Space Coast, Treasure Coast).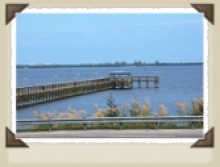 #2 Barefoot Bay – Sebastian. R. We were a little surprised to see this modestly priced manufactured home community make the list since we weren't that familiar with it, but here it is again as the #2 most popular FL community. Amenities include multiple swimming pools, bocce, tennis, and dozens of clubs.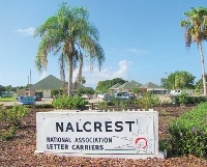 #3 Nalcrest – Lake Wales, FL. No one could have predicted the popularity of this community midway between Tampa and Vero Beach, which is designed for retired letter carrier. It is a unique retirement community . The established community is made up of 500 garden-style rental apartments that are arranged in clusters.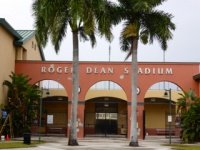 #6. Abacoa – Jupiter R. This new urban style development is made up of multiple active adult and all age communities. It has a downtown spring training baseball stadium, concert venue, and a slew of shops and restaurants. This area is in northern Palm Beach County.

Central Gulf (Central Coast, Cultural Coast). Here you find the very big city of Tampa with all its surrounding towns and barrier islands, Sarasota, etc. Working people live here as well as retirees.
#9 Sawgrass – Venice. Located below Sarasota on the west coast, Sawgrass provides a contemporary Florida-style setting with a hint of Mediterranean. The community has 54 acres of lakes and natural preserves, with homesites positioned for residents to enjoy the surrounding beauty as well as golf course views.
———
South Central Florida. This area is big on retirement communities and also offers some of the most inexpensive living in Florida.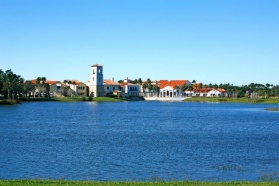 Solivita
#8 Solivita – Kissimee. R. Another very large active community with extensive amenities, Solivita boasts over 150,000 square feet of amenities and beautiful homes.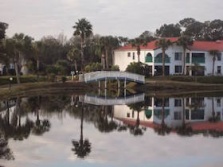 #14 The Bluffs of Sebring, Sebring. This affordable 55+ gated community has 240 condominiums. Its amenities include a heated swimming pool, tennis courts, shuffleboard, horseshoes, and putting greens. The very active clubhouse features a library, exercise room, yoga classes, cards and clubs.
——–
Southern Gulf (Lee Island Coast). Relatively newly developed and growing by leaps and bounds, this area on the Gulf of Mexico includes Naples, Fort Myers, and more.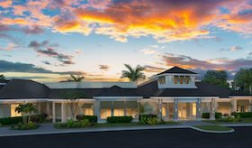 #12 WildBlue – Estero. The British West Indies styled community is open to all ages and will include over 1,000 homes, 800 acres of freshwater lakes. Amenities will include swimming pools, clubhouse with indoor and outdoor dining, fitness center, tennis courts, pickleball and bocce courts, kayaking, etc.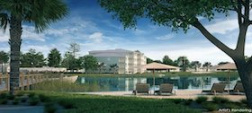 #11 Babcock National, Babock Ranch. A new golf and country club community, it features an 18-hole golf course designed by Gordon Lewis and many other amenities. Home choices include estate homes, coach homes and condominiums with prices starting in the high $100's.
———
South Florida and Miami (Gold Coast). The Miami part of Florida is huge and includes towns and cities to the north like Fort Lauderdale, and also verges down into the Florida Keys. This year there were no winners from this part of the State, although Abacoa could easily be considered here and not in the Treasure Coast.
A geographically diverse state
In many people's minds Florida is either one big swamp, or a runaway, cookie cutter development. But in reality it is many different areas that look and feel different – geographically and in other ways. If you are interested in a warmer retirement we recommend you spend some time exploring different areas. Pensacola was the most popular city in Florida (out of 125 reviewed at Topretirements) during this 9 month period, the first time it has ever placed that high (in most years Sarasota is most popular).
How we compiled this list
To come up with this list we reviewed our site logs for 9 months: from Sept 1, 2019 to June 1 of this year. The 15 Florida communities whose reviews were viewed the most made the list. It doesn't necessarily mean they are the "best" communities, but in one important dimension, they succeeded in attracting member and visitor attention on our site.
We encourage you to use our Florida Directory of Active Communities to explore the more than 550 active adult and 55+ communities we have reviewed there. You can also use our Advanced Search to find communities by state, size, expense, type of community, amenities, etc. – you'll be sure to find what you are looking for.
Comments?. Do you have a favorite Florida active community you think should have made this list? Please share your thoughts in the Comments section below.
For further reading:
15 Most Popular Active Communities in Arizona
15 Most Popular Active Communities in North Carolina
Most Popular Active Communities in the Southeast
Affordable Places to Live on the Waterfront
Posted by Admin on June 10th, 2020