Active adult communities
March 19, 2019 — If you have been on the campus of an active adult community or near a city park lately, you might have heard a repetitive loud sound – that of a composite racquet hitting a softball sized whiffle ball. What you are hearing, along with many cries of joy and frustration, is the game of pickleball, and it is expanding everywhere. Unless you have mobility or other serious health issues, we recommend you get it a "whack".
Pickleball got started in 1965 on a modified badminton court. Kids in gym class sometimes play it because it can be played indoors in a fairly limited space with minimum equipment. Since then it has expanded around the globe, but has really taken off as an activity in 55+ and active adult communities.
What is it the game and how is it played
Pickleball is played on a court that is roughly half the size of a tennis court. There is a net and there are different lines marked to indicate the playing area. Watch the Youtube video above to see a championship match in action!

The game can be played as singles (2 opponents) or more commonly doubles (4 players). It starts by a player serving a plastic ball with holes in it from the baseline across the net and to the diagonally opposite opponent. It must land in the box on the receiver's side and bounce once before being hit back across the net. The small honeycombed racquet is several times the size of a ping pong paddle. When the racquet hits the perforated plastic ball there is a distinctive "whack". To counter complaints about noise, newer, quieter racquets are coming in to play.
Pickleball can be played indoors or outdoors on most surfaces, but probably not Har-Tru/clay. A tennis court can be divided into 2 pickleball courts. Dedicated pickleball courts are preferable since there is only one set of lines to worry about. It is played winter and summer, indoors and out, and is extremely popular with baby boomers.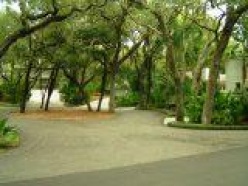 At Topretirements.com we have 288 communities in our database that claim to have pickleball courts. Every day at most these communities you will see a gaggle of players lined up to play. Active adult communities like Pelican Sound in Estero (FL) have very busy pickleball schedules with daily play at multiple levels, tournaments, social events, and travel teams (both co-ed and single sex). The social aspect of the game is big, as it provides a great way to meet people.

Many 55+ communities are actively trying to cope with the demand. They are building new courts, converting tennis courts to dedicated pickleball, or making adjustments so tennis courts can accommodate tennis or pickleball. Often there is a pickleball clubhouse or snack bar along with the courts. Sometimes there is conflict with the tennis playing contingent, particularly when tennis courts are converted.
Attracting New Players for Many Reasons
People are drawn to pickleball because it is fun and a relatively easy game to become proficient at. If you have played a lot of tennis, squash, or paddle/platform tennis you will be fairly competent in 20 minutes. Likewise table tennis players catch on quickly. But even if you have never played racquet sports you will play well enough to enjoy yourself in just a short time. Most facilities now have a resident pickleball professional so it is easy to learn from a gifted instructor.


Besides being easy to play, a major reason for pickleball's popularity is that because of the smaller court it doesn't require as much running as tennis. Faster, younger players lose some of their advantage to others who wield finesse and cunning.
Bottom Line
If you are looking for a new sport that is easy and inexpensive to play, and a lot of fun – give pickleball a try. You might like it! Please share your experiences with it and other thoughts in the Comments section below.
For further reading
Communities in a Pickle over Pickleball
Posted by Admin on March 19th, 2019