Adventurous retirement
(Note: this is the first of a 2 part series on Costa Rica. Part 2 focuses on expat retirement in the country. )
January 13, 2019 — Does your retirement include a bucket list trip to Costa Rica, one of the world's greatest ecotourism destinations? This Central American country, situated north of Panama and south of  Nicaragua, has an incredible array of attractions that bring in tourists from all over the world. But unlike more traditional vacation spots where the places to visit are fairly obvious (think Paris or Normandy in France) Costa Rican tourism is complex. The choices of where to visit can be difficult to figure out. This article will tell you what to expect if you go, what your options are,  and how to plan and book your trip. 
Costa Rica snapshot
Costa Rica (CR) has long coastlines on two sides – the Pacific on the west and the Caribbean to the east. The country has a very stable democratic government and a prosperous economy based mainly on tourism, technology, and agriculture. It has no army; that was abolished in 1948. The climate is tropical with a rainy season from mid-September through December. The terrain is quite mountainous with peaks over 10,000′; it can get quite cool in those areas. The terrain goes from very dry areas on the west coast to cloud and rain forests further east.
What to do – the main attractions
Costa Rica is one of the most popular ecotourism destinations in the world. The country has made protecting the environment a top priority, recognizing that as the key to its tourism based economy. For example, it has a goal of using only renewable energy by 2030. There are numerous national parks such as Corcovado National Park on the Osa peninsula. CR has vigorous laws making it one of the most advanced "green" places on earth. Ordinary citizens are very proud of this achievement.
People come here to relax and see nature in a pure environment. Many tourists are active and looking for different kinds of adventures. Here are some of the more popular attractions.
Birding. Even the most disinterested tourist will get excited about the colorful and unusual birds found in Costa Rica. Macaws, quetzals, toucans, hawks, and falcons are just a few of the bigger winged creatures to be enjoyed. On the smaller side, there are 54 kinds of hummingbirds. Expert birders come here to fill out their life lists, while others just enjoy seeing unusual specimens that can be seen in all areas of the country.
Thrills. There are plenty of these to choose from.
Zip lining, which involves sliding along a steel cable between canyons high over the forest canopy, was invented here. Your editor went on a zip lining circuit in Monteverdi that had 15 different zip lines, some of which were 1 kilometer long. Canyoning is a new sport which involves rappelling off a series of cliffs and waterfalls. It is relatively safe due to the equipment and skillful guides but very thrilling. We did this at Arenal with an outfit called Pure Trek. White water rafting is the other big thrill that is popular. We enjoyed rafting on the Pacuare River. Various thrill experiences are offered in a variety of locations.
More gentle activities are also available. Soaking in the amazing complex of hot spring pools and mini-waterfalls at Tabacon in Arenal is a good example.
Beach. The long coastlines provide ample opportunities for sun and sea lovers. Miles and miles of sandy beaches, hidden coves, and blue green waters are great for swimming, sunbathing, kayaking, snorkeling, and scuba diving. There are many beach resorts with all kinds of accommodations.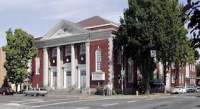 Hiking. Hiking is available almost everywhere, although a guide is recommended for safety as well as to point out and identify hard to spot wildlife and vegetation. Some sample hikes go along the base of a volcano, through a rain or cloud forest, or a coastline jungle.
Nature. You can take water based tours through the jungle in Sarapiqui. In the national parks and private reserves you can observe plants and animals along their many paths and trails. A guide with a telescope is essential to help you spot and identify the flora and fauna. With their expert help you can see different types of monkeys, exotic trees and plants, insects, mammals such as the cotai and bats, and every kind of bird. Or you can just drive or ride around the country and savor the green mountains and blue coastline.
Options for visiting. Perhaps the easiest way to see a lot of Costa Rica is to take a cruise around it, with stops and transportation to popular sites. Windstar is one cruise line that operates here. Another simple way to visit is to book into one or two resorts or lodges and use them as your base. We think the most interesting approach is to follow a detailed itinerary based on what you want to see and do while in the country.
How to plan your trip. As we said earlier, Costa Rica offers such a large diversity of experiences and environments that it takes some careful planning to do it justice. Start by talking with your friends who have been here to get an idea of what they liked or didn't enjoy. Online surfing or travel guides like those from Lonely Planet will give you an amazing feel for what to do and where to go. We recommend using the services of a travel agent who knows the country. They can help you pick the places to explore, reserve your lodging, book transit from one area to another, and hire the best guides to help maximize your experience. A Costa Rican tour designed to fit your desires often involves several different guides and operators. One very large and capable travel agent in Costa Rica is Costa Rican Trails.
Getting around. The main roads are good although usually crowded. Off the beaten path they are unpaved, dusty, and bumpy, so unless you are very adventurous you will be better off not driving. Booking a tour that includes transportation between destinations is a lot easier and safer. There are some airports, so for long distances air travel will be quicker, if not quite as scenic. Taxis and Uber are plentiful and inexpensive.
Travel tips. Costa Ricans are very friendly and good English is spoken almost everywhere. The US $ is accepted at any store or restaurant.
The country is considered very safe, provided you use common sense and don't travel at night. Emergency health care is available; in fact medical tourism is very popular for both medical (often plastic surgery) and inexpensive dental work.
Bottom line
If ecotourism is on your retirement bucket list, Costa Rica is tops. Plan your trip carefully around your personal objectives, then come and have a ball. We guarantee you will come back with a fresh perspective on the natural world.
Comments? Have you been to Costa Rica, or is it in your bucket list? Tell us what you liked or hope to do. We always love hearing about your bucket lists, and sure hope you have one for everything you want to accomplish in retirement.
Part 2: Why Costa Rica Might Be the Best Non-U.S. Retirement Country
Our Pinterest Bucket List (lots of cool photos)
What's on Your Bucket List?
Bucketlist-Topretirements – The Complete List of Responses
Australia as a Bucket List Destination
Nostalgic Cars of the 50s and Sights of Cuba
An Antarctica Bucket List Adventure
Bagging the National Parks
Posted by Admin on January 12th, 2019