Adventurous retirement
April 13, 2022 — People often say that the most memorable things in our lives are our experiences, and we believe that is really true. You have worked hard to earn your retirement, so why make it really special with some once in a lifetime experiences. Here are 10 fantastic ideas for adventurous things to do in retirement – and we bet you could come up with even more.
10 once in a lifetime adventures:
Hike on the Camino de Santiago or some other famous trail. One of the best is the Camino de Santiago in Spain and France. You hike along a path that pilgrims of St. James have been taking for centuries and stay in inns along the way. You can hike one of its many routes or just a part of one. Or, hike a section of the Appalachian Trail, which runs from Georgia to Maine, or another famous trail in England or Ireland.
Visit every continent – or the one you would most like to go to. Generally the hardest continent to visit is Antarctica. But you can even fly there these days, avoiding the famously queasy trip across the Drake Passage. Or, go to a continent you always wanted to visit, like Africa (how about a safari!) or the take in the interesting sights of Australia.
Check out every state park in your state. Not every adventure has to be a budget buster. Every state has long lists of interesting state parks. You can camp in some, explore others, or even stop in for a hike or a picnic. For those who want to go further afield, how many National Parks can you visit? To get you psyched for that, Netflix has a new series – The National Parks.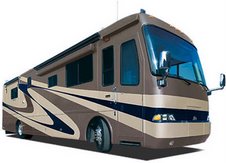 Rent or buy an RV and spend a season it. Many retirees opt for the mobile lifestyle, living like a turtle for years on end. RVs come in all shapes and sizes, and being on the road can be a lot of fun. Betty Fitterman wrote a fascinating 5 part series about her adventures in her Class A motorcoach. Some budget minded folks even barter their services for free stays in various parks. For others, taking on board the grandchildren or friends for tours is a lot of fun.
Take the local cruise up and down the Norway coastline. Or go on an exciting cruise to a place you have always dreamed about. The Norwegian cruise from Hurtigruten goes for 12 days and stops at 34 points while sailing past 100 fjords and 1,000 mountains. Another offbeat idea is to take a tramp steamer and get to see parts of the world in a very relaxing way. Your editor's parents took a freighter cruise in the 1970's and had the adventure of a lifetime. Of course they also took the Trans-Siberian express too!
Visit UNESCO World Heritage Sites. World Heritage Sites are unique landmarks which are geographically and historically identifiable, and have special cultural or physical significance. They are often ancient ruins, or spectacular buildings like the Taj Mahal in india. Natural sites that are in danger can be added to the list, like the Galapagos Islands off of Ecuador. At latest count there were 1,154 of them across the world, including 545 in Europe and North America. Here is a list of the sites in North America, which includes the Grand Canyon.
Follow Lewis and Clark. Perhaps the greatest adventure in American history was the trip taken by Lewis and Clark in 1803 at the request of President Jefferson. By river and overland, they crossed our wild continent to explore and map out water routes to the Pacific Coast. Many tour companies offer a way to follow in their footsteps and see the many wonders these 19th century explorers saw firsthand.
Go see where your ancestors came from. 23 and me and ancestors.com, along with other companies, offer genetic testing to help identify from whence you came. That and your family history (a retirement topic that could become a career) might give you insight into the town your ancestors hailed from. What a thrill it might be to visit a cousin still living there, or see a grave or store with the family name.
Volunteer somewhere exciting. Be a chaperone on a youth trip or go on a Habitat for Humanity build somewhere on location. This is another adventurer that will cost you hardly any money but pay off with big rewards. Your editor has done both: being with kids for a week was refreshing, and the build finally taught me how to safely use a power saw.
Learn how to play a musical instrument (or take a drawing class). Yet another adventure is to learn something new in your retirement, and this one that can be free or almost free. if you always wanted to learn how to play the guitar, now is the time. Ditto for dabbling in watercolors, or learning how to speak Spanish. Learning a new skill has the advantage of exercising your brain and helping you stay young. Go for it!
Bottom line. Retirement is the time to strike out and do something radically different. Please share your adventures with your fellow members – whether it is something you want to do or have already done! Add your thoughts in the Comments section below.
Topretirements Adventurous Retirements Blog (38 posts to get you thinking!)
Posted by Admin on April 12th, 2022