Active adult communities
June 17, 2020 — Following up on the theme of a few weeks ago, how stereotypes affect where you might retire, we thought it would be interesting to highlight the amazing range of active adult, 55+, and baby boomer appropriate communities that exist. While to many people all active communities seem alike (clubhouse, golf course, tennis courts, and walking trails), there is, in fact, quite a range. The samples we have selected here are just a few of the many communities added to the Topretirements database since March (we generally add about 6 per week). We tried in these selections for a range of styles and locations across the country.
Our point: Not all retirement communities fit in the same bucket. We encourage you to do a little exploring to make sure you don't miss one that might be exactly what you might are looking for.
Some interesting choices
The selections on this list cover a wide range of types. There are several traditional active adult communities (golf courses, etc.), intergenerational, independent living communities, independent living within a CCRC, Traditional Neighborhood Developments, urban rental loft apartments, Eco-Friendly, mixed use (commercial and residential combined), a cooperative development, and another with different ownership options including fractional ownership.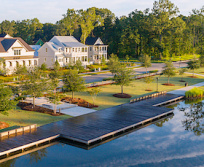 Carolina Park – Mt. Pleasant, SC. A master-planned community just a few miles from Charleston, this development offers several neighborhoods in a park-like setting. The community is connected through a network of pedestrian walkways, with The Residents Club as the central gathering place.
(more…)
Posted by Admin on June 16th, 2020