Best Retirement Towns and States
November 11, 2020 – We are not talking cool as in the temperature, when we say 10 very cool towns for retirement we mean retirement towns that are fun to live in. Small town and mid-size cities where there is plenty to do, congenial neighbors, and attractions and charm that will make your children and grandchildren want to visit when this pandemic finally ends! Turns out there are a lot of cool towns that are great for retirement; here are our picks for 10 best places to consider for your retirement. If you know others, we hope you will talk about them in the Comments section at the end.
10 Great Towns for Retirement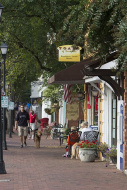 Davidson, NC. Home to elite Davidson College, the population is growing rapidly and is now over 12,000 people. Local downtown businesses, characterized by restaurants and specialty shops, cater to an affluent market. Davidson College has made the town an intellectual and cultural center, drawing into its orbit professionals and some retirees.
(more…)
Posted by Admin on November 10th, 2020