Family and Retirement
September 4, 2019 — A constant question that comes up about retirement, and one that produces hundreds of comments, is "Is it a good idea to retire near my family"? Whether family means parents, children, grandchildren, or siblings – the question has many complex and potentially conflicting elements. In this article we will go over some of the pros and cons, as well as a short checklist to help you determine if retiring near family should be in your future. We also look forward to your comments on this topic about your preferences and experiences.
Pros of Retiring Near Family
– Ability to help new parents as they juggle careers and child-rearing
– The chance to see your family members often
– Be part of the lives of your grandchildren as they grow up
– Support for your parents or siblings as they age or need help
– Support for adult children who need it
– Support and companionship for you as you age
– Built in social network MORE Blog articles like this
Cons
– Sometimes you can be too close. With some families a bit of distance is better than none
– Adult children with careers can move a lot. That means you probably have to move too
– Your children or family might not live in a geographically desirable area. As in, you wanted Sunbelt, you get Nebraska
– You might feel taken advantage of as the default babysitter or care-giver
– Among retired couples, one member might want to be near the kids, but the other prefers another dream
– Sometimes elderly parents can be a burden, especially if they won't take steps to help themselves, or other siblings don't help out.
– Adult children can become dependent on you. And vice versa
A checklist to help you decide
Please take some time to answer these questions and discuss them with whoever you think you should.
Do you get along well on a daily basis with these family members?
Are you a person who really needs to be around family members on a close basis to be happy?
Do you have some good reasons to move away from where you live now (expense, taxes, climate, lifestyle, type of home)?
Could you be happy living in the new area/region/town where your relatives live?
Look forward to it __
Have some concerns __
Not at all __
Can you afford to move near these relatives?
Are you concerned you might be taken advantage of?
What is the likelihood that the family member you are living near might move or be transferred?
Very small __
Considerable __
Not sure __
Would you consider renting in the new area for a time, just to check things out?
If married or in a relationship, are both of you of the same mind on moving there?
Yes __
No __
Haven't discussed it __
Do you have a situation where no one else can help a family member who really needs it?
Do you have a plan for where you want to live in the last decade or two of your life (if so, does that involve being near family)?
Are you being pressured to move near family?
Is there a more creative way to solve the problem of being near family? (we know several people who spend the winter (or summer) near their children, but they rent)
Yes __
No __
Wouldn't consider it __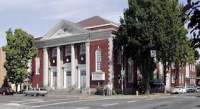 So how did you do?
There is no passing grade on this checklist. The point is that if you (and your significant other, if you have one) spend some time on these questions it will get you started with an assessment of whether it is a good idea to move near your relatives. If many of your answers suggest drawbacks, maybe you should put up the caution light and think of another plan.
Comments? Please share your experiences, concerns, hopes, etc. in the Comments section below.
For further reading:
Is Retiring Near Family a Good or Bad Idea (2013) – with 228 amazing comments!
Posted by Admin on September 3rd, 2019