Financial and taxes in retirement
March 2, 2020 — Last week featured one of the biggest stock market sell-offs since the Great Depression. Panic set in as market professionals and plain old investors tried to sort out just how serious the impact of the Corona Virus – COVID 19 – will be on world trade and the economy. Could widespread shortages, school and factory closings, and forced quarantines throw the world into economic chaos? No one really knows, and that uncertainty was felt in the U.S. and world stock markets last week.
Some investors told their brokers to sell everything. Many advisors urged stay the course, particularly those who have the long view. Still others suggested maybe it was time to buy. Since this website is about retirement, our outlook is different from investors with a shorter time from. Last week we solicited Comments from several members on a related blog, and are reprinting them here. Please let us what you are thinking and doing about it.
Comments———-
I am sure on edge about my investments after the losses of this week. I wS told to stay the course, but at this point, I am not sure what to do. I have a gut feeling this is going to get worse before it gets better. I am very worried now. —- Maimi
It was amazing watching the run up over the past months so we were expecting some sort of correction but how weird to see the Dow at an all time high one day and a couple of days later be in free fall. Hopefully our investments are diverse enough to handle the dip. We're sitting tight while we watch the news with our thumbs in our ears and fingers across our eyes. — Jean
We're staying the course with primarily balanced funds, although those too are taking a hit. Glad they raised the mandatory distribution age to 72 1/2, though. Tough times for folks who have to withdraw now. — Staci
I don't have a financial advisor but I do subscribe to several stock advisory services. So far, the services are saying to hang in there on their recommendations as the underlying value of the companies haven't changed in the last couple of weeks and the investments are for the long haul. However, after the markets reached new all time highs several weeks ago, I sensed that things might be getting overvalued and I put stop loss orders in on all my holdings. I made the sell points rather tight relative to the then current share price and about half of my holding have stopped out. So I have a lot of cash in my account and I did use the sell off to pick up some new stocks or add to my current positions. Specifically, I bought some Chinese e-commerce and social media stocks that are cheap now but will shoot back up once the panic is over. — LS
I am my financial adviser. I have not trusted this market for the last 6 months and took a 75% cash position in January until after the election. I did buy this week. But, it still could go down more before it turns back up. No time to sell. The next 30 days will be most telling regarding the virus, but the next year will show the real impact to earnings as a fallout to what is happening now globally. MHO. — ljtucson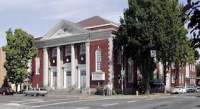 "Stay the course" (at least until we get out…)
I think this time will not be a quick bounce back. The Covid-19 deal is just a match lighting the tinder left by the Fed (and central banks worldwide) with their artificial 5,000 year low interest rates. It will all catch up now to real economics. If there is a quick bounce once the Fed cuts rate again next month (or in advance), it may be the last time to sell for a long while. I sold a lot about 2 weeks ago, but not nearly enough. First time I was scared out at the top instead of the bottom. —- Peder
Re. annuities, nothing wrong with them in principal (though the percentage the sales schmuck gets off the top is exorbitant), but these days, if an insurance company promises, say, 3-4% and can only buy bonds with a coupon of 1.5%, that leaves them starved for yield and drives them to ever riskier investments. Around 50% of the corporate bond market is BBB (the lowest investment-grade) and companies line up for them because of a fractional increase in yield. I imagine these days there are plenty of annuity managers who are sleeping even worse than you are. Also, not government guaranteed, if that's important to you. Commissions on index annuities can be as high as 8% (money lost up front) and surrender charge terms as long as 15 years. — Peder
This is NOT the time to sell. Look at the crash of 2008 and how the market rebounded. Unless you must have the cash to pay for a wedding or something like that, hold on. I'm not saying the market won't continue to go down, but at this point, the selling opportunities are over. Wait for the market to rebound. Even if it takes years, it will do so. Selling at a low point in the market is the worst thing investors can do. To quote my father, "This too shall pass." — Ella
Thanks, Peder. I also am not a fan of annuities. Most have page after page of conditions and terms that many are not familiar with and which can hide major costs including those you mention. A super nice salesperson will explain it to you — accurately you hope. I also appreciate the comments you made about investment quality. I had not thought of that. — Self
I just met with my advisor, and I must admit, I have been panicked. She has been taking stuff out of the market and converting to cash for several months, so I am good there, but my first thought was to pull it all out of the market, convert to cash and stuff into my mattress. Of course, my advisor did not think that was the way to go! The last pandemic was influenza in 2009, and I do not remember there being such a run on the market at that time. Is everyone scared because of the virus's economical implications as well as it being an election year? I never thought the market could sustain 29,000 – we just do not have the manufacturing or infrastructure to support in, in my opinion. So, what is one to do? — Lynne
Your comments. Please share your thoughts and plans below. Also, are you changing any of your other behaviors in light of the virus? Like not travelling, shaking hands, socializing, etc.
Posted by Admin on March 1st, 2020