Best Retirement Towns and States
Updated April. 2020 – Originally published March 14, 2017 (see the many interesting Member suggestions for walkable towns in the Comments section).
Think how great it would be if you could retire to a place where you didn't have to own a car. You wouldn't have to climb in your vehicle, fight traffic down busy streets, or hunt endlessly for a parking place every time you wanted to go someplace. Here are 10 retirement towns where you can trade your car for a bike, golf cart, public transit, or – best of all – your own two feet.
In this search we are not mentioning the largest American cities, where having a car is more of a burden than a blessing. For example in New York City, where a surprising percentage of residents don't even have a driver's license, you can easily pay $500/month just to garage your car. In Gotham you can almost always get there faster on a subway, bus, taxi, Uber, or by walking. Instead, we will focus on smaller and mid-sized cities and larger towns. Smaller towns should have an edge in this regard – most should be good "carless" opportunities.
A bit about how we came up with these towns. WalkScore.com, has a proprietary method of rating the walkability of a given town, and which lets you compare other towns. One thing to realize is that even in a city some neighborhoods will be more walkable and/or easier to do without a car than others. Normally that means the downtown area. Our primary requirements for a place to retire where you don't need a car are: easy access to grocery stores, restaurants, parks, medical offices, recreation, and shops – without needing a car. If you have to drive to do the tasks of daily life, it shouldn't be on our list. Ideally the town has public transport of some type. If not, there are plenty of bike lanes, golf cart-only lanes, and safe sidewalks and crosswalks. For those occasional times when you do need a car for a big shopping trip or visit out of range, now you can use services like Uber, Lyft, and Zip car instead of the expense and hassle of owning one. Naturally, we hope our members will contribute their "carless" suggestions in the Comments section below.
Here are some of our favorite cities where you can retire and don't need a car:
– St. Petersburg, Florida. The downtown and close in neighborhoods of this old city on a peninsula on Florida's West Coast have very high scores for walkability and biking. The city has a very active cultural life downtown that is easy to get to. This is a mid-sized city (population 300,000) with the resources of a much large metropolis. Crescent Lake is the second most walkable neighborhood in St. Pete. See our list of 10 Most Walkable Towns in Florida.
– Santa Barbara, California The downtown area is particularly suited for not owning a car (Walk Score™ of 97). There are plenty of neighborhoods radiating off of State Street with its shops and restaurants. The beach is at the end of the road and there are many parks and museums. The city is rated very high for biking suitability. Santa Barbara Metropolitan Transit District (MTD) provides local bus service and there is rail service.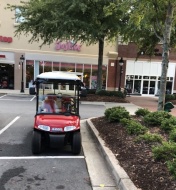 – Peachtree City, Georgia is a planned community about 25 miles south of Atlanta, Georgia. Although it is famous for its golf cart oriented transportation system, it is not a 55+ community – it is for people of all ages – the median age is 37.5. You probably can't walk to too many places nor take public transportation, but you sure can get about anywhere in your golf cart!

– Lincoln, Nebraska. This beautiful mid-western college town was named by Livability.com as having one of the nation's 10 best downtowns. Outside of downtown it is not that walkable, so that if going without a car is your goal, don't go to the suburbs. The downtown has a Walk Score of 78. The city has historic buildings, wide streets, and plenty of bars, restaurants and shops. The historic Haymarket near the University of Nebraska is Lincoln's entertainment district, which is tucked into a cluster of renovated brick warehouses. The University of Nebraska adds plenty of youthful zip.
– Pittsburgh, PA  is another mid-sized city with many different neighborhoods where it is not necessary to own a car. The downtown (8,000 residents) and areas like affluent Shadyside are extremely walkable. Some raters ding it for not having many bike lanes, and of course there are plenty of hills to climb too. But if you live close to downtown you can walk or take public transport including light rail to get anywhere, including a Steelers or Pirates game on the North Shore. Several universities and colleges are in town, including Carnegie Mellon and the University of Pittsburgh. At the place downtown where the Allegheny and Monongahela Rivers combine to form the Ohio, you will find Point State Park, an expansive 36-acre place to recreate. Home prices are well below the national median.
– Somerville, MA. Located between Cambridge and the Mystic River just outside Boston, this town of 75,000 folks has a great walking score. The town features several squares that in turn have become mini commercial centers. Residents can use the ample sidewalks and bike paths to access the plentiful restaurants, bars and boutiques in Somerville.
Portland, OR. Walk Score says that Portland, "The City of Roses", might be the best bike/walk/public transport city on the west coast. It has almost 270 miles of street lanes and paths, set-off with nonskid paint, plus 227 parks. About 558,000 people live in Portland proper.
Grand Rapids, Michigan. Forbes listed this bustling city as a place where a car is not needed. There is an exceptionally strong cultural presence with museums like the Van Andel Museum Center, along with theatres including the Civic Theatre and the Wealthy Street Theatre. The Heritage Hill residential district is unusually large with over 1000 Victorian homes.
Burlington, Vermont This beautiful college town (University of Vermont) is perched on the shores of Lake Champlain. It has a population 42,000 and is rated one of the best walkable towns anywhere.
Fort Lauderdale, Florida. We admit we were a little surprised to see this city on the Forbes list. Yet when you realize it has a concentrated downtown, public water taxis, and rail to neighboring towns, it makes sense. Not to mention its fabulous beaches. Many residents use their boats to get around town!
Bottom line: There are many cities and towns where you do not have to be a captive to your car. If that resonates with you, check out some of these possibilities.
Comments? Do you have a suggestion for a city or town where you could live without owning a car? What is your favorite way to get around town? Please share your thoughts in the Comments section below.
For further reading:
10 Most walkable Towns in Florida
Livability's Top 10 Downtowns
Forbes: 25 Great Places to Live Without a Car
Posted by Admin on March 14th, 2017