Best Retirement Towns and States
Does Your Retirement Town Deserve You?
April 11, 2018 — When it comes to finding the right retirement town, remember this – you are the customer! After all, even a moderate income couple brings a lot to the party. If you move to a new location to retire you strengthen the local economy by buying or renting a home. Even if you decide not to move and stay where you live now, you add stability to the local real estate market. Wherever you live you (or your landlord) pay sizable property taxes. In many locales you might have to pay local income taxes, which boost the local economy. And, your Social Security, pension, and 401(k) distributions will pump money into local stores and businesses (the so-called mailbox economy) every month.
Rating towns for retirement
Various outfits try to rate towns on the basis of retirement-friendliness. For example, states including Texas (about 50 towns) and Louisiana (8 towns) have "Certified Retirement Community" programs. To qualify as certified, the towns have to pass muster on a variety of criteria. For example in Louisiana, "Housing availability, public safety, crime, public transportation, medical services, health care, volunteer opportunities for seniors, recreational areas, fairs and festivals" all have to be there to be selected. Certain websites and organizations like the Milken Institute also rank towns for retirement using similar criteria. All of these efforts are a good step toward letting retirees know that a place is capable and willing to welcome them.

What value are you getting in return?
Retiring baby boomers should, in our opinion, be demanding shoppers when it comes to selecting a retirement town. Here is our checklist of what you should look for in any town that you consider for retirement, including where you live now. You might not be looking for all of these items (but you might have others!), so your list will be different. In some cases we provide a town that delivers on specific requirements. Note that if you choose to live in a very small town or the countryside it will be tough to get all of these services. But perhaps there are towns or cities nearby where those are available, or maybe what you are looking for is not on this list! The important thing is to have a list to help guarantee that your retirement is as rich and happy as you deserve.
1. Good public health. That includes a highly rated hospital and an engaged public health department that targets older citizens. Is there a hospice nearby, and are there specialists in geriatric medicine and physical therapists?
2. An active community or senior center with professional programming staff. Good ones are busy all day long with active programs to keep citizens engaged. Some offer a hot lunch, others have bridge, crafts, exercise classes, etc.

3. A well-funded library with programs aimed at all ages. Most cities do have strong libraries, but some are better than others. These days libraries are as much about the programs they offer and the community they provide than just books. Fort Myers (FL) has a wonderful library system.

4. Senior friendly transportation system. That includes special bike lanes; some form of mass transit including shuttle buses, subway, or light rail; call on demand transportation, and access to a public airport or railroad station within an hour's drive.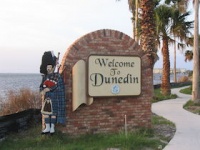 5. Pedestrian friendly layout. Things to look for include downtown streets that are pedestrian only, safe crosswalks with modern signals, and wide sidewalks throughout residential areas. Free or easy parking encourages folks to come to the center of town to enjoy restaurants, shops, and entertainment. Dunedin (FL) is a great example of a town with a pedestrian-friendly layout. There is even an old railroad bed, now a walking/bike path, that runs through the center of town.
6. Lifelong learning opportunities. That could include programs from the Osher Lifelong Learning Institute (which has programs at about 100 colleges and universities), adult education classes, or a classes available from a local college or community college.
7. Active recreation department. The best departments have a full complement of activities – from softball, basketball and tennis leagues to pilates or yoga. Many hire private instructors to conduct classes at modest prices. Madison CT has a great recreation department with dozens of programs – it also administers the towns beaches, gym, and athletic fields.

8. Indoor swimming pool (or heated outside pool in warmer climates). Swimming is a great exercise that doesn't stress your joints. We think towns that offer pools with year round access offer a significant plus for retired people. Blacksburg (VA) has a wonderful Aquatic Center open to the public year round.
9. Active volunteer groups. Different organizations like the Chamber of Commerce might put on fairs and festivals. Towns with active volunteer groups put on plays or concerts, while others do good in the community while they provide interesting opportunities for volunteers.
10. Plenty of parks and walking trails. In some towns there is special exercise equipment installed in the parks and along the trails that make it easier to stay in shape. Towns in Colorado, Oregon, Washington, and Oregon do a great job at this.
Note about this list. We were thinking about towns when we developed this list. Not many towns or cities will have everything on this list, although quite a few will have most of them. When it comes to active and 55+ communities, even fewer will have them. So, prioritizing what is important to you. Perhaps there is a nearby city that can provide these services.
What can you do?
In many cities and towns there are groups of involved citizens who are lobbying their local governments to work harder for seniors, not just for the normal targets like improving the schools or providing more athletic fields.
For further reading
Best Cities for Successful Aging.
These States Want You to Retire There
Retirees Reshaping Where Americans Live
Comments? What are you looking for in your retirement town? Please share your thoughts in the Comments section below.
Posted by Admin on April 10th, 2018