Best Retirement Towns and States
October 30, 2019 — Ahh, the mountains. Snowy peaks, amazing trails, clean air, and majestic scenery that one never tires of. Although many people dream of a retirement near the beach, in a small town, or even the downtown of a city, there are plenty of baby boomers whose ambition is to retire near the mountains.
To help them find their best mountain retirement town, we have assembled a list of sixteen. From most of them you can look up and see mountains rising above, while in others they are just a short drive away. All are proven great places to retire – some are college towns and others are also on a lake. At the end of this article we will discuss some of the pros and cons of retiring in the mountains, but first here is our list, in no particular order (they're all nice!). Note this is Part 2 of Mountain Towns for Retirement, see Further Reading at end for 10 more.
Twin Falls, Idaho. Sitting above the Snake River Canyon, this town is known as the hub of the eight-county Magic Valley region. Its location atop the Snake River Canyon provides for outdoor activities including boating, fishing, hiking, golf, whitewater rafting and skiing. There are many parks, a national forest, and the popular Shoshone Falls. It is home to the Shoshone Falls, "The Niagara of the West".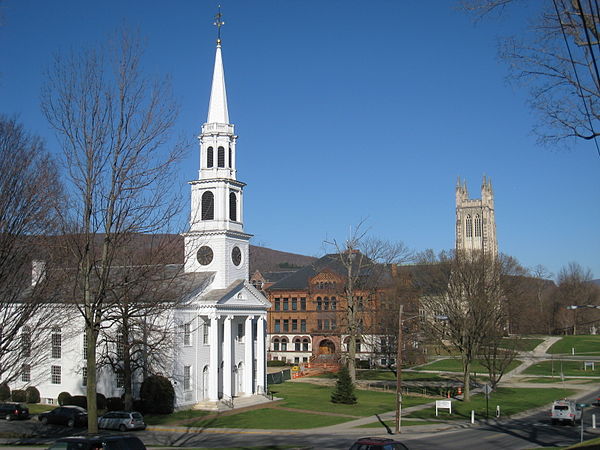 Williamstown, Massachusetts. This small town in western Mass. offers a double pleasure – it is in the Berkshire Mountains and is home to prestigious Williams College. The famed Clark Art Institute, the Williams College Museum of Art, and the Williamstown Theatre Festival are just some of the proud artistic accomplishments of the town. Williamstown is in Berkshire County. Mt. Greylock rises to 3,500′ above town.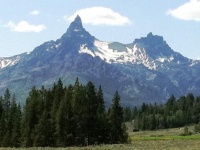 Bozeman, Montana. This rapidly growing town in west central Montana is home to Montana State University – Bozeman and its 10,000 students. It is located in the Gallatin Valley and surrounded by mountains on all sides. There is a vibrant downtown with a busy new library and great outdoor stores. Restaurants are full and people are on the street at 9PM.
Tahoe, California. This giant area contains many small towns and areas where you will find happy and active retirees. Besides boating, it offers world class skiing and hiking at nearby areas like Squaw Valley and Mammoth Lakes. Read the in-depth tour our very own Flo Williamson wrote up on the area.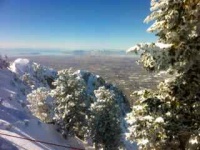 Ogden, Utah. Ogden is not as well known as Park City, UT, but offers some advantages and similarities to that resort town for a lot less money. For another it is less of a resort and more of a community, with a strong local economy. The population is 86,000, and Weber State University is located in town.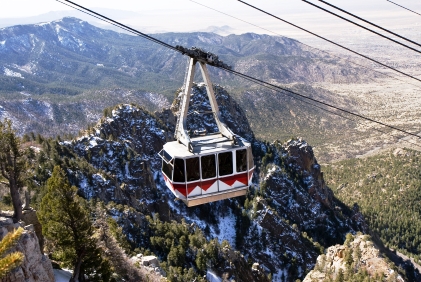 Albuquerque, New Mexico. Fans of the TV series "Breaking Bad" will recognize the scenery around this town butting up against the Sandia Mountains. It is the largest city in New Mexico. Old Town provides interesting shopping. The city and surrounding area provide many outstanding recreation activities in the adjacent Sandia Mountains, which you can get to from a city gondola.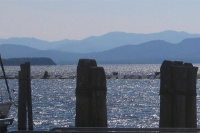 Burlington, Vermont. You can almost every kind of lifestyle environment in beautiful Burlington. It is on the shores of giant Lake Champlain. The nearby Green Mountains offer some of Vermont's best skiing. And the University of Vermont and its students present an unusually vibrant college town atmosphere.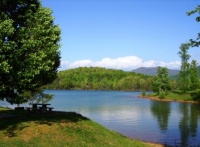 Hiawassee, Georgia. This town in Georgia near both North and South Carolina offers the best of two lifestyles – it's on Lake Chatuge with 150 miles of coastline. And nearby is the tallest peak in Georgia, Brasstown Bald, which welcomes hikers, nature lovers and picnics too.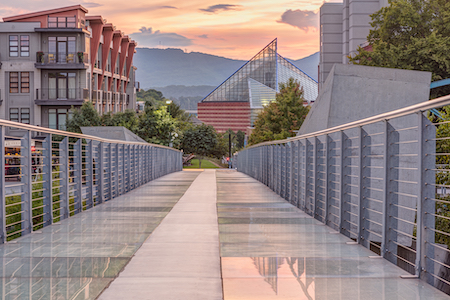 Chattanooga, Tennessee. Chattanooga is a low-cost, interesting city of about 170,000 people in southern Tennessee. Mountains are all around it; in the Civil War it was the site of the critical Battle of Chattanooga due to its strategic location on the Tennessee River. Called the "Scenic City", it is home to the University of Tennessee at Chattanooga.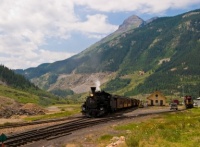 Durango, Colorado. Most of Colorado is mountainous, but this town in the southwestern part of the state is different and more out of the way. Outdoor activities are very important. As an example, the Animas River, a gold medal fly fishing stream, flows through the center of town.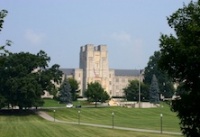 Blacksburg, Virginia. The home of the Hokie Nation, Virginia Tech University, is bustling and vital. The scenery in the surrounding mountains is spectacular, and so are the recreation possibilities. Blacksburg is a great college town for retirement.
Cheyenne, Wyoming. It is the capital and largest city (53,000 people) of Wyoming and is an interesting place to retire. The city was an early western railhead and stock town and became very important when the major east/west railroad came through town. It is in the Medicine Bow Mountains, famous for being tax friendly as well as its Frontier Days and huge outdoor rodeo.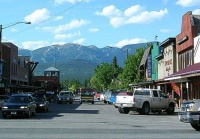 Whitefish, Montana. Topretirements has several friends who have retired to Whitefish, which they think is a magical place. The town is near giant Whitefish Lake and surrounded by big mountains. It is home to a number of ski resorts, including Big Mountain Ski Area. Hunting, fishing, hiking are excellent. The population is about 6,000.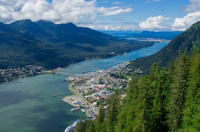 Juneau, Alaska. The capital of Alaska is on the coast beneath mountains as they rise away from the coast. It would be hard to find a more picturesque setting. One potential drawback is there are only 2 ways to get here – by sea or air.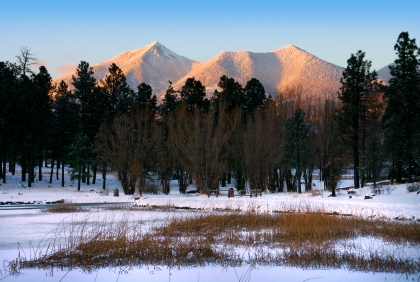 Flagstaff, Arizona. Up in northern Arizona and not too far from the Grand Canyon, Flagstaff almost became America's movie capital. Its setting among the beautiful San Francisco Peaks and Coconino National Forest was one reason. Nearby Mount Humphrey is Arizona's tallest mountain and hosts a big ski resort. The city itself is at nearly 7,000′, making it one of America's highest cities.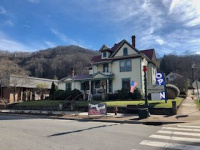 Sylva, North Carolina. Tucked between and Plott Balsam Mountain Range and the Blue Ridge Parkway, Sylva is a small but quaint town lined with cafes, galleries, bookstores, breweries, and antique shops. It is known for its outdoor recreation, especially fishing. It is the county seat and boasts a community college.
Advantages
For those who aspire to a mountain retirement, here are some of the advantages that come with them:
– Cooler summers. Altitude means an escape from hot summers, even in some otherwise warm states.
– Lower humidity. Particularly in the western part of the U.S., humidity tends to be lower in the thinner air.
– Beautiful scenery. Any time you look you will see a dazzling array of cliffs, trees, peaks, and more. At the higher altitudes there might even by snow in summer.
– Recreation. Mountainsides are hard to develop. So there is usually plenty of pristine land right outside your door where you can hike, ski, hunt, fish, kayak, camp etc.
– Spectacular home sites. Just as some people treasure a view of a lake or ocean, so do many others enjoy the thrill of big overlooks and distant mountains from every window and deck.
Disadvantages
– Colder winters. Take the Blue Ridge mountains of western NC for example, where retirees experience snow and colder temps than do those who live in the rest of the state.
– More difficult transportation. Mountain towns tend to be smaller and more remote, so your car might be more important to your daily transportation needs than you might have hoped. Driving on snowy roads can be dangerous. Likewise, biking can be a challenge (or better buy one of the new models with auxiliary battery power!)
– Fewer cultural resources. This isn't always the case, but many mountain towns tend to be on the smaller side, which can mean fewer town resources with cultural offerings
– Fires and natural disasters. Of course any location can have its share of natural disasters, but living in the mountains can come with serious hazards. Wildfires, blizzards, and landslides are just some of them.
– Not so great for older people. Once you get to a certain age you do have to consider the disadvantages of going up and down hills, slippery streets, and thin air. For people with respiratory or circulation problems, the thinner air can be problematic.
– Less daylight. One friend of ours thought he wanted to live in a great town in western Colorado, only to realize that the winter sun was hidden by tall peaks until mid morning and disappeared again in late afternoon.
For further reading:
Comments? What is your favorite mountain town for retirement? Could you live in the mountains, or would you prefer lower altitudes or the coasts. Let us know in the Cmments section below.
Posted by Admin on October 29th, 2019