Best Retirement Towns and States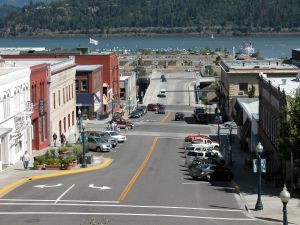 If you have been hankering to retire to a place where the great out of doors is, well, right out your door, there is a new book you might want to pick up.  "Best Outdoor Towns" by Sarah Tuff & Greg Melville. The authors researched the best outdoor towns by looking at access to state and national parks; pristine outdoor areas; lakes and rivers; plus recreational activities like windsurfing, hiking, snowboarding, cross country skiing, fishing, and more. Just to make sure that these are outstanding communities from other viewpoints, they also factored in cost of living, transportation, population, adequacy of the downtown resources, etc.
MSN City Guides – Outdoor Towns gave an enthusiastic review of this book. They pulled out 10 towns from the 101 listed as examples. Although the book was written for a general audience, it is easy to see how the towns would appeal to baby boomers and active adults as well. This is the list of 10 towns singled out from the book by MSN:
Lake Placid, New York– home of the 1980 Winter Olympics
Hood River, Oregon – windsurfing capital of the world
McCall, Idaho– fly-fishing, rock climbing, cross country skiing
Salida, Colorado– White water rafting excels at the Arkansas Headwaters Recreation Area
Boone, North Carolina – home of the tallest mountain in the east, 6,684-foot Mount Mitchell, along with the Pisgah National Forest and Blue Ridge Mountains
Livingston, Montana -A River Runs Through It was just one of the movies shot here
Ely, Minnesota – next to the Boundaries National Waters Canoe Area
Davis, West Virginia – Mountain biking, skiing, white water
Bethel, Maine – A charming Maine town near the Sunday River Ski Resort and the White Mountains. Home of the North American Wife Carrying Championships
Haines, Alaska – Sled dog racing, kayaking, skiing – plus the Alaskan wilderness
The book is $19.95 from the Country Man Press.
So Many More
We would add a number of towns to this list as being great for the outdoors. Almost any place in Colorado, Idaho, Oregon, Arizona, Utah, and New Mexico – just as a few examples. Places in western North Carolina like Franklin, or Burlington in Vermont. There are so many to choose from. For an extensive list of great outdoor towns by state go to our sister site, BestPlacesinUSA.com.
Comments: What do you think are the best retirement towns for the outdoors? Let us know in the Comments section below.
Posted by Boomer1 on December 3rd, 2007