Best Retirement Towns and States
May 2, 2014 — In Florida's golden days in the early 20th century a group of inspired visionaries created many graceful towns. They produced magical communities that attracted hundreds of thousands of retirees from the north. Other towns somehow became classics just because of where they were situated or their economic success in their past. Moving forward to this century, most of these towns still have the great bones that made them attractive back in the day. This article will review some of our favorite "Old Florida" towns that make great places to retire right now.
Planning pays off
Many, but not all, of the classic Florida towns we know about were carefully planned. As a result they have symmetry and plentiful public spaces that make for graceful living. Many had wealthy residents who built lovely houses and paid attention to how their town was developed. Contrast any classic town built around public squares versus one with endless strip malls and frontage roads, and the quality of life differences are obvious. Although most Florida towns have gone through boom and bust periods over the last 100 years, the careful planning that went into their development remains an asset. Their charm persists, and people are attracted to it.
A tradition of big thinkers
Florida seems to attract developers who have big dreams and plans. Chief among Florida's developers was Henry Flagler, a sidekick of John D. Rockefeller. Flagler sunk a major part of his considerable fortune developing Florida railroads, hotels, and towns. There were many others with big plans then; the desire to create special new communities continues to this day. Witness some of the grand developments started within the last 10 to 50 years: Palm Coast (ITT developed), Seaside (the new urban community, Celebration (Disney's planned community), Port St. Lucie, Ave Maria, Abacoa. Some of the larger active communities like The Villages, On Top of the World, and Sun City Center continue that tradition.
Classic Florida towns
Not all of Florida's classic towns had a single genius whose careful planning made them instant favorites. Some grew organically, blessed by a seaside location or wealthy residents who cared. But what makes them classics in our book is their balance, beauty, and grace. They tend to have real streets and stores where it is a pleasure to walk around. Beautiful plantings and parks abound. And the architecture is not fake and "strip mall modern".
Classic, "Old Florida" Towns to retire to:
Below is a list some of our favorite classic favorite towns in Florida. We could have kept going, as there are many more where these came from. See our Florida Directory for more ideas. The towns we have chosen come from all over the state: on both coasts, north and south, and Central Florida too. Many have gone through tough economic times and represent a range of urban renewal – some are still struggling, while others are so affluent only the wealthy can afford to live there. A few have a combination of classic parts and other sections that are not so nice.
Appalachicola. We love this charming little fishing village in the Panhandle. Its earlier wealth is quite apparent, and this slow-paced town seems to be doing well now too.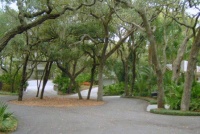 Fernandina Beach. Fernandina Beach is an classic old Florida town just above very affluent Amelia Island. It has a charming downtown with an artsy feel and many quiet neighborhoods featuring Victorian homes. There are cute shops and many interesting restaurants.

Englewood. There is a collection of classic old Florida towns around Englewood, a beach town on Florida's southwest coast. While it has a lovely downtown area, just to the south is an even classier community, Boca Grande. This small island and its stately Gasparilla Inn is where old money goes to relax and play.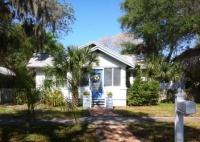 Gulfport . Beach Boulevard is a wide boulevard along a park that leads off to a smaller and somewhat charming district. Down this street you will find a handsome library, a quite large senior center, kitchey shops and restaurants, and at the end – The Gulfport Casino Ballroom, one of the busiest dance halls in Florida.
Key West. Back in the 1970's Key West was on the edge of ruin. All of its extractive industries like ship salvage, turtles, and sponges were exhausted, while the cigar industry had moved to Tampa. They brought in consultants to recommend new industry. The conclusion: Key West's supply of beautiful Victorian homes, ocean, and wonderful climate make it a natural tourist destination. The rest is history.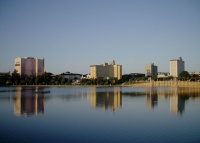 Lakeland. Lakeland was an important town during the Florida land boom. Many of its historic structures date from that period including the Terrace Hotel, New Florida Hotel (Regency Towers), Polk Theatre, Promenade of Lake Mirror, and the former Lakeland Public Library. Frank Lloyd Wright's "A Child of the Sun" project for Florida Southern College is the largest one-site collection of Frank Lloyd Wright buildings in the world. (photo of Lakeland skyline courtesy of Wikipedia).
Lake Wales Lakes Wales has a beautiful Historic Corridor where you can visit the restored Rhodesbilt Arcade, The Depot Museum and The Scenic Theater. Many of these buildings are on the National Register of Historic Places. Plus you will find plenty of interesting shops and art galleries.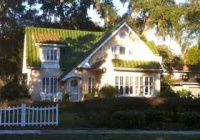 Mt. Dora. Here is what the New York TImes said about Mount Dora in 2011: "… tiny little vintage town with gorgeous Victorian-era homes, great restaurants and a square where they play live music." It also raved about Mount Dora's Live Oak trees and the Spanish Moss.
Palm Beach. Founded by Henry Flagler to provide a luxury destination for his railroad, Palm Beach proper is one of the wealthiest and prettiest communities in the world. It lies on the Atlantic Ocean just above Miami and straddles the Intercoastal Waterway. Fancy shops and elegant estates abound in the beautiful downtown. Enormous estates go along the ocean and the Intracoastal. If you spend an hour on Worth Street and don't see 2 Rolls Royces, you are not looking hard enough.
Naples. Surrounding the walk-able downtown are beautiful residential streets, conveniently situated next to the white coral beach that goes for miles, with condominiums and homes lining much of it.
Stuart. It has a lovely downtown that is fun to walk around in, with interesting shops and restaurants in a small town feel. There is a very ample coastline thanks to the bays and ocean that surround the town. There is much to do in this community of 16,000.
Some say that Stuart is the most northerly place on the Florida Coast that is positively affected by the Gulf Stream.
Venice. Originally developed in 1925 by the Brotherhood of Locomotive Engineers as a planned retirement community, Venice is named after the many canals and rivers running through it. Thanks to its central planning, Venice is a top rated community for adults over 55. In many ways Venice is similar to Naples, except with less traffic and far lower prices. The town has wide boulevards lined with palms and banyan trees. Much of the town is in the northern Italian renaissance architectural style. The lively downtown has many interesting shops and restaurants.

Winter Park. Winter Park was the first centrally planned city in Florida. It claims it has the most parks per capita of any Florida. Several U.S. Presidents including Chester Arthur, Grover Cleveland, and Franklin D. Roosevelt visited the city.
Bottom Line
Most of Florida's classic towns have had their ups and downs. But many of the ones that are so appealing a long time ago have the charm and features that make them great places to retire today. You can find our reviews of 100 cities and towns in our Florida Directory.
Comments? Please share your comments below. Do you have a favorite Old Florida town we should have mentioned? One we should have forgotten about out? And what are some of your favorite things about old towns, anywhere?
Further Reading:
The Wall Street Journal wrote an entertaining article on the same subject, "Finding the Old, Classic Florida", with some of the same picks as ours. Their classic Florida is, not surprisingly, a bit more upscale.
What is the Best Place to Retire in Florida – Interior or the Coast
Sunshine State is More Diverse Than You Think (a 2 Part article)
Florida Retirement Guide
Posted by Admin on May 3rd, 2014