Best Retirement Towns and States
December 15, 2021 — The reality is most people don't want to retire too far away from where they live now. The tug of familiar friends, relatives, and institutions can be very strong for some, even more powerful than wanting to be in a warmer climate. Yet their current abode might have become expensive, crowded, or taxing enough to make them think about moving to a new city or town in the same region. In this article we will explore some of the nearby possibilities for a retiree who lives in or near the New York City Metro or suburbs. For that matter, residents of New Jersey and southern New England might like these alternatives as well.
Obviously if one moves less than 500 miles away the climate is not going to be too much different. But the cost of living, the livability index, and the tax situation could change dramatically. The 10 places to retire mentioned here are just a few possibilities, they barely scratch the surface of the very livable retirement choices that won't require you to move too far from where you live now.
In state
If you relocate within the Empire State, taxes won't change too much, but you can definitely change the cost of living and livability parts of the retirement happiness equation:
Skaneateles, NY. William Seward, Lincoln's Secretary of State, declared this small town in the Finger Lakes region to be located on "the most beautiful body of water in the world". Its quaint downtown offers a toy shop, a chocolate shop, unique stores, bakeries, art galleries, pubs and a wine bar. The clear blue lake provides recreation activities as well as the backdrop for the many events that take place in the waterfront park. Many residents are snowbirds. The Zillow Home Value Index is slightly above the national Index.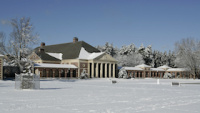 Saratoga Springs, NY. Best known for the Saratoga Race Course, which opened in 1863, this thoroughbred track is the oldest continuously-operating sporting event of any kind in the United States. Many race regulars come to this town on the west bank of the Hudson for the summer racing season. Saratoga is also home to 2 colleges, Empire State and Skidmore. Homes are priced just above the national median, but cheaper than NYC.
Outside the State
Some neighboring states have the additional advantage of being considered more tax-friendly to retirees than the Empire State. Notably, those include Pennsylvania, Delaware, New Hampshire, and to a certain extent, Maryland. Rhode Island and Connecticut offer some very livable alternatives. You can find out more in our Mini Retirement Guides to each state.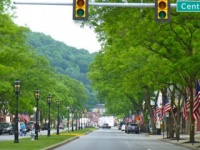 Wellsboro, PA. A small town of just over 3,000 in rural North-central PA, Wellsboro appears to be bigger than that because of the large and charming downtown. Its antique gas lamps shops, homes, and large central park, along with many festivals, make it a popular tourist destination. Homes are a relative bargain, with the Zillow Home Value Index under $200,000.
Lancaster, PA. Many retirees are moving out here to Pennsylvania Dutch country. It is home to the Franklin and Marshall College. Lancaster has a long and important history: Conestoga wagons and the Pennsylvania long rifle were both made here. There are many active adult communities to choose from.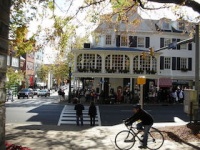 State College PA. Located almost in the geographic center of the Keystone State, this is another exciting college town (Penn State) where people over 50 make up the fastest growing segment. Cheerfully, its nickname is Happy Valley! There is a retirement community associated with the University.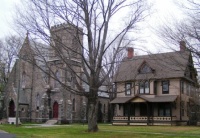 Old Saybrook, CT. If you retire here from CT's Fairfield County you might discover your new neighbor might be your old neighbor fleeing from traffic and high prices. This livable town has a wonderful downtown with restaurants and shops. There are many condominium developments where the majority of residents are 55+. There is plenty of golf including the charming golf course on the water in Fenwick, plus boating on Long Island Sound.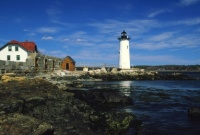 Portsmouth, NH. This little city on New Hampshire's tiny Atlantic coastline is oozing with colonial charm. It is convenient to get to, and you won't have any trouble persuading friends and relatives to visit. Real estate is expensive but still cheaper than most of the NY Metro. As a bonus, NH does not tax most income.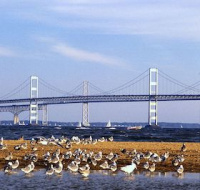 Kent Island, MD. Maryland offers many retirement choices such as Ocean City. This island in Chesapeake Bay is one of the most interesting. It offers island living, yet has easy access to Annapolis, Baltimore, and Washington, D.C. In mid-2021 Zillow reported the median home value to be $430,420 in Stevensville, one of the towns on the island.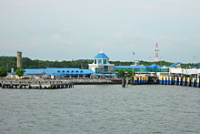 Lewes, DE. Delaware, and particularly its coast, makes for a very popular place to retire. Taxes are relatively friendly and winter temperatures can be mild. It was originally a whaling center. Fisherman's Wharf stretches along the Rehoboth Canal. It features multiple restaurants, and the dock is a great place to inspect hundreds of boats in season. Cape Henlopen State Park is nearby for more fun.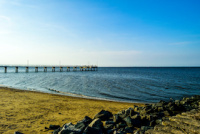 Smyrna, DE. Many formerly rural areas of Delaware are being transformed into retirement centers as urbanites and suburbanites look for greener and more affordable pastures. Smyrna has the advantage of being close to the coast and beach towns like Rehoboth Beach, yet remains affordable. We like it better than some DE towns like Middletown that are being overpowered by rapid development, and are far from the coast.
Bottom line
If you are hankering to escape an urban or a suburban lifestyle, save money, and/or find a livable town, you have plenty of choices without having to more than than a day's drive away. These were some of our top picks, but we would love to hear your suggestions in the Comments section below.
Posted by Admin on December 15th, 2021