Best Retirement Towns and States
January 19, 2015 — In your search for the perfect community, how many of these statements would you agree are your priorities? Would you like to:
– Walk or bike into town instead of going by car
– Live in a real neighborhood
– Have interesting entertainment or eating options nearby
If you checked at least 2 of these statements you might be a candidate for a New Urban Community. They are also sometimes called Traditional Neighborhood Developments (TND). There are a number of these entities across the country – some are totally new, and a few have been here for centuries. These communities feature walkable access to a real town/city center, an environment that encourages social interactions, and plenty of recreational, occupational, and entertainment possibilities. In this article we are going to explain what we mean by New Urban concept, provide a report on your editor's recent visit to one such community in South Florida (Abacoa), and then provide you with a list of some of the leading TNDs in this country.
What's in a Name?
For purposes of this article we included communities that we know to be new urban or TND type communities. Obviously there are gradations within "new urban" communities, as there are no New Urban, or TND police out there enforcing standards. Some fit the description exactly, while others go part of the way. Another term that is frequently used in advertising is master planned. While many towns and active adult communities advertise that they are master-planned (we sure hope they have a plan!), that does not always mean that there are shops and a town center are within a 10 minute walk, or that you can avoid driving to access the services you need for everyday living.
Retro Urbanism
New Urbanism is, in our opinion, an oxymoron. "Retro Urbanism" might be a better term. That is because the movement seems more like a return to what towns were like before cars changed everything – it is more like the "new old". There are plenty of examples of very old American towns that are a perfect example of great urban planning – like Savannah, GA; Washington, D.C.; Venice, FL. The modern new urban design movement, which promotes walkable neighborhoods that contain a range of housing and job types, got going in the 1970s and 80s'. Some of the most famous examples are planned cities like Reston, VA and Columbia, MD. In all of these cases residences and businesses are clustered around parks, shops, and restaurants – making everyday life possible without jumping in and out of cars.

A Visit to one New Urban Community, Abacoa
Your editor spent an afternoon in Abacoa, a New Urban Community in Jupiter, Florida. Having heard about it for years, we looked forward to our visit with great anticipation – and were not disappointed. Here is are some highlights of that visit.
Centrally located
Abacoa is situated immediately east of I 95 and the Florida Turnpike, so it has excellent access to just about everything – beaches, Miami, points north, etc. It has a main campus with the principal attractions easily reached on foot, by bike, and there is ample car parking too.
The concept behind Abacao
The idea behind Abacoa is the opposite of what happens in suburbia. Instead of locating residential neighborhoods far from the center of the community, forcing residents to drive to shop, dine, or find entertainment, in Abacoa everything an active adult could want in conveniently reached in one location. Its many residential developments offer an array of choices including single family, attached, and condos. Most of these communities have amenities such as golf courses, swimming pools, etc. But unlike most active communities, there is a lot more: A University, a Major League Baseball Park for spring training, and a considerable amount of retail. The Abacoa Golf Club is also right in the center of town.

Driving down the Donald Ross Blvd to Central Avenue and then entering the downtown area on Main Street, one comes into an area with retail shops and restaurants on one side and a giant park on the other. At the main intersection you arrive at the Roger Dean Stadium, spring training home to 2 major league teams, the Miami Marlins and the St. Louis Cardinals. Florida Atlantic University has an extensive campus and green space. The intersection also has the Theatre Green and Town Center Stage, both of which host a continuing area of cultural events.

What was going on a recent visit
We arrived in Abacoa on a rainy afternoon in November. At the Cuban restaurant downtown (excellent cafe con leche) a cluster of women were playing mahjong on the covered deck. Inside some late diners were finishing up a late lunch. Some of the retail stores were looking for new tenants, while others catered to shoppers. A choice of restaurants and bars held a trickle of people.

At the main intersection the gates of Roger Dean Stadium awaited next spring's influx of Cardinals and Marlins fans, along with those for the 2 minor league teams who call this baseball complex home.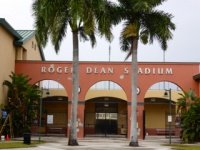 Developments within Abacoa
Abacoa features many choices when it comes to communities. Antigua is a neighborhood that consists of commercially zoned live/work townhouses and residential townhouses, most of which are 2 and 3 stories. Small businesses are on the first floor with apartments above.
The Cambridge community by DiVosta Homes features single family homes and townhomes with neo-Georgian architecture in the heart of Abacoa.
Canterbury Place features a Tuscan and French county inspired styles, with townhomes ranging from 1406 to 2226 sq ft. in a Victorian style. These homes provide a nice location during the nationals or other competing golf championships.
Martinique is a neighborhood of Caribbean-style custom homes and townhouses in the quieter section of Abacoa, but close to the Roger Dean Stadium, dining and shopping. It has a Community Center, Village Green, swimming pool and playground. Homes range from 1,500 square feet to over 4,500 square feet and are priced from the high $200's.
Somerset features Key West style condos and town homes with front porches and balconies. The condos offer one level living, with town homes having two or three levels. Amenities include a clubhouse, with fitness center business center and library, along with an outdoor heated pool, putting green, volleyball court, playgrounds and picnic areas. Home prices start in the $200's.
Windsor Park is a newer neighborhood made up of single family homes, carriage homes, and townhouses with 18 different floor plans, and offer lake and garden views. Residents enjoy a community center with activity room, catering kitchen for parties, barbeque area, swimming pool and fire pit. Homes are priced from the high $200's to the high $600's.
What People Say, And How the Community Is Going
Property values are strong in Abacoa, so the concept must be working. Recent home listings range from the $100s into the millions of dollars, with the average listing about $450,000. Although a few of the downtown stores were vacant, most were occupied and the restaurants all seemed to be prospering. According to the people we spoke with, Abacoa is a wonderful and unique place to live in South Florida.
Where can you find more New Urban Style Communities
We searched the Topretirements.com database of almost 1000 towns and cities looking for ones that we have classified as New Urban. That search produced nearly 25 candidates, many of which are listed below. You can do the same search by going to "Advanced Search" and selecting New Urban as a City criteria (you can also further filter that search by state and other ways). Some of these communities were designed exclusively with retirement in mind, some had little or no thought about retirement living, and some that purposely include 55+ communities along with developments for people of all ages.
Alabama
Fairhope, AL. This former Utopian community sits on Mobile Bay.
The Village of Providence (Huntsville, AL). A newer community in one of Alabama's most interesting cities.
Arizona
Rio Verde, Arizona. This small golfing community is northeast of Scottsdale.
Mission Viejo, California. Located in southern Orange County, it has a population of over 100,000. It is known for its tree-lined neighborhoods.
Florida
Nocatee (Ponte Vedra, FL). This community south of Jacksonville combines one million square feet of retail, four million square feet of office and nine public schools in a livable environment.
The Villages (south of Ocala, FL). By now just about everyone has heard about The Villages, the largest active adult community in the world. It sprawls over 3 counties in Central Florida.
Ave Maria (Naples, FL). This brand new community near Fort Myers and Naples has a religious core (Roman Catholic).
Winter Park, FL. This planned community dates back to the 1920s, although it's design is still contemporary.
Sun City. One of Florida's oldest and biggest all-inclusive active adult community.
Seaside, FL . Located on Florida's Northeast coast, Seaside is studied the world over for its combination of beautiful buildings combining a vacation resort with full time living.
Celebration (Orlando, FL). Disney's entry into New Urban design. It has all the features such as trying to minimize the presence of cars and maximize friendly neighborhoods.
Palm Coast, FL. This giant community in Northeast Florida was originally built by ITT. A car is still a necessity, but there are many neighborhoods to choose from.
Victoria Park, (Deland, FL). This one is near Jacksonville and has communities within the community.
Fleming Island Plantation (Orange Park, FL). The motto of this all-ages community is "Live…Work…Play".
Port Saint Lucie, Florida. Founded by a corporation and then becoming a city in 1961, Port Saint Lucie now has more than 161,000 residents. It is more master planned than new urban. The NY Mets have spring training here.
Georgia
Peachtree City, GA. This is one of those communities where the golf cart has pretty much displaced the automobile.
Atlantic Station (Atlanta, GA). New and located just off the city center, this development mixes office buildings with residential and parks.
Maryland
Columbia, MD. One of the original "modern" New Urban communities, it is completely self-contained.
National Harbor, Maryland. One of the newest New Urban Communities, this planned city across the Potomac from Alexandria it is still in the early stages (founded in 2008). It has hotels, offices, retail stores, restaurants, and nightspots. There are also waterfront condos, a marina and convention center, with more future plans.
New Jersey
Washington Town Station (Robbinsville, NJ). The overall plan includes parks, walking trails and other open public spaces, and welcomes the community at large into its shops, restaurants and residential neighborhoods. Single-family homes, duplexes and townhomes.
North Carolina
Fearrington Village (Chapel Hill, NC). Although most of the folks who live here are 55+, many families do too. It has a CCRC affiliated with Duke, a distinguished book store, plus a 5 star restaurant and inn.
South Carolina
Verdae Village (Greenville, SC). village-style center city community where traditional neighborhoods, specialty shops, cafes, businesses and outdoor recreation are joined together.

Texas
The Woodlands, Texas
. Here there is a cluster of 8 master planned villages and a Town Center. There is plenty of good shopping including a shopping mall, restaurants, and activities such as 7 golf courses
Virginia
Reston, VA. One of the communities from the 70s that made the new urban concept so popular.

For further reference:
Check Out the New Urbanism (Jan Cullinane)
Wikipedia article about New Urbanism
List of Traditional Neighborhood Developments
Use Advanced Search to find more
Frustrated about Finding Your Ideal Community – How About a New Urban Community?
Comments? Have you considered living in a New Urban Community, or visited one. What did you like, or not like about it? Are there some New Urban Communities we have overlooked? Please share your impressions and thoughts in the Comments section below.




Posted by Admin on January 19th, 2015