Best Retirement Towns and States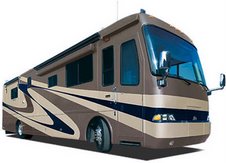 We are always on the lookout for interesting retirements. So when a mutual friend told us about Betty Fitterman (http:adventuresinthebettybus.blogspot.com), we got pretty excited. Betty and her husband shucked off their expensive home and 3 of their 4 cars, and bought a 4 year old luxury RV. It's the kind you see rolling down the Interstates wishing you were on board, making a sandwich or taking a nap. Really nice.

Best of all Betty agreed to write an exclusive series for Topretirements about what is like to live 365 days a year in your luxury RV, on the road and without a mortgage or grass to cut. As a former top ad agency creative, it's no wonder Betty is such an interesting writer. Check out all 5 articles in the series in our Tips and Picks section, starting with "Living the Mobile Lifestyle in Retirement.
Posted by Admin on October 6th, 2008