Best Retirement Towns and States
January 12, 2020 — Arizona is a really popular place to retire because of its climate, scenery, and interesting towns. At Topretirements it is the second most popular state for retirement. It also has the second highest net immigration of people over 65 (SmartAsset). Since Covid has put the damper on travel and exploration, please join us on this virtual tour of the best places to retire in this beautiful state. This is the second in our series of virtual tours of popular states for retirement (Southwest Florida was the first).
The Road Trip
Arizona is the sixth largest state in terms of size and 14th by population. Florida by contrast has almost 3 times the population in just under half the area, with many more retirement communities. Arizona's sheer size means a retirement tour of the Grand Canyon State involves a lot of driving. If done outside of the summer, it means bringing along some warm weather clothing for parts of the trip, because many areas have high altitude and chilly weather at times. This virtual tour will hopefully whet your appetite for an Arizona exploration, and learn more about the many towns we mention here and over 300 active adult and 55+ communities in our Arizona Directory.
When the pandemic ends and travel is safe there are several options for how to tour AZ's places to retire, depending on how much time you have and the amount of driving you want to do. Options include going from north to south (Flagstaff to Tucson) or vice versa, or setting up headquarters in Phoenix and going in opposite directions. You could also start a longer tour from the west after touring Palm Springs, California. Or, fly to Las Vegas, drive through Mesquite (NV) to St. George (UT), and then come by the Grand Canyon on the way to Flagstaff and points south. A trip like that could be broken into several pieces. Most of the best places to retire in Arizona are on a north/south axis in the bottom half of the state, so if time is limited you might want to postpone places in the west like Kingman, Havasu City, and Yuma for a second trip.
Arizona's best places to retire
For purposes of this tour we will proceed north to south, starting in Flagstaff. All of these towns are among the most popular places to retire at Topretirements.
Flagstaff. Centered amidst some of the most enchanting physical landmarks in the world, the San Francisco Peaks and the Grand Canyon, Flagstaff is a top rated community for retirement. The original train station is still in use and also operates as the town visitor center. The nearby Snow Bowl is a ski resort and Arizona's highest mountain. Cecil B. DeMille tried but failed to make Flagstaff into an earlier version of Hollywood because of its great scenery. Zillow reports the median home value to be $384,149 in early 2020.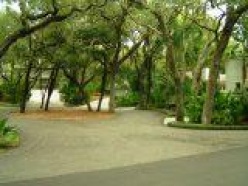 Heading south on Route 89A you will go through Oakcreek Canyon and arrive at two of Arizona's most interesting towns, Sedona and Prescott.
Sedona. The Red Rocks of Sedona are world famous for colors displayed by sunrises and sunsets on the red sandstone rocks. That beauty, combined with the mountains, climate, hiking and the arts have made Sedona a popular retirement community. One recent visitor said it could be the prettiest setting for a town in the world. Real estate is very expensive. although there are some less costly alternatives. In late 2020, the median home value was $509,206, according to Zillow.
Cottonwoon. This is located in central Arizona, where the scenery is pretty, the values conservative, and the outdoor activities aplenty. Cottonwood is ringed with mountains and buttes, and it either contains or is minutes from golfing, canyons, thousand-year-old dwellings and wineries. There is a historic downtown.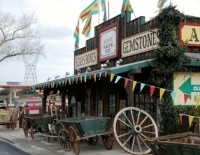 Prescott. Located at an elevation of 5400 feet in the mountains of north central Arizona, the City of Prescott (population just under 43,000), was the original territorial capital of the Arizona Territory. It still celebrates its cowboy heritage in a big way. The most famous building housed The Palace Restaurant and Bar – it had saloon style doors and a large wooden bar that came from a ship. Prescott is always one of the most popular places to retire in the U.S. at Topretirements. Zillow.com reported the median home value was $383,805 in early 2020.
Out to the west of town is Jerome, an interesting ghost town that now has about 500 residents. Heading east and crossing the Interstate, you will arrive in Payson.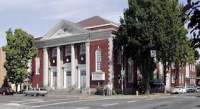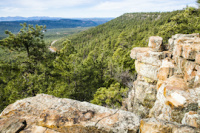 Payson. As a mountain town, Payson embraces its rural Old West heritage as it was home to many cowboys and rodeos. Author Zane Grey visited the area often and wrote numerous books about it. Payson is still host to oldest continuous rodeo in the world, which started in 1884, but also offers art galleries, antique stores, restaurants, outdoor attractions, and a casino nearby. It moved up 6 places on this year's list.
From here you will be heading into the gigantic Phoenix Metro area, which not only has the city but a ton of different suburbs.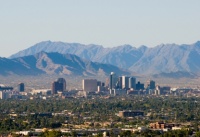 Phoenix. This warm weather, desert community has leaped beyond its borders to become the 5th largest city in the U.S. Although it has some crime and traffic like every big city, the weather and proximity to the beautiful Arizona environment is unchanged. The median home price was median of $314,700 in the 2nd quarter of 2020 according to the NAR. The metroplex has over 1.5 million people and has engulfed communities like rural Glendale. When your Editor went to graduate school in that little town in the early 70's there were cotton fields and bunglalows – now it is a busy suburb with the State Farm Stadium that is home the AZ Cardinals.
While in the Phoenix area that are many possible places to retire to explore. In the west along with Glendale are the towns of Peoria, Surprise, and slightly to the southwest is Goodyear. All of these towns have large numbers of active adult and 55+ communities to explore (Find them in our Arizona Directory listed under each town). While here you might as well visit one of the Sun Cities (Sun City and Sun City West), the first active adult communities in the world, to get an idea of what a really large community looks like. West. To the northeast of Phoenix are more posh suburbs like Paradise Valley and Scottsdale In the southeast you can explore the college town of Tempe.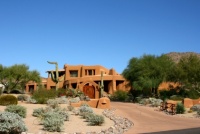 Scottsdale. Perhaps the most famous suburb of Phoenix, this affluent town in the McDowell Mountains is picture perfect. High end shops and restaurants abound. Home prices in the many active communities here reflect that (Zillow Home Value Index of $557,000).
Tempe is home of Arizona State University. That makes it one of the more interesting parts of the Phoenix area in which to live, in that is a streetscape with bars and restaurants to explore.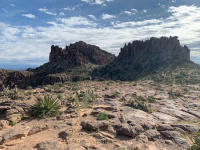 Also in the southeast area near Phoenix are suburban towns like Mesa, Gilbert, and Chandler. Further out with many affordable living options in manufactured home and RV communities is Apache Junction.
After exploring the Phoenix area you will head south on I 10 to several very interesting and popular places to retire.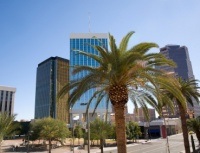 Tucson. The area is warm in winter, blessed with sunshine almost 300 days per year, and has beautiful surroundings. No wonder it is always in the 10 best places to retire at Topretirements. At 233 performing arts dates per year, it also has one of the nation's highest numbers of arts performances. To see 70 and more reader comments and an inside look on Tucson retirement, see "Why I Retired to Tucson". According to the National Association of Realtors, the median selling price of a home in Tucson was $272,700 during the 3rd quarter of 2020.

To the south of Tucson you head through Oro Valley and eventually arrive at one of the largest retirement areas in the world, Green Valley.
Green Valley. Near the hiking and birding areas of the Santa Rita Mountains in extreme southern Arizona, Green Valley is an unincorporated retirement community composed of 59 Homeowner Associations. It is huge and always shows up as one of the Best Places to Retire in the U.S. According to Zilow.com, the median home value in Green Valley was $195,262 in early 2020.
At this point you are getting closer to the Mexican border and you have covered a lot of ground. But you might as well keep going east and see a few more interesting towns like Sierra Vista, Tombstone, and Bisbee.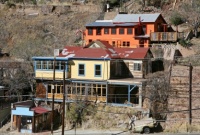 Bisbee, Arizona. Bisbee is an historic mining town of 6,000 people in south central Arizona, almost at the Mexican border. If you are looking for an interesting, off-beat place to retire, Bisbee might be the place. An associate of ours recently visited Bisbee and reported back that he thought the town was a "sleeper", an up and comer that could be the next hot retirement destination. Time will tell. The town is at 5,500 ft., an elevation that gives it milder temperatures than most places in Arizona.
Optional Tour to the West
Exploring a large state like Arizona is not something that can easily be finished in one take. It would take several trips just to get the lay of the land, and an extended stay or two to get a feeling for what it would like to be retire in one of its towns or areas. Since the popular retirement towns not on the north/south axis are all in the western portion of the state, that could be an exploration for another day. Generalizing is always dangerous, but it is probably fair to say most of these towns are more affordable and on the politically conservative side. The major retirement towns in the west are Kingman, Havasu City, Bullhead City, and far to the south, Yuma.
Bottom line
Even if you have no interest in retiring in Arizona, it is a great state to visit. You can use this tour to give you ideas on where to explore.
Comments? Where are you thinking about retiring in Arizona? Share your explorations, favorites, etc. in the Comments section below.
For further reading:
Posted by Admin on January 11th, 2021