Best Retirement Towns and States
December 9, 2012 — Our search for the towns that offer the best amenities to retirees has turned up some fascinating possibilities. One really nice thing we learned right away is that there are many communities that offer impressive amenities. Some towns are great for one type of amenity, such as golf, tennis, or culture. Others are more balanced, offering an array of facilities and opportunities.
This is Part 2 of our series on Amenities. The first came out 2 weeks ago, ("10 Best Amenities that Make for a Best Place to Retire"). Many thanks to the readers who provided comments and suggestions to that post.
It would be highly subjective and a bit reckless to try to rank them 1 through 10 – let's just say here is a list of 10 or so towns with great amenities. Our apologies in advance to any town we might have overlooked or under-rated, we know there are many additional contenders that should have been included. Please provide your suggestions in the Comments section below!
10 Great Towns for Amenities
Here in no particular order is our list of 10 retirement towns that offer exceptional amenities to their residents. We have tried to provide diversity to the list in terms of geography, size, type of amenity, and whether we have highlighted them before. Our biggest problem – we had too many towns to mention!
Reader Suggested Amenity Town . (This review provided as a comment to Part 1 in this series by Artie – thanks!).Cary, NC (often jokingly referred to as standing for Containment Area for Relocated Yankees) is located in the middle of the Raleigh/Durham/Chapel Hill "Triangle." Based on the the list of amenities above, Cary doesn't seem to be missing anything. Quite to the contrary, when it comes to some of these items, this area has many of them in spades or built in redundancy. For example, we have a great system of hospitals as well as an abundance of universities and colleges. Not specifically mentioned above, but which can also be added to the list, is Broadway caliber theater. We have some great shopping in all directions and an ever-expanding list of new restaurants and dining experiences. This area has also been referred to as "Trees, Tees and PhD's." The reason for this becomes apparent when one lives here or if you are just visiting. We have great recreational amenities in terms of parks, bike and hiking trails and lakes. We are also only a few hours from some beautiful coastal beaches areas to the east and the mountains (e.g. Asheville) to our west. Living in the center of the "Triangle," we are about 20 minutes from downtown Raleigh, Durham and Chapel Hill. Each of those places has its own distinctive character, attractions and appeal.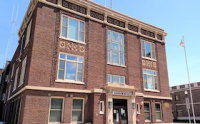 Recreational Amenities. Apparently when a town in South Dakota starts out to do things, they do it right and keep on going. Aberdeen, a town of 26,000 in northeastern South Dakota, has an amazing collection of amenities. In the sporting department it has 3 golf courses (2 of them 18 holes), 2 disc golf courses, 24 tennis courts in multiple locations, several public skating/ice hockey rinks, a skate park, and an outdoor Family Aquatic Center with a zero entry pool, competition lap pool, numerous water slides, and a concession area. There are 2 major Recreation areas on 2 different lakes. For culture there is the Aberdeen Community Theater plus the offerings from two colleges: Northern State University and Presentation College (Catholic). Delta Express offers commuter flights from the Aberdeen Regional Airport. Two hospitals serve the town.
All Around Amenities. Chandler, Arizona. stands out among towns and cities for the wide variety of amenities of all types it offers. Its revitalized historic downtown includes the award-winning Chandler City Hall. The Center for the Arts is a 1,500-seat regional performing arts venue located downtown that attracts national and local performers. The Arizona Railway Museum is at Tumbleweed Park. In 2010 Chandler was named as an All-America City by the National Civic League. The Community Services Department operates the community center, senior center, dozens of local neighborhood and community parks, two recreation centers and six aquatic centers. The Mesquite Grove Aquatic Center is open year round for lap swimming. Chandler was named a 2012 Playful City USA community by KaBoom! Bear Creek Golf has 36 holes of public golf. Henderson, NV is another town with sensational parks and recreational facilities – it has 54 neighborhood and community parks, 11 aquatic facilities, and seven recreation centers (including a 50+ rec center).
Tennis Town. When it comes to tennis Fort Walton Beach, Florida has that amenity covered. The Fort Walton Beach Tennis Center has 12 courts, lights, challenge ladders, and instructions all for a modest annual membership fee (discounted for FL residents). There there are also 16 courts at a private tennis club and a high school in town. The city has 24 miles of great beaches and 4 beachfront parks, plus the The City of Fort Walton Beach Heritage Park & Cultural Center, which incorporates four museums and National Historic Landmark.
Parks and Recreation. It would be hard not to include a city that not only is home to the Ducks of the University of Oregon but which also modestly bills itself as "A Great City for the Arts and the Outdoors", Eugene, Oregon. This booming city lives up to the name pretty well. The birthplace of the Nike company, you might expect the outdoor amenities to be good here. Eugene's miles of bike paths, running trails, and kayak runs through its unusually large park system are the most extensive in the U.S., according to Wikipedia. The city has dozens of running clubs. Bicycling Magazine named Eugene the 5th most bike friendly city in America – many people use its extensive bike trails as their major mode of transportation. Some of Eugene's parks include Skinner Butte Park, Alton Baker Park, Hendricks Park (with its Rhododendron Garden). The Oregon Bach Festival is a major international festival and just one of the many cultural events in the city. If you are interested in more cities that have plentiful parks and trails, check out cities in our Colorado Directory like Fort Collins and Boulder. (Photo of Eugene Public Library courtesy of Wikipedia).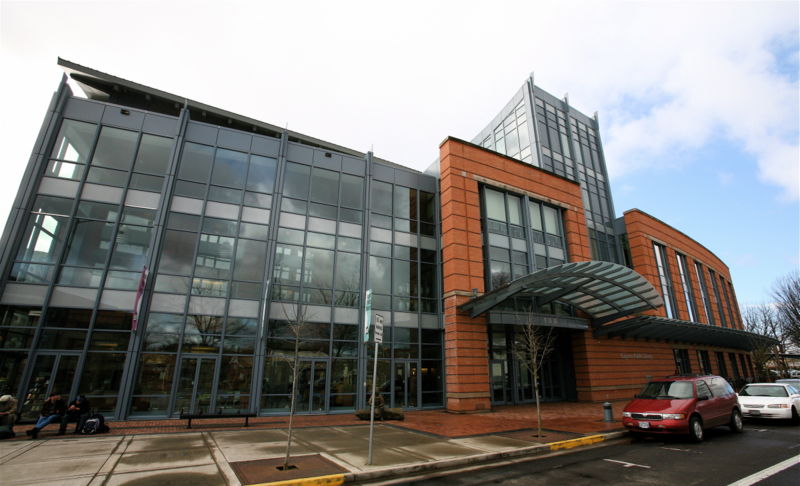 Cultural Amenities If you build it they will come, at least that is the thought in Rohnert Park near Sonoma, California, which sports the new $145 million dollar Donald and Maureen Green Music Center at Sonoma State University. The Center – which contains a recital hall, rehearsal rooms, and studios – is dominated by the 1,400 seat Weill Concert Hall. When it was built Sonoma State only had 145 music majors among its 8,000 students – we bet that will change quickly. The complex is now also the home of the nearby Santa Rosa Symphony Orchestra, and the San Francisco Symphony has a full playing schedule here as well. Bottom line – if the scenery, wine, and food of northern California weren't enough for you – come for the music. Ashland (OR) deserves at least an honorable mention for culture because of its 9 month annual Shakespeare Festival, one of the biggest such events in the world.
Golf capitals. When it comes to golf, there are many contenders, including 2 in opposite ends of Tennessee, Kingsport and Crossville. Kingsport has at least 5 courses in the city, plus at least 17 more within 18 miles. Crossville claims it has 10 major reasons to be Tennessee's golf capital, all of them well designed and maintained golf courses for players of all abilities. This past year over half-a-million rounds of golf were played in the Crossville area. Outside of Tennessee there are several other towns that could lay claim to Golf Capital USA; Myrtle Beach (SC), Palm Springs (CA), and parts of Michigan including near Charlevoix and Traverse City.
A Small City with a Top Hospital. When it comes to having great hospitals and medical resources almost every large city has ample resources. But in smaller cities and towns it can become a challenge to get quality care and have access to top specialists. In this department Billings, Montana is a standout. In 2012 the Billings Clinic was awarded #1 best hospital out of 1,459 reviewed by Consumer Reports – a pretty significant honor for a town of just over 100,000. Billings of course has many other amenities as well, including miles and miles of bicycle and jogging trails. The Alberta Blair Theatre and Babcock Theaters have over 2,100 combined seats in these performing arts theaters. In addition there are museums and parks, a restored historic downtown, plus the campus of Montana State University Billings.
Pedestrian Downtowns. When it comes to walkable downtowns some of America's biggest cities are hard to beat – in San Francisco, Philadelphia, and New York City pedestrians rule. But in some smaller cities walkers are second class citizens compared to cars. Santa Barbara (CA) is an example of a very walkable town. State Street, its central shopping street goes on for miles with shops, restaurants, hotels, and bars – ending up at the beach. Parallel streets like Garden Street add to the pedestrian charm. Forbes named it one of America's most walkable cities in 2011. Fernandina Beach at the top of Florida is a smaller town where you can ditch the car and walk anywhere. Located just above beautiful and exclusive Amelia Island, it has a 50 block area that is on the National Registry of Historic Places. Plus it has very cool shops, restaurants, and a healthy dose of old Florida charm. The nearby beaches and harbors are top notch as well.
Best Small Town Library Town. In 2009 the the Independence Public Library (Review of Independence">Independence, Kansas) was running out of money and afraid it would have to close its doors. But in just 2 years it has been reborn. It has won awards, garnered grants and increased tax millage, and built programs and services that are "packing 'em in". In 2012 it was named the Best Small Library in America, an award co-sponsored by the Bill and Melinda Gates Foundation and the Library Journal.
Did you read the Laura Ingalls Wilder's "Little House on the Prairie" as a kid? Laura grew up near Independence; in fact her childhood home is a museum. Independence Community College, located just outside town adds another nice amenity.

Summary
We know we have just scratched the surface when it comes to naming towns that have outstanding amenities – there are many others not named here from all regions of the country. Chatham (MA) on Cape Code is a just one example of a small town that has a walkable downtown, interesting shops and restaurants, a great library, and tremendous public beaches. Our main point – before you decide on a town where you are going to retire – check out the amenities using our State Directories. This is your retirement we are talking about – don't settle for a town that hasn't invested in facilities that improve your quality of life!
For further reading:
10 Best Amenities that Make for a Best Place to Retire
Best Towns for Bookstores
Best Places for Retirement by Lifestyle
Comments: Do you know of a town or small city that should be recognized for the quality of its amenities? Or a place that should be avoided for what they don't offer? Please let your fellow members know by posting in the Comments section below.
Posted by Admin on December 9th, 2012