Health and Wellness Issues
April 46, 2020. — The spectre of coronavirus and COVID-19 has us hunkered down in our homes. Senior centers are closed, the nets are down on pickleball and tennis courts, clubhouses are locked. Shopping trips are a pastime of …. time past. So what can you do – play golf!
At The Villages in Central Florida, golf is about the only remaining leisure activity. Because golf is played outside in fairly wide open spaces with no contact with other people or their equipment, proponents argue that it is a safe activity. At The Villages there are some restrictions to maintain social distancing, like one person per rental golf cart, covers over the holes, and non-removable flagsticks so nothing is touched when retrieving the ball. Clubhouses, bars, and restaurants are closed. People there are out playing, happy to be able to do something other than watch coronavirus updates on TV.
Sumter County issued a stay at home advisory, which listed certain permissible recreational activities like walking, biking, hiking, fishing, and swimming. Golf wasn't mentioned specifically, but officials clarified that golf would be OK provided that golf courses manage social distancing properly. Meanwhile most pickleball and tennis courts have been removed so people cannot play those sports.
In other parts of the country golf courses seem to be split between those that are open for play and those closed down. In Key West, the Golf Club was closed because it was not deemed an essential business. In Connecticut many private clubs are open, but have adopted strict rules and tee times to enforce social distancing.
Update on The Villages and Coronavirus. The University of Florida Health tested about 2300 residents of The Villages for coronavirus, most of whom displayed symptoms. Twenty three of them tested positive. Of the 1,400 people who did not have symptoms, two were positive. The median age there is 72, so most residents are definitely in the age group that is most vulnerable.
Comments? What is happening in your area with golf and other activities. Are they still possible? What are you doing to get your exercise and/or keep your sanity? Let us know in the Comments section below.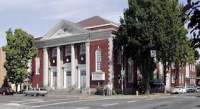 Posted by Admin on April 5th, 2020